The following picture is a lead-in to our most interesting experience this week:
Perhaps you would like to hear the tale? It began on a Wednesday night. The girls were playing in the living room, jumping on and off the big MonsterSak (beanbag) in our front room. I was finishing up dinner. Elli has been in a particularly trying, whiney, tantrum-y phase as of late, so I've tried different tactics to get her to calm down and learn to control it. This week, my tactic was ignorance. Well, I heard Elli in one of her fits (and believe me, it's usually just a fit: I can't pull my sleeves down, I can't find my puppy, I don't want to take my shoes off, etc) and called from the other room, "Elli, calm down. Take a breath. You'll be just fine." The episode continued, however, and I decided I should just check on the situation. Anjali was holding open the front door, Elli screaming and crawling into the house. "Anjali! Did you LOCK your sister out of the house?" Anjali's face twisted into concern, big tears chunked out of her eyes, and she insisted, "Nooooo!" All of the sudden, this guy ran up my walk and called into the house, "I saw the whole thing! Your kid just fell out the front window!" I scooped up Elli and peered out the front to see the picture above. Dovy ran back in and shut the front window (it was a glorious day and we had the windows open.) We realized that while the girls were lovin' on the beanbag, Elli must have misjudged where she was and leaned back too far against the screen. She cleared the bushes, it seemed, and was no worse for the wear, so the only thing we wish is that we had seen the whole thing! Seriously, it's something you would have seen in a movie. Except, the stuntman probably wouldn't have been two and a half years old…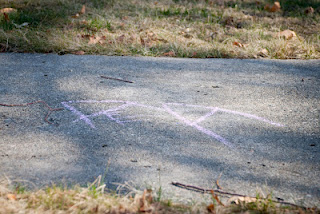 Anjali loves the letter "A." She can also draw "E's" (for Elli)
but they have anywhere from 4 to 8 arms on them, as pictured above.
(Hard to see, but it's there on the left underneath the other "A.")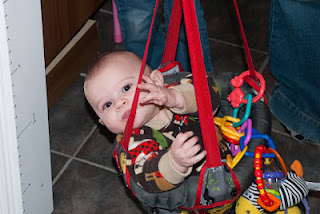 My little boy is growing up so quickly.
It makes my heart ache.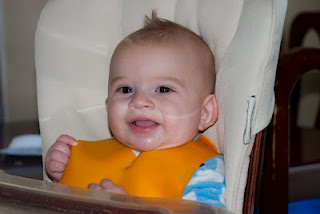 More solids.
He did amazingly the first two times, but now won't eat it…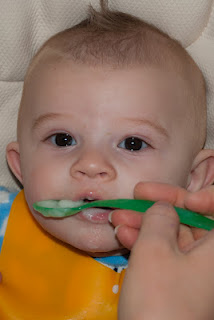 Champ!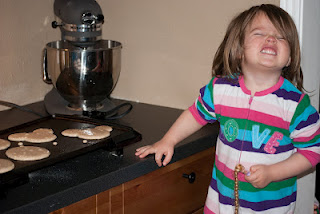 We made Mickey Mouse pancakes for breakfast.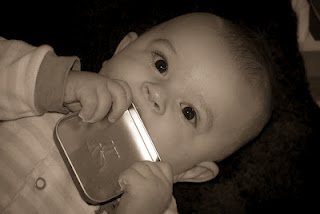 Love his eyes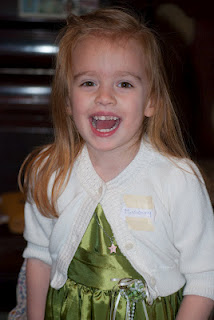 Anjali came home from church with a missionary tag.
You may also see that she now wears a CTR (Choose the Right) necklace.
Our church usually gives out little rings that say CTR, but there was no way
she wouldn't lose that thing. Thus, a necklace. And she loves it.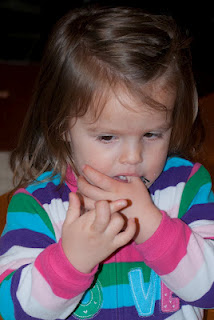 We asked Elli how old she was.
She showed us "two" by crossing her fingers.
It was her first instinct. Should I be worried?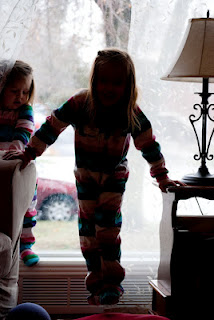 This picture should describe my four-year old quite well.
She has incredible strength and is quite a monkey.
She frequently performs arm lifts between furniture, as shown here.
Can you see that her feet are not supported?
Yeah, she's amazing.
Might I add that this was about the tenth time she had done it.
It took me a while to get a perfect shot. But that's all the more to her credit.
She did it that many times!
So, this weekend was my very last BYU concert ever. I have now been in choir seven years. I decided that I was finished, though. I am not going to be taking any more post-grad classes at BYU, so I am finished being in choir. The years I spent singing at the Y are some of my most treasured memories. I have grown so much, I can't even believe it. A huge thank you to everyone who was involved in my singing journey at BYU. I am a different person in so many ways because of it.
bouquet. I had no idea. He's sneaky and sweet like that.
Thanks for being there, sweetie!