Picture this: I'm running around trying to make dinner. Link is in the bouncer, softly protesting about his empty stomach. (And I say softly, because he is a really mellow little dude. He doesn't scream unless he just can't stand it anymore.) Anjali and Elli are running around, chasing each other like the little banshees that they are. Dovy is in the basement in some conference or other. Anjali skids to a stop and says, "Mom, why is Lincoln crying?"
"He's hungry, sweetheart."
"Well, go feed him."
"I can't right now, LiLi, I have to finish dinner. I'll do it as soon as I can."
"Oh, that's okay, Mom. I can feed him. I have one."
"Huh? Um, Anjali, only mommies can feed their babies."
"No, Mom. I can feed him! See, look! I have one, too!" And I turn my head to see her lift up her shirt and point at one of her own potential baby milk dispensers. (We call it "baby milk" in this house so as to avoid excessive awkward conversations instigated by said four-year old.)
Anjali is definitely in a hilarious stage right now. I have to work three times as hard to explain the world to her and still understand her. But, I also feel like I'm in an awesome stage where I can fully understand my own kids and sometimes have to explain them to others. It feels great because I'm really understanding who they are and what makes them tick. I love knowing them like that. And the bond is getting stronger every day. I feel super lucky to have them.
I got a new calling at church: Nursery Music Leader. It is actually a lot of fun. I spent the week figuring out how to make homemade maracas, tambourines, and drums. I go into the nursery for half an hour, fifteen minutes in each section (junior and senior.) By the time I was finished, though, I was exhausted. I couldn't believe how much work it is to carry kids, sing,
and
move around the room all at the same time. I actually got a work-out. I had a lot of fun, though. It's probably the most excited I've ever been about a calling. I'm still doing Compassionate Service Committee, as well. It's the first time I've ever had two callings, but it's going really well and I really like both of them.
We've started filling up almost every single morning with an activity. I know choir is going away soon and I'm trying to make sure that I have lots of fun things for the kids to do (and for me, too.) Right now, we attend a play group, the library reading groups (Anjali is old enough to do her own now,) Joy School, Preschool, and dance. We also got passes for the local water park and the girls ask almost daily to be able to go out and swim. (I'm so tired of trying to convince Anjali against it that I've almost considered sticking her in her swimsuit and hosing her off with water outside so she can see how cold it really is, despite the warmer weather we've had.)
I have two concerts this week! Friday and Saturday, 7:30PM. It will be my very last concert with the BYU Choirs. I have officially decided that I am finished and will be wrapping up my BYU singing career for good. It has been an amazing seven years with BYU and I'm so grateful to have had the opportunity. If you want more info about it, let me know.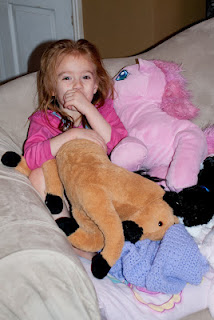 The girls each sleep with about 10
stuffed animals. It drives me crazy but
I know I used to do the same thing, so of
course I treasure this part of their imagination and put
up with the comings and goings of all the stuffy
little creatures. They bring them out to the living room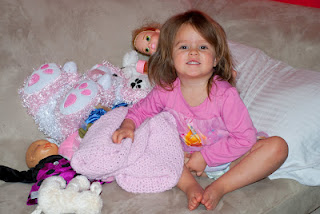 Elli even has descriptions for animals that are the same.
"Puppy" is a different stuffed friend from "Doggy" (or Goggy as
she says it) and she must have them both.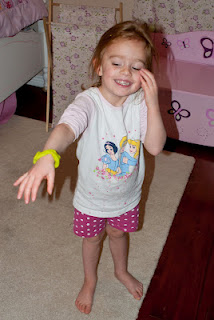 We made green homemade play-do this week.
(We make a new color every week or so.)
Anjali made her very own bracelet and was super
excited about it.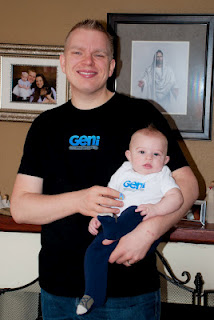 Dovy has waited for almost a year
to have his baby wear this shirt.
(It was given to him by the owners of Geni
at a meeting last year.)
Here they are, together!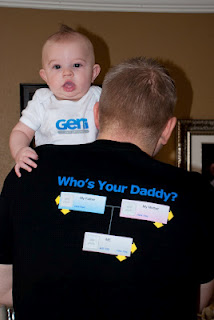 And this is the best part.
Haha!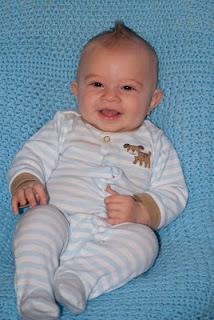 Five months!
I know, where has time gone, right?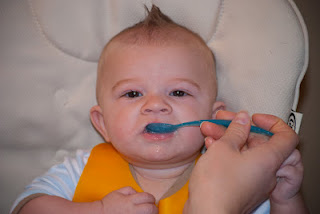 Lincoln's first solids. He LOVED rice cereal
with "baby milk." I think if he wasn't so famished
he would have had the patience to sit and eat more.
(Sounds like an oxymoron, doesn't it? He was just too impatient
to wait for the spoon.)