This week has been extremely busy. I am exhausted. The kids are happy, though, and that's what matters. (Of course, there are two pictures here of them watching movies; don't judge me.) We went to the park almost every day this week because the weather permitted it after I got out of class. The girls sleep the best when they've had a lot of physical activity.
Today, my a cappella group, Meadowlark, came to sing in our ward. I think it went really well and I was so glad that they could come. I love singing and love sharing that with the women in the group. They are a stupendous group of people. We missed the ones that could not be there!
A couple of women, myself, and our kiddos have started a Joy School. I went when I was little, so it's really cool to see us doing it now. We have one day each week when we get together, one of the moms comes up with the lesson, and we get our little people together to play. It's really good for Elli. She's my target on this one. Anjali gets the "school experience" during the week, but Elli never has. And it's extremely low-key, so it works out great for 1.5 to 3.5 year olds.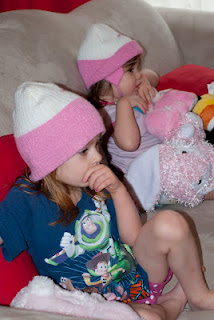 The girls are on a beanie kick right now.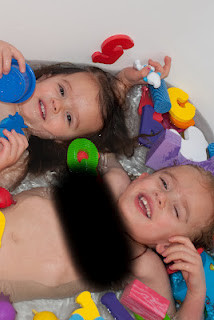 So, two weeks ago, the girls saw
The Little Mermaid for the first time.
Thus, as every little girl has the right to do,
they both play like Ariel in the bathtub.
They sing horrifically out of tune (which just
makes it all that more adorable,) and "swim" around.
When they started doing it, they kept saying "I'm the Little Mormon!"
I couldn't figure it out for a while and then it clicked.
Ah.
You mean, "The Little Mermaid."
"Yes! The Little Mormon!"
Yeah. You don't hear that everyday.
Justly so, I happen to have a very similar picture of myself
probably doing the exact same thing:
Thanks for the sticker drops to hide my virtue, Mom.
I appreciate it.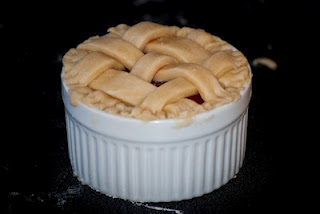 I made a Raspberry Pie for a friend recently.
I so desperately wanted to try it but didn't want to
screw up the presentation so I threw the extras in a ramekin.
Good, eh?
And yes, it was divine.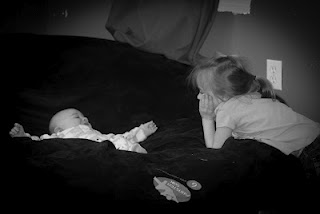 Anjali was especially quiet one afternoon and I got worried.
I peeked in on her to find this precious moment.
She was perfectly silent, staring at her brother.
And you know they were having a moment,
because he was smiling and chuckling at her.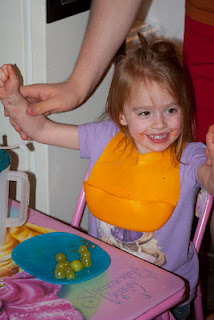 I should be worried.
My four-year old bites half of each of her grapes
and then lines them up on the edge of her plate.
She moved them around before I could get the picture.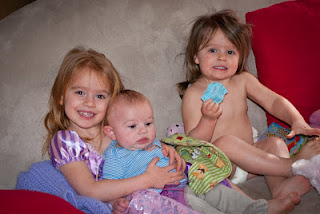 Anjali LOVES holding Link.
She's great at it, too.
They are both wonderful big sisters to Lincoln.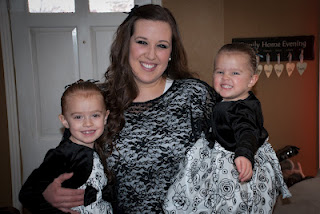 My beautiful girls and I before I got ready to sing at church.
Aren't they exquisite?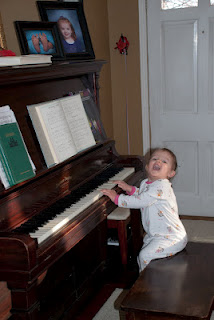 Elli singing "I Am a Child of God"
and playing the piano.
They do this on their own.
I don't make them do it.
So sweet.