(Catching up again from 5 February…)
Attention, attention. We have a missing person in our family. His name is Dad. He's blonde, about 6'4″, has blue eyes, and goes by the following names: Dovy, Dovinator, Doves, Dovydas, Derp, Deweydas, Paukstys, Honey-Bunny-Wunny-Sugar-Muffin-Wuffin-Face… uh, okay. TMI. Either way. He's been gone all week at a huge convention for work.
As such, I was SuperMom and took care of all three kids. I would say that I did it all by myself, but I absolutely did not. I had many angels help me throughout the week. It was a long one, and heaven knows I needed it. Thanks to Anna, the Colvins, and G&G; for their entertaining of my children and providing of meals. You all are the best! We made it through, and now I am happy to report that Daddy has returned. It sure was good to have him back on Sunday – all day!
I think the week was doubly hard because I had so many things going on myself. I had a concert on Wednesday night and practice for Meadowlark (which was actually canceled so I was relieved to have a break and cancel a babysitter.) Between class and practices and whatnot, I had to find seven babysitters during the week. Yikes! One plus was that I was able to go up to SLC on Friday night and eat dinner with Dovy at a company meeting. On Saturday, we went up to see Daddy's booths and then proceeded to Ogden, where we spent the rest of the day with G&G.; Thanks for having us!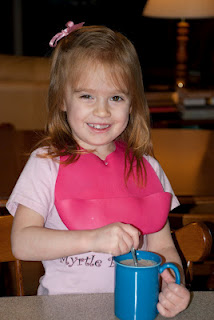 Anjali getting Grandpa's famous chocolate milk.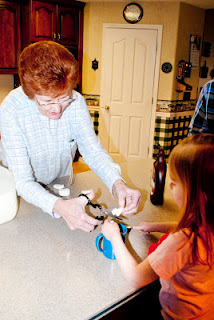 Grandma cutting up the massive campfire
marshmallows so that the girls could
have them in their chocolate milk.
Definitely a labor of love.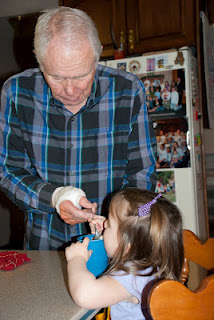 "More chocolate, Grandpa!"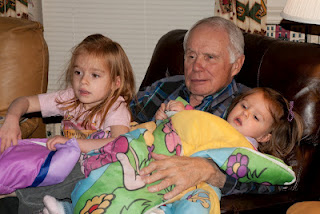 Grandpa and his great-granddaughters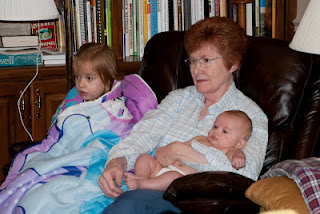 Grandma with LiLi and Nakey Link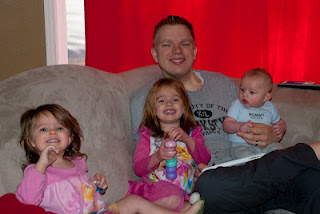 Daddy home with his offspring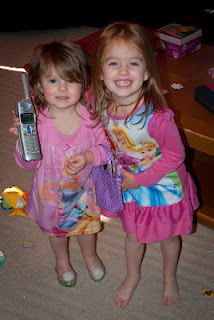 I adore that Elli's starting to dress up now.
Tinkerbell shoes, purple plastic purse,
bracelet, and phone. She walks around the house
pretending to talk to random friends.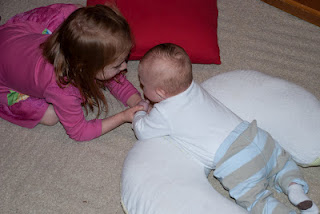 Link having tummy time and Anjali torturing…
er… playing with him.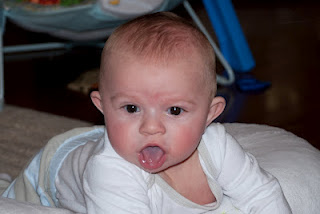 Drool King