(Catching up…)
Today, I sang at a Catholic Mass. How cool is that? My a cappella group, Meadowlark, sang there. I love singing with this talented group of women. Amazing. And singing in the building was nifty. The hall was circular, like a giant cylinder, and all of the lights hung in big globes throughout the whole structure. So beautiful and a neat experience to have.
I had Retreat this week for Concert Choir. It went well, but it's always a hard thing to set time aside for. I think this will end up being my last year in choir. It's really hard to leave my kids in the middle of the day, every day, and go up to Campus. It's been a beautiful experience for the past three years, but now I'm getting to be a tired Mommy. I've also decided to quit renewing my teacher's license. There are about six good reasons why I've chosen to do that, and I feel pretty good about it. It's been a very difficult decision, but I think I've made the right one for me. (Although I constantly waffle about it; I'm a HORRIBLE decision-maker.) Thus, no more need to go back to school. I will miss it, though. :(
Also this week, Dovy and I played water polo. We are on a team with most of my Wolthuis cousins here in Provo. We only have a game about every two weeks or so and since we're all so busy that we hardly see each other, it's a good excuse to get together. Also, it's wonderful because there is an intensely level playing field. I am one of the least athletic people I know, and I can play this game! All the better, because my cousins are all rock stars when it comes to sports. (Seriously, I don't think ANY of them have not caught something I have thrown to them – regardless of how awful the throw was.) We had a ridiculously good time, and we actually won! Go Piggly Wigglies!
The girls made Frosty the Snowman
out of the toy balls they had and started
singing the song that goes with it.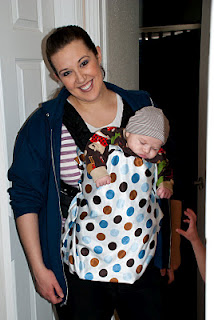 I took my first walk with both girls
in the stroller and Lincoln
in the carrier. Cute little guy feel asleep
on the way home and was out cold for a while
after that. Sweet boy.
Super Mom!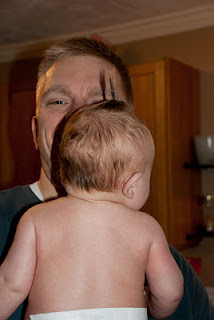 Do not be alarmed that Link's hair is in a
pony tail. I did it so I could save it when I cut it off.
He had quite the little tuft on the top of his head.
He had rubbed all of the hair on the sides of his head off.
It was looking pretty ratty, so, we shaved it all off!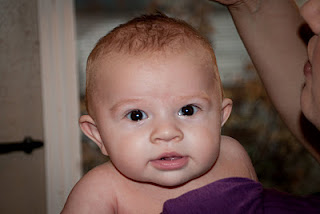 He's lookin' pretty handsome now. :)
I'm so in love with this little guy!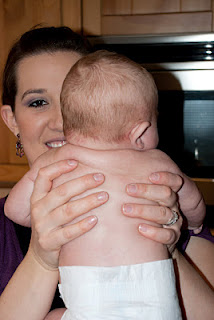 Shaved!
And you can see what a chunk-meister he is.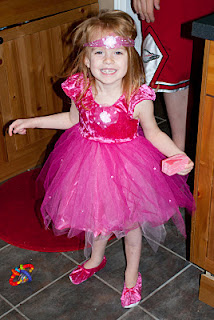 Anjali LOVES playing dress-up.
How we're doing:
Dovy lost another 2 pounds,
I lost 3. Yay!