I wish I had the sense to write down the happenings of the week so that I give you a true taste of life here at our house. Here's one that I do remember:
Me: Elli, do you want peanut butter on your sandwich?
E: Nooooo!!
A: I don't want peanut butter on MY sandwich.
M: Yes, Anjali, I remember. But Elli, you really don't want peanut butter? You like peanut butter.
E: No. No peanut butter.
I give the girls their sandwiches.
E: No! I want peanut butter!
M: (exasperated) But, Elli, you told me you didn't want peanut butter.
E: I change-ed my mind!
I couldn't resist slapping on some PB after that. (Don't worry, I made her say "please" first.)
Dovy and I finally had a chance to sneak out for a night to celebrate our anniversary. (Thank you to our dear friends for taking care of our little ones!) Unfortunately, Link now has Elli's cold from last week. The poor little guy ended up being the worst when we were away and I had a hard time leaving him because of it, but he's doing much better now. Too bad you can't knock babies out with Benadryl.
Dovy and I did have the chance to go up to the Salt Lake Temple and do sealings for the dead. We were sealed there for time and eternity five years ago. We always like to go back for our anniversary to remember what happened on that special day. We had a really tender moment because there was a man there that was serving as proxy for his own father who has passed on. He helped seal his father to his parents. (You can learn more about this stuff at
mormon.org
if you're ever interested.) It was a really neat experience to see that happen.
After we finished, we checked into our hotel. It was a castle (a castle!) not too far away. We changed and then ate dinner at the Cheesecake Factory, one of my very favorite restaurants. (If you're ever looking for amazing things to order: Chicken Madeira, Steak Diane and Brownie Cheesecake.) Quite possibly the best meal we've ever had there. So amazing! (Our anniversary counted as one of my "free days." I only get one every month and that was it!)
We came back the next afternoon after having lunch at IKEA and grabbing some stuff for the girls. (Of course, we go out and grab things for our kids. We're parents.)
A good week and a crazy one coming up!
How We're Doing:
Dovy lost one pound.
I lost three more pounds.
Both of us have gone down in inches. I believe we both gained muscle and lost fat this week. Yay!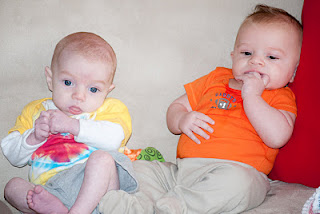 Will (my friend's son) and Link
Only two weeks apart.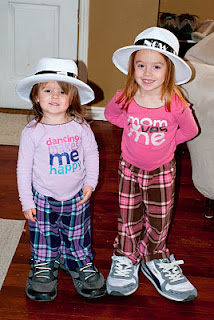 The girls found Daddy's shoes!
The hats are leftover from New Year's.
(The funniest part about this photo is
that Elli is wearing Anjali's old PJ's. Yeah,
the two sets are the same size. No joke.)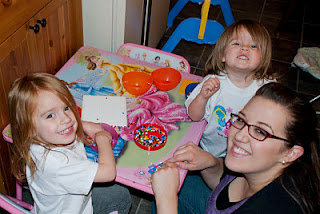 The girls making Perler Bead designs with Mommy.
We made hearts for Valentine's and hung them in the front window.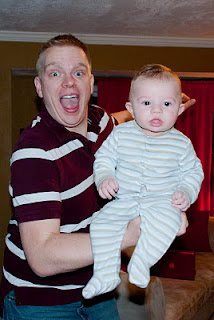 Daddy balancing Link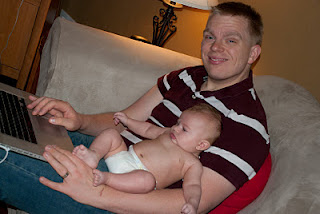 Our Chunk!
He's getting so huge.
I can't believe how big he is.