So, last Sunday, our entire Relief Society Presidency was released. I have been serving for the last year and a half as a second counselor, and then a first counselor. (This is an organization for women in my church.) It was such a bittersweet release because first, it was unexpected, second, I'm relieved, but third, I'm also a little sad. I learned so much and enjoyed working with the sisters a lot, and I didn't even realize it as much until I was finished doing the calling. The other part of it is that I haven't been given another calling and that's always a funny balance to be hanging in. But, I'm enjoying it right now. I didn't have to do anything but take care of my kids at church today! I was even able to hold Link for all of Relief Society and walk out with him five minutes before it ended (because he was fussy) without feeling bad for leaving. I have found out that sometimes you learn the most from a calling when you leave it. Some of these lessons are too personal to share on this blog, but let me tell you, it was a marvelous experience and I do miss it.
Speaking of Link… the little guy hit three months today! I can't believe he's gotten that big already. I'd be really interested to see what he weighs right now. He's kind of a tank, the Little Mancub. (That's one of my favorite nicknames, by the way.) He's sleeping really well through the night again (he wasn't for a while because I think I'd had too much corn syrup.) By the way, corn syrup is in EVERYTHING. Little known fact (because I didn't know,) but many people think that the carbon in our bodies comes from wheat. WRONG. We look like walking cornchips, actually. I am shocked, literally shocked, by how many things contain corn/corn syrup/corn flour/cornstarch, etc. (Yogurt, hashbrowns, jam, M&M;'s, crackers, and most breakfast cereals, just to name a few.) After finding blood in Link's diaper two and a half weeks ago, and thinking that meant he had an allergy to corn, I eliminated everything from my diet that included any form of corn. He was fussy for a little while and then all was well. (And by fussy, I mean that he won't take a binkie and he doesn't sleep as well; but he's really an even-tempered little guy almost 100% of the time – I'm very lucky.) I've slowly introduced little bits of corn back into my diet and he's seemed to be okay. I'm still experimenting, but it doesn't seem to be as severe as Anjali's milk allergies, thank goodness.
The rest of my week was insane. Elli caught a really nasty cold and kept us indoors for days. (Somehow, the rest of us didn't catch it – quick – knock on wood!) Dovy had a "crap hit the fan" experience with some work he has been doing outside of his normal job. These things combined made it really difficult when our anniversary rolled around on Friday. We decided to stay home and nurse our little girl back to health and get Dovy finished with work. We did, however, celebrate our fifth year together by eating dinner at Tucano's. (Yum!) We will be going out next weekend as long as all goes well, though. Happy Anniversary to us!
This Sunday, I had a bit of a slap in the face. I dragged Anjali over to the Sunbeam row in Primary (Sunday School for children, and "Sunbeam" is the name of the class for the 4-year olds this last year.) It took me more than two minutes to realize that she just wasn't in that class anymore! At the new year, they switch, and now Anjali is a CTR 5. FIVE? She'll turn five this year? Yikes! So, she has her own CTR (Choose the Right) ring and will be five next fall. Holy growing up fast.
How I'm Doing: (This will be my weekly update on my exercise goals and Dovy's and my weight loss…)
Nat: Down 2 lbs
Dovy: Down 6 lbs (Yeah, I had some words about that one.)
I completed my chart every day this week. I rocked it! It really is amazing how much fuller you feel when you eat the right things and strive to do it all the time. I highly suggest it. I also had a friend that told me (after hearing about my weight-loss plan) that she once heard that you have more success with weight loss when you focus on the things you CAN eat, rather than the things that you can't. I am living proof. Jillian Michaels is kicking my butt, though. I can feel a change! Yeah, baby! Bring on the skinny jeans!
My other goal: Look Up. Today, the same friend that told me about the articles from last week showed up on my doorstep this evening (and she lives more than half an hour away) with a beautiful framed reminder of this very thing. It's already hanging up in my house. I will do better on that this coming week. Thank goodness for spiritual promptings, especially when they're on your behalf. Thank you, Cherie. You're a dear friend. I really needed it; you'll never know how much.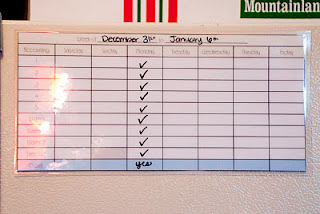 Day One of my chart.
Yes, it's laminated.
Yes, I'm like that.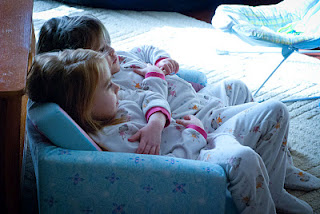 My girls.
I'm so in love with them.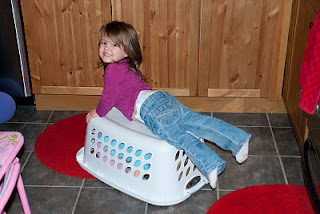 Anjali definitely has the upper hand when it
comes to bullying Elli. But when you get in a laundry basket
and your little sister weighs just about as much as you do,
you don't stand a chance.
Yay, Elli!
(I love her little triumphant grin here.
Yes, Anjali was whining at the time of this picture,
but it was funny to see Elli literally "come out on top.")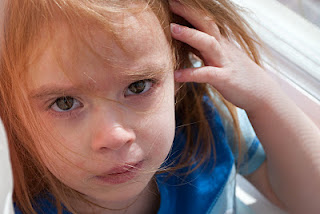 I don't know if I'll ever catch this on camera,
but Anjali's eyes turn green when she cries for more than a few seconds.
She's an emotionally charged little girl, that's for sure.
I tried to take a picture, but for the first minute after she calmed down,
Anjali hid behind the couch and wouldn't look up at me.
They changed back to dark hazel and that's what you see here.
One day, I'll catch it, though, and you WILL believe me.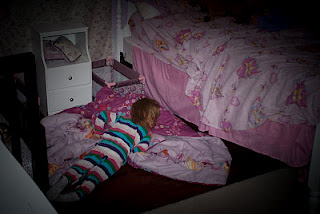 Dovy found Anjali asleep on the floor
late one night.
Sounds familiar.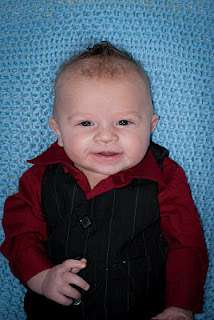 Happy Three Months,
Little Man!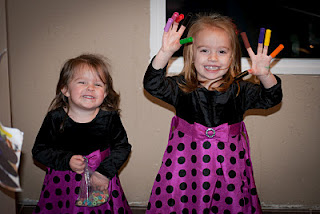 After church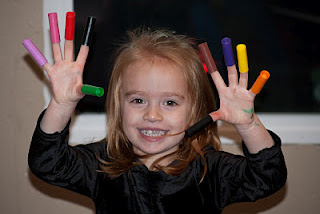 Marker fingers!