This week was, of course, crazy. It was also, however, the most excited I have been about Christmas because my kids finally understand the reason for the season and who Santa Claus is. They have memorized Christmas songs now and got excited about everything! It was so much fun to get it all ready for them and watch the magic of Christmas unfold for Anjali and Elli.
Before I commence with the pictures (of course, how many of you actually read this stuff and only skip the pics?) I have an Anjali quote. I was pulling Lincoln out of the tub and Anjali and Elli were eating lunch in the dining room (hey – I still wash him in the sink, okay?)
A: Mommy, Lincoln has a tushie.
Me: Yes, he does. We all have tushies.
A: No, I don't have a tushie.
M: Yes, you do.
A: You have a tushie, Mom. It's big.
M: Um, yeah, I guess you're right. It's bigger than yours.
A: I have a small tushie. It will be big one day, I guess.
From the mouths of babes. Speaking of my tushie. I am going to start working on my weight loss next week. (Yeah, I know, crash and burn at New Year's. No way. I've already done it before; I'm gonna do it again!) Five fruits and veggies each day, 100 ounces of water, and exercise at least four times a week to get going. I have a plan for each month so I can be motivated and rock it. I'll let you know how it goes… here's hoping my sciatica, knees, and hips work with me. I feel old already.
So, I forgot to mention this. At the beginning of Lincoln's life, I thought he was allergic to dairy. We put him on the same formula that Anjali was on. He seemed fine for a day or so, and then things got much, much worse. By the third day, he was in pretty bad spirits all over again. A friend suggested to me that he might be allergic to corn. I didn't even realize at the time, but the formula we had given him was 65% corn. I ended up going back to breastmilk and he was fine. Just to keep away from testing fate, I decided to lay off of the corn, and therefore mostly just stayed away from one of my favorite snacks, which I will guiltily admit is corn chips with melted cheese and salsa. Last week, I ate at a Mexican restaurant and ate a plate of corn chips. Within two days, I had found blood in Lincoln's diaper, the same way I had found it in Anjali's when she was a baby. I felt so awful! Christmas came and went and we received Christmas candy, which I have definitely overindulged in. Without even thinking, I have had a lot of corn syrup because of it. Lincoln has been pretty grumpy all over again. So, I am eliminating all corn products. (It's in a lot of things! But not near as many as dairy.) It will probably take a day or two to filter out of his system and I am hoping it will be better soon. Poor little guy. :( (I'll take this over anti-dairy any day, though!)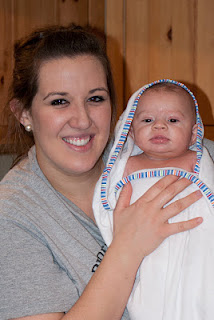 After the bath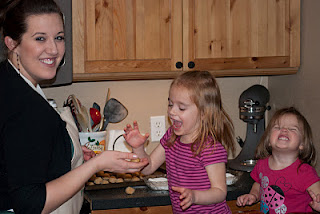 Baking Peanut Butter Kiss cookies for Santa!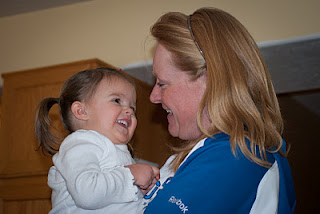 Elli with Aunt Kristi on Christmas Eve Morning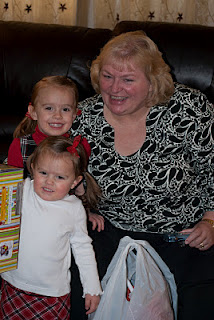 The girls with LaDawn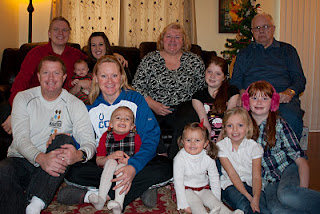 Dovy's Family
From left to right: Mark, Dovy, Lincoln, Me, Kristi, Anjali,
LaDawn, Elli, Marissa, Lexi, Aubrey, Lloyd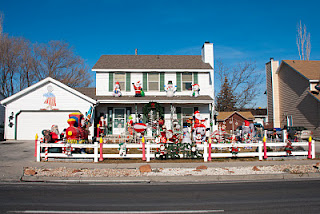 This house is on the way to Kristi and Mark's.
We HAD to have a picture of it.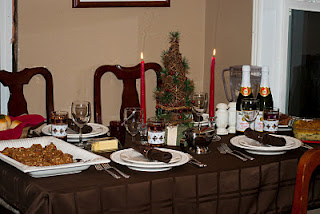 The Christmas Eve dinner spread:
Herb-topped rolls, Twice-Baked Sweet Potatoes, Cranberry Roast Beef,
Green Bean Casserole, Sparkling Cider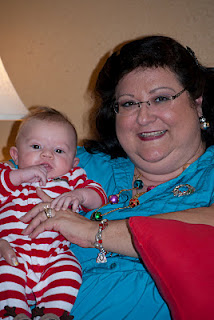 Lincoln and Yiayia
My parents came for Christmas Eve!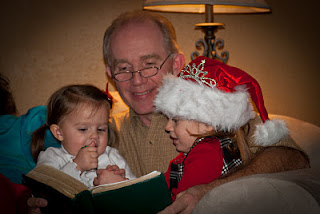 Papou reading about Jesus's birth from the Bible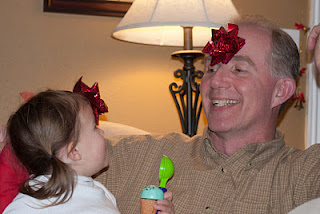 Presents!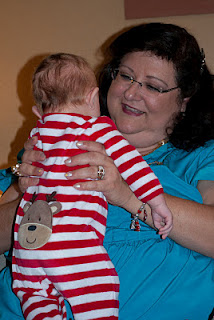 Reindeer-Butt
(Yeah, we usually say "tushie" in this house,
but "butt" sounds funnier. I'm four, I know.)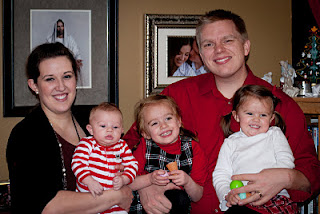 Our little family on Christmas Eve
I can't believe there are more kids than parents now!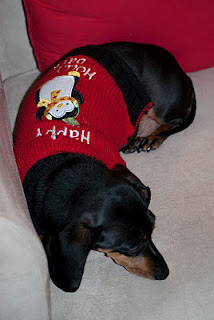 Even Daisy was in the spirit.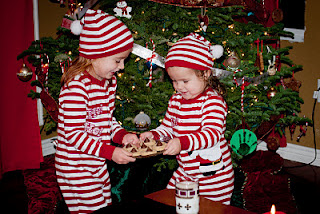 Putting out Santa's cookies before bed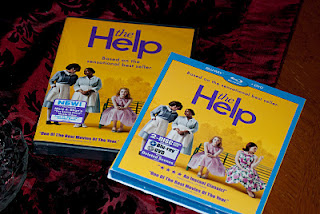 So, the first present Dovy and I both opened from each other was
the same gift. We did this two years ago with "Tales of Beedle
the Bard."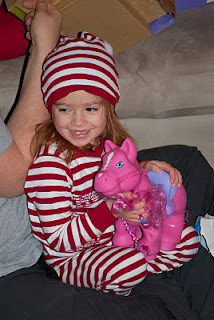 Anjali's Pink Pony from Santa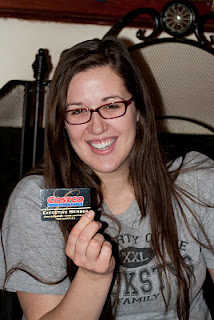 I've been wanting a Costco membership forever!
We usually just share Dovy's. Yay!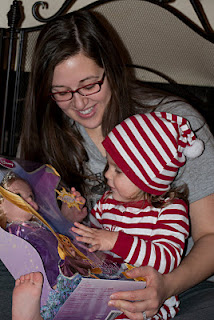 Elli got her very own Rapunzel from
Mommy and Daddy.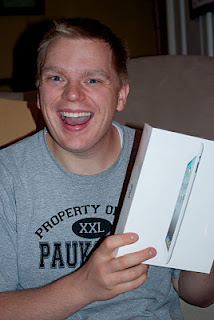 Dovy's face when he saw I got him an iPad.
He's wanted one soooo badly! And now he has one.
I also got Wicked tickets for this summer!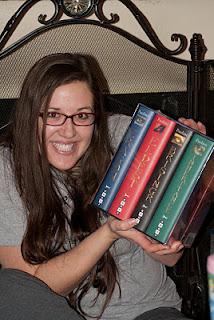 My nerdiness coming through.
I LOVE books and they're some of my favorite gifts.
Inheritance cycle, here I come!
(As soon as I'm finished with Fablehaven – which is great,
by the way.)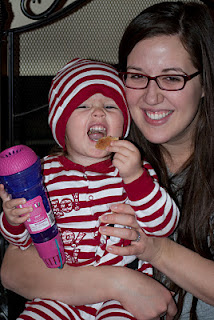 While opening gifts, Elli
started eating Santa's leftover cookie.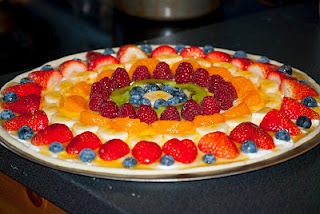 We always have Fruit Pizza and Quiche on
Christmas morning.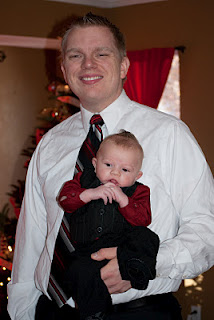 Daddy and his handsome boy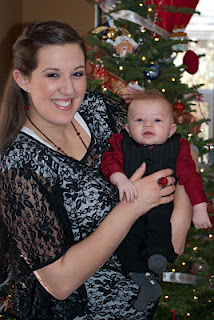 My little man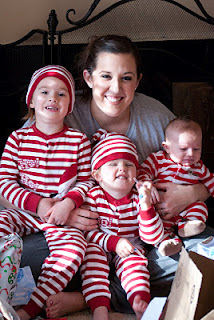 My striped babies!