It's been intense this week. This is a classic example of Natalie biting off way more than she can chew. I was completely happy to do it, though! I made two diaper cakes for a shower, participated in three concerts and two long rehearsals, and started a wedding video. I also have a very packed week starting tomorrow morning because we are leaving for Colorado this week! We're going to the wedding of Kathryn, my cousin. So excited! I love this vacation and we can't wait to see everyone. This will be a short post. I'm so swamped and trying to get so much finished. So, here you are.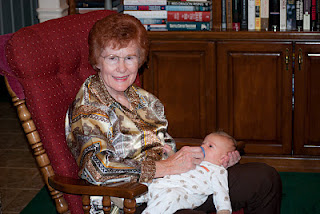 We went up to G & G's last weekend to celebrate
Kathryn and Todd's engagement. Everyone got to see Lincoln!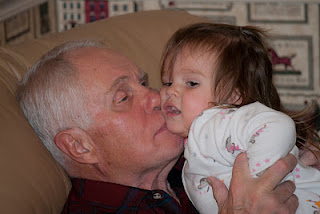 Elli with her favorite old man. :)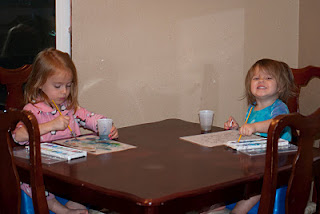 The girls have taken up a new hobby: watercolors.
This is a lapse from Anjali's birthday party.
I've gotten brave!
Elli calls him "Linky-Link."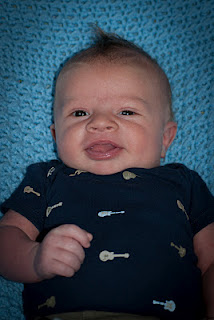 One Month Old!
He's a really big smiler now. :)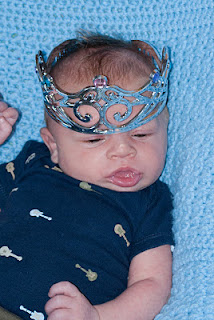 I came out to find Lincoln all decked out.
Just sitting there, trying to take it.
I believe this is a type of things to come.
Anjali was so excited that Lincoln was in her bed.
Oh, and this picture shows why people think the girls are twins
when they aren't standing next to each other.
They look a lot alike here.
I love them all!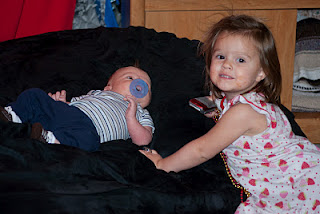 I was able to make a bathroom trip because
the girls took turns sticking Link's binkie back in.
(I wasn't in there long, thank you – he just drops that
thing constantly.)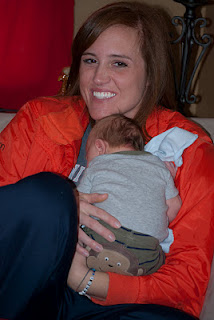 Laura came for six hours on Friday so that I could get everything done.
What a lifesaver!
I was able to go to class, eat, get ready for the concert and get a ride there.
Thanks, Laura. You'll never know how grateful I am!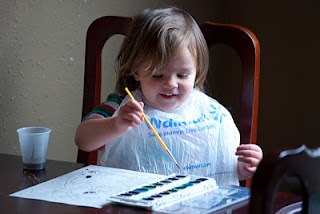 You can barely see it in this picture, but Elli colored
Belle's eyes!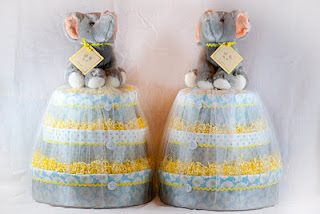 Twin Elephant Cakes
Love these!