It's been a rough week. Little Lincoln has become very colicky. :( Poor little guy. I have been so grateful for those around me that have lifted me up, delivered meals, watched my girls, and let me adjust.
On Thursday, I went to a lactation consultant. I've never been to one before, but it was very helpful and totally worth it. (For those of you who have ever thought of going, go. It really helped.) It turns out that Lincoln is a great nurser; he drank 4.5 ounces during the feeding. (That's a lot for an almost-three-week old.) However, Lincoln was very fussy and cried a lot after the feeding. The nurse agreed with me that something else was wrong. My supply is fine; another culprit still existed. She gave him a look over and thought he may have thrush. (I haven't had any symptoms, but we decided to treat anyway.) Ever heard of Gentian Violet? It's supposed to treat the thrush but it stains everything a violent purple, including Lincoln's mouth. So, we kept treating the thrush and also bought some probiotics to help with the problem. However, Lincoln was not getting better and his symptoms were increasing: colicky mood, increased frustrations after feedings, lack of a binky helping at all, stiff legs, crying except when asleep… I was getting pretty exhausted. Dovy ran into a friend of ours who is a practicing pediatrician who said that he does NOT have thrush and there was a reason why the treatments weren't helping.
So, last night, Dovy and I made a decision. We do have a history of allergies in our little family; Anjali was so sensitive to milk protein that I could not even eat anything made in a dairy facility because of the cross-contamination. After six months of trying to change my diet and work it out, she started to lose weight and we had to use a hypoallergenic formula ($$$) to feed her. So, Dovy and I decided to try out the formula and see how Lincoln reacted. I've been pumping in the meantime. We thought it would be a good experiment to rule out until further notice. First formula feeding was last night. Lincoln has been a completely different baby. He's much more quiet, less high maintenance, and calm after feedings, something we haven't seen for two weeks. I'm pretty sure he, too, has this milk protein allergy. How severe it is, I am unsure. He has not passed bloody stools, even though we made this connection about the same time we did with Anjali. I will try to see if I can get the dairy out of my system and see if he nurses just as well. I will then see what happens if I have some dairy. I want to see if this really is it and if I can pump the dairy out of my system when I have insanity moments. We'll see. If not, formula it is. The only real detriment to staying on the formula is how much it costs. It will cost about $60 a week
to feed this little guy if we stay on this formula. Argh.
Meanwhile, we have tried to continue with some of our Halloween festivities, despite the stress and frustrations. We carved pumpkins last night; Anjali was the most excited. She freaked out (in a good way) when we pulled out the orange porch lights. I thought she was going to explode she was so excited. We also finished our pumpkins and our costumes are nearly ready. There are only some finishing touches for Link's Pascal costume that I have to conjure up before tomorrow.
Pray that tomorrow goes well. Dovy has a massive project due on Tuesday morning so it will just be me all day. Yikes!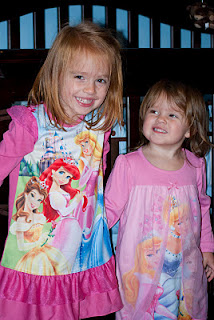 The girls in their new Princess pajamas.
Thanks, Papou and Yiayia!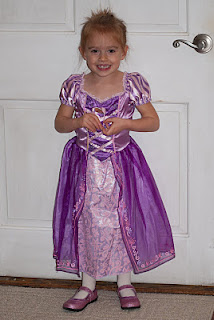 Anjali went to her school Halloween party
dressed as Rapunzel. We kept the wig at home
because we knew it wouldn't make it.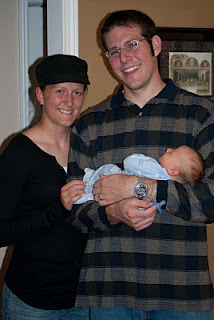 Mark and Kait Fernelius with Lincoln.
I was at a stake meeting and they came over unexpectedly
and helped Dovy with the house and the girls.
Thanks for the homemade bread!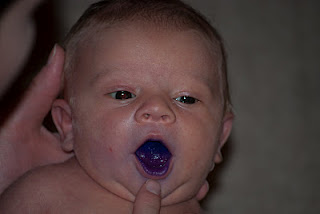 My little purple-mouthed monster.
It stayed like this almost all 24 hours between treatments.
I'll let your imagine run wild when you think about me
having to nurse him like this.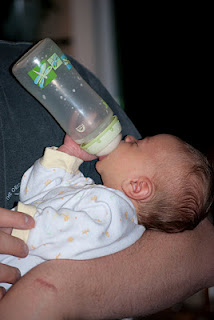 He actually held his own bottle for half a minute.
Seriously.
I'm sure it was a reflex accident, though.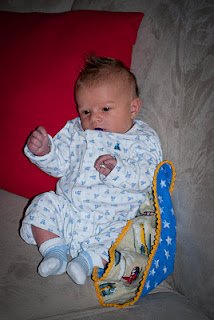 For the first time, he reminds me of
my baby pictures here.
Somebody once told me that all babies
look like their dads to begin with so the fathers
know they belong to them. hehe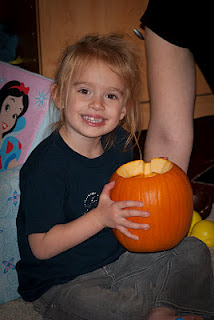 Carving Pumpkins
She was so incredibly excited!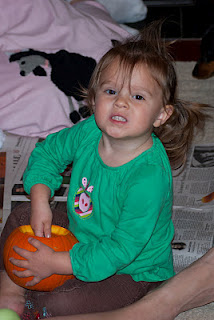 Elli was so intent on pulling the pumpkin guts
out that she just couldn't produce The Cheese!
She could only look up every second or so to spare one quick
look at the camera because she was so involved.
That was a first.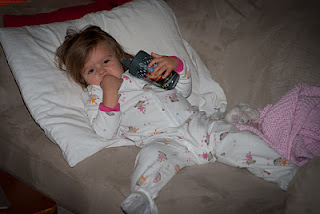 Elli had a fever today and was very whiney.
Sprawled on the couch with apple juice and her puppy.
Poor thing. Hope she gets better for tomorrow!