Ah. Week Two.
Lincoln has just barely started to un-confuse his nights from his days. The last two nights have been easier, because what I like to call his "witching hour" seems to have dissipated. However, I am not holding my breath. We really hope that nasty hour does not return. (It was really more than an hour. More like 3 1/2 – usually occurring between 3 and 6:30AM.) Dovy and I both blew a few gaskets trying to make it through this week. (And by that I mean we both reached the manic parent sleepless stage that says, "If I don't sleep right now, I'm gonna go postal!") I don't know what I'm going to do now that Dovy is going back to work full time. The thought of it scares me to death. And here I am, Sunday night, and Monday is only a few hours away. Ack. Thank goodness for my ward. Several sisters are pitching in to have play dates with the girls so I can have the mornings off. One of the families that Dovy hometeaches called today and asked if they could drop off dinner. Oh, hello. Drop dinner off unannounced? Blessings on your head. Maseltov! (And thank you a hundred times over; we are ever so grateful!)
On Friday, Dovy came to choir with me so that I could show Lincoln to my fellow singers. I don't know if I've ever heard such a large collective "aww!" before. And it was half treble, half bass, too. (Meaning, there were a lot of men included in that "aww!" as well.) Sister Hall, my conductor, came right over and scooped Lincoln up. She held him for about five minutes at the front of class, all while the announcements were going on. Every time Lincoln made a little peep or wriggled around, everyone commenced with the "awws" again. It was a proud Mommy Moment. How I love my Little Man.
Sleeping
Piggy-back rides to bed!
See how light his hair is around his temples?
It's really cute.
So, the following is a before/after shot that I always wanted to take. I saw a friend do it and I stole the idea (thanks, Melissa Turney!) Yup. He fit in there… somehow.
BEFORE
For some reason, I look fatter now.
Lame.
"Pregnancy Glow" gone. "Tired Mommy Pallor" in its place.
I have, however, lost more than 30 pounds. Just thought I'd say that.
In the hospital, a photographer came around and took pictures of all the babies. I thought the photo shoot was really great and I'll miss having some of those photos (so expensive,) but I feel that I did a pretty darn good job recreating my own masterpieces, as shown below: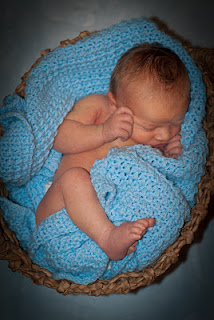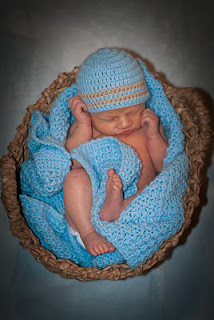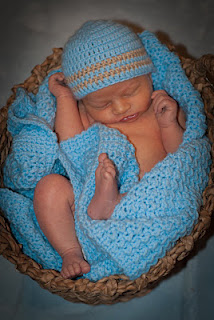 Couldn't decide which of the three feet pictures I liked the best.
Take your pick. Let me know.
*NOTE: Blogger compresses the images when you see their thumbnails directly on the blog. You must click on the photo to see the high-quality version. Trust me. It looks better.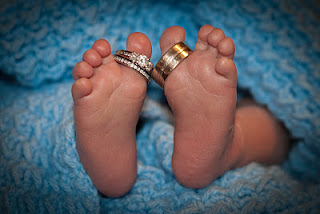 #1: Black vignette
#2: White vignette
#3: Black and White
We did pumpkins, too:
Mommy's Little Pumpkin
(And this photo does not look good in color. Trust me.
I had to doctor it up to save it. He wasn't being very cooperative.
Little pumpkin-hater. We've tried two different shoots now.)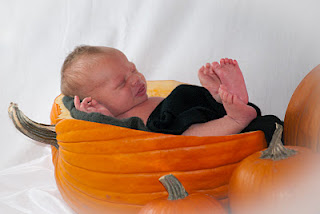 Yeah. He's cute.
This is the only picture that I could get that didn't exactly
show that he was screaming bloody murder.
DID. NOT. LIKE.
At all.
On Tuesday, my not-so-little-anymore brother came up to visit. He was here straight through the weekend and got to spend some quality time with the lil'uns.
The Ellinator
And just so you can see the back of Lincoln's head: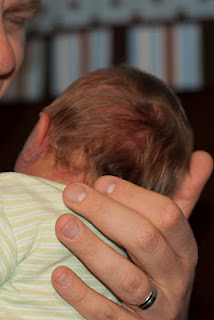 He looks like he got his tips frosted.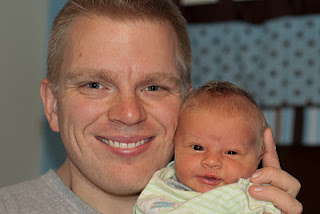 Like father, like son.
Lincoln looks really orangish-yellow here, but believe me,
he was a lot worse last week with that jaundice run we had.
On Thursday, Dovy's sister, Kristi, came to help with the kids. Thank you!! They had a great time at the park together. On Friday, my cousin Laura came with us to our annual Pumpkin Patch visit. We always go to a farm south of us to take a hayride to the pumpkin patch where we choose our pumpkins for Halloween. Afterwards, we treat ourselves to yumminess at the store there. (Fudge, ice cream, caramel apples!) We take treats home and usually watch a Halloween movie. However, we were exhausted this year and came home so we could go to sleep. :)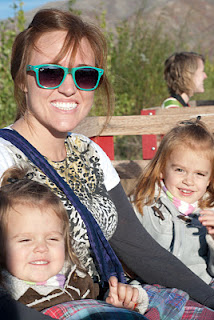 Loading onto the wagon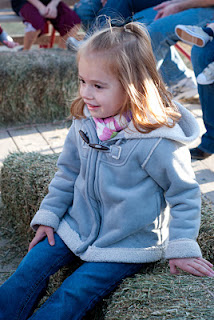 Anjali loved the hay.
But I wonder if she's allergic.
By the end of the trip, she had red splotches on her face…
She didn't care, though!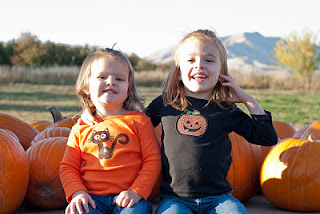 My two little ghouls!
(Yeah, that was a cheesy play on words.)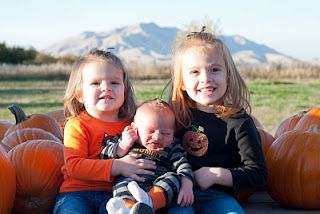 My children.
Woah.
CHILDREN. Like, three of them.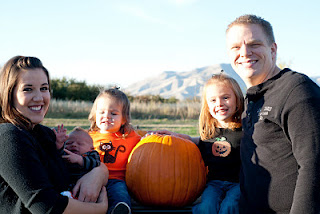 Our family.
Also a really bad picture of me.
At least we have the memory, right?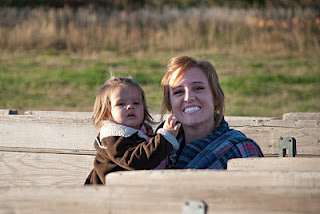 Laura and Elli in the little maze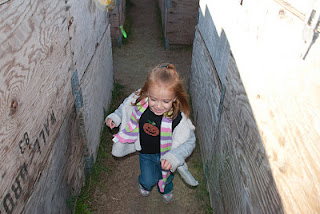 Running through the maze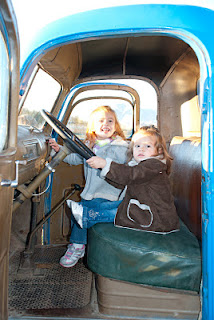 Gotta love this truck.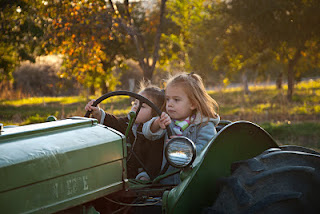 Yup. It's a John Deere!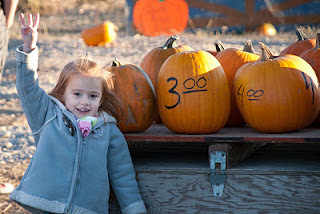 Anjali found the number three all on her own and was
so excited because that's how old she is.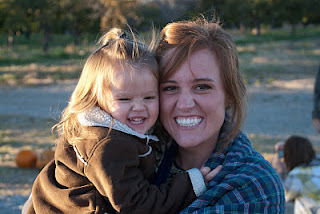 Love these smiles!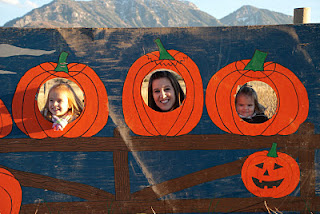 Pumpkin Heads