We brought Lincoln home on Monday morning! We left the hospital, having met up with the girls, and took Elli to her dance class. Dovy then took me home and Anjali helped carry Lincoln in. Link and I stayed home to rest and the rest of the family went back to dance classes and to pick up my narcotics. :) Turns out, I had a reaction to codeine (which explains all the barfing the night before in the hospital) so I was able to get some Lortab, which seemed to help a lot.
By Wednesday morning, my milk had come in in full force and poor little Link kept us up one night crying almost the entire time. I realized, having had two other kids with the same problem, that we were dealing with
acid reflux.
We made a quick trip to the doctor and procured Prevacid for our little man-cub. (We also had a bilirubin test that morning, which I didn't think much of because I've had to do it with my other children, as well.) The medicine has helped immensely.
Thursday morning was perhaps the most difficult. Dovy had a very important meeting in Salt Lake. My grandparents came down to help out for the day. Lincoln had had another difficult night (I think the medication was still working through his system) and I was at my wits' end. Finally, the meds worked and Lincoln calmed down. My grandma helped me get him to the hospital to have his bilirubin levels checked again. I had received a call telling me that his count had gone up to 17 and they needed a recheck. This visit revealed that Lincoln's count had gone up to 18 and he would need to be put under lights (phototherapy.) They wanted to put Lincoln directly on a bili bed (kinda like a baby tanning booth, little eye mask and all) but I knew he wouldn't do well laying down all day with his acid reflux problem. Not even Prevacid can make that a pleasant experience. So, they ordered a bili blanket, a kind of patch that went on his back and wrapped around his torso. (Yeah, heaven knows why they call it a "blanket.") They said the blanket was not near as effective, but we took our chances. Dovy and Grandpa gave little Lincoln a blessing, saying that he would be just fine and that I would be calmed, as well. I was, and the day went a lot better, even after we hooked Lincoln up to the machine. Bionic baby!
Lincoln came off of the bili blanket yesterday afternoon after we found out that his count had gone down to 14.2, and today it was 14, going down again on its own. We were happy to see that he was doing well. (And a little disgruntled that we'll have to pay for the phototherapy, but hey – it helped him; anything for our little guy.)
We are doing well, otherwise. Sleep deprived, yes. Happy to have our little pumpkin with us? Yes! Lincoln is a sweet little baby and isn't high-maintenance at all. All babies need attention and he doesn't really require more than the normal little babe. He absolutely loves being held and he's already being taught about pink and princesses by his sisters. (Yeah, we'll have to make some distinctions later on down the road.) Anjali and Elli absolutely love him! When they wake up in the morning, the first thing they ask is, "Where's Lincoln?" They always want to hold him and love him, even if it is a little too much sometimes. :)
The next few pictures are catch-up from last week:
My cousin, Lindsay, came over to watch the girls
while Dovy and I went to the appointment that led to
the eventual decision to induce. The girls had a blast!
And yes, it's getting that cold in Utah – at least sometimes.
The night before Lincoln arrived.
My last night as a mommy of two –
at least outside the womb.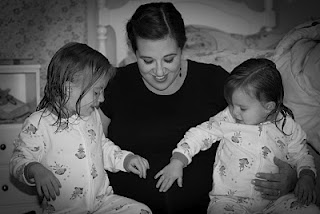 The girls touching my big belly.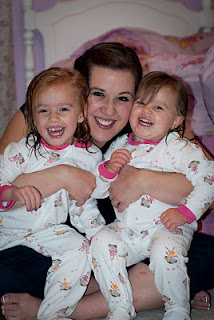 Mommy and Her Girls
I can't even tell you how much I love them.
And for the rest of our hospital stay: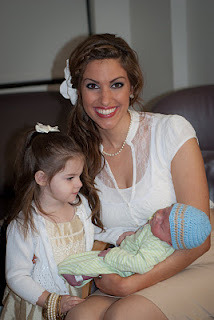 The Colvins came to visit.
Here is Amy and Livi with little Link.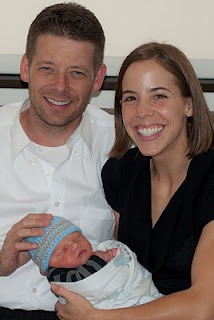 The Burtons
(Our friends with the six kids – single,
triplets, twins)
They were the ones who brought the awesome
turkey/avocado sandwiches.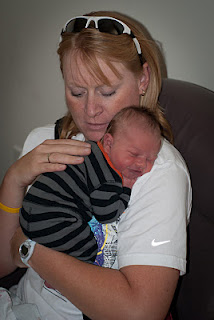 Aunt Kristi came to see her little nephew!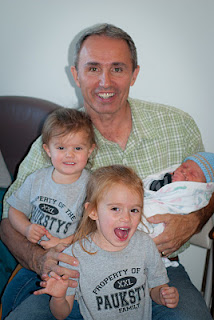 Uncle Curtis with our three little bambini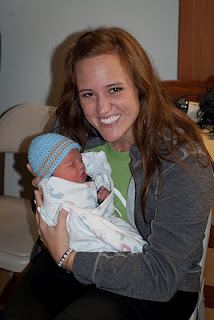 "Auntie" Laura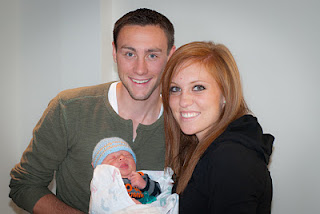 Kodd with Lincoln
(Kodd is Kathryn and Todd put together.
Get it?)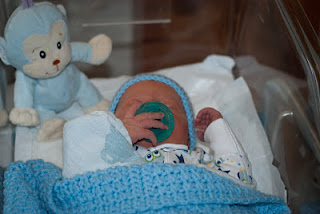 Lincoln is really good at knowing where his hands are.
He held his own binky in!
There is a little tradition that a friend of mine started. (Thanks, Denise!) She bought me an outfit when I had my head stuck over a bucket while expecting Anjali. The outfit was gender neutral and it was the first that we put on Anjali when we took her home from the hospital. I did the same thing with Elli's outfit (albeit a little late because I didn't need the motivation while in the first trimester due to the lack of morning sickness.) The week we found out that we were expecting Lincoln, we were in Costco and saw this cute little owl outfit. It was unmistakably "boyish," but Dovy and I had a feeling this was the little guy we were waiting for and bought it. Believe you me, I did a lot of crying into that outfit as I waited to feel better. I slept with it in my arms, too, just like a little kid with her stuffed animal. Somehow, it helped make all the pain and misery more bearable. (And imagine my relief when we found out it was a boy! Hallelujah!) Anyway, Lincoln is wearing the outfit in this picture. He came home in it. *warm smile*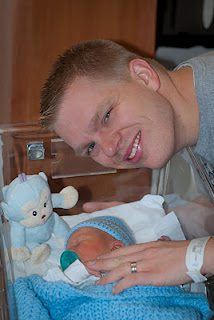 Getting ready to leave the hospital!
There's the blanket I made him, the hat that Anne made,
and the little stuffed monkey that we got for him.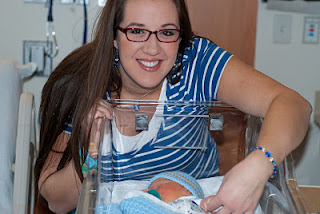 Me with Link right before we left.
I didn't look this dressed up the rest of the week.
Trust me.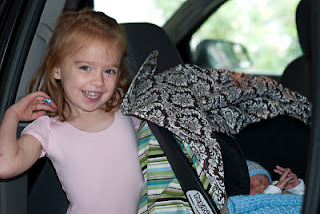 Anjali bounded into the car to get Lincoln.
She was so excited!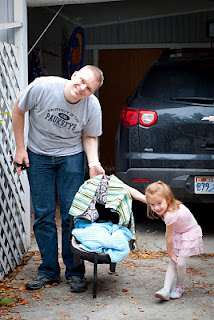 So excited, in fact, that this was the
most decent picture I could get of all three of them.
She was bouncing around like popcorn!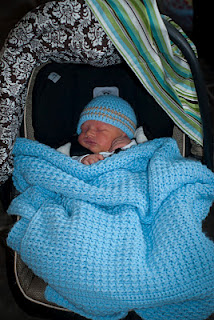 Lincoln's first minute at home.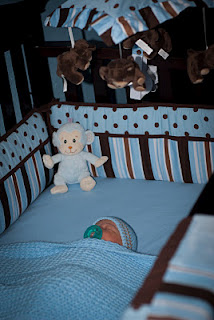 First time in the crib!
This was before the acid reflux hit hard, although
it did make him a little fussy.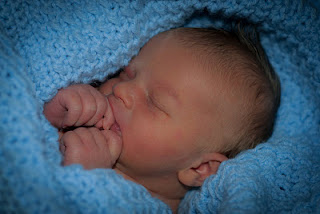 My little boy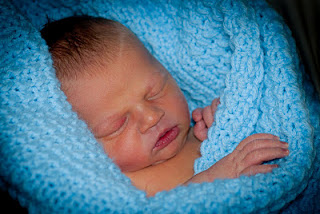 Sleeping peacefully.
See that little pout? It belongs to Dovy.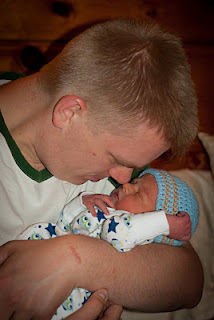 I LOVE this pose.
I think I have one with each of the girls, too.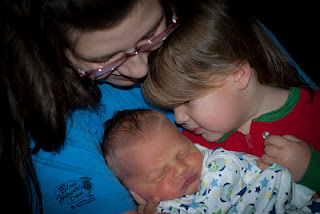 Elli constantly wants to hold Lincoln.
She's a little mother.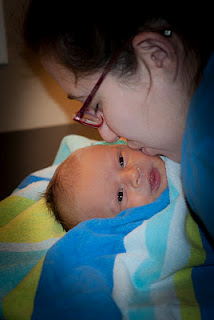 First sponge bath at home!
He absolutely hated it, though.
He hates being cold and he REALLY hates his little
privates being cleaned, diaper-change or otherwise.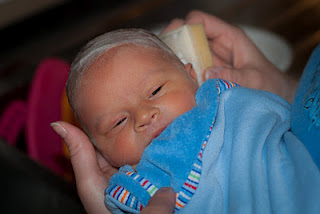 He does, however, adore having his hair washed.
He just sits there, staring around like the world is perfect.
Which it's not.
But he could care less while we're doing it.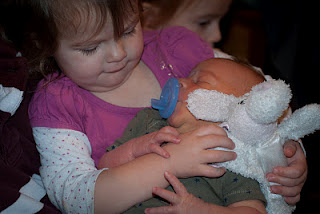 This melted my heart.
Lincoln's holding Elli's hand!
They were like that for several minutes.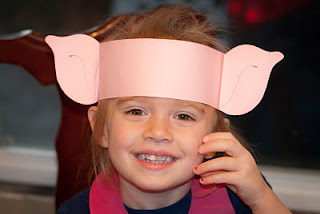 Anjali made piggy ears at preschool.
She loves this hat.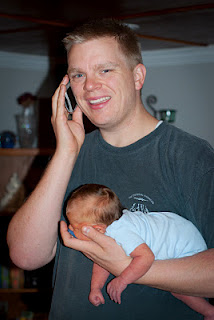 Daddy and Son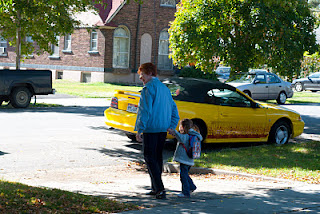 Grandma helping Anjali onto the bus for preschool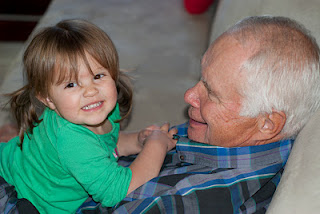 Elli and Grandpa
She has a very special bond with him.
And she has him wrapped around her finger.
(Sorry, Grandpa. It's true.)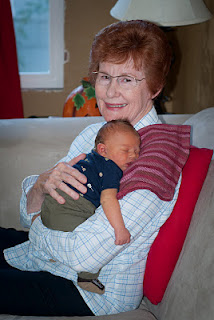 Grandma and Lincoln, soon after we got the bili test results.
Do you see the towel on her shoulder?
Yeah, I'm running out of blue/boy burpcloths.
I refuse to use the pink. Although Dovy did use a purple binky today. Yikes!
(I did go buy some more burpcloths; he spits up A LOT.)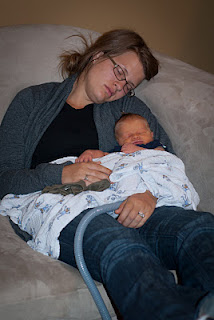 Our bionic baby with Lindsay.
She really was asleep.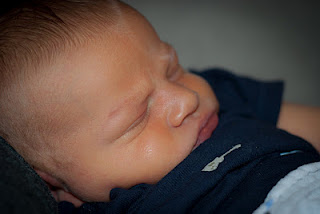 I'm so in love with that little pout.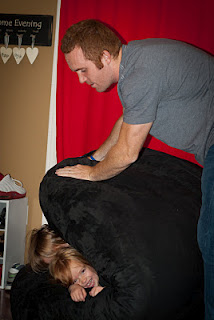 Sam called this the "Anjali/Elli Taco."
They also had fun being launched into the air
when Sam jumped onto one side of the MonsterSak.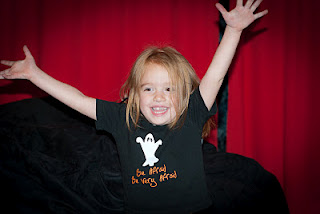 Read her shirt.
Be amused.
And believe it.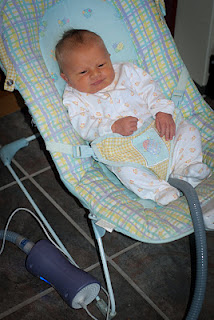 Here is the bili blanket machine thingy.
We had to take it with us all over the house.
Our son had a tail for two days.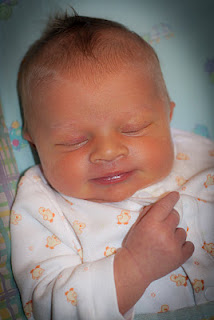 A tiny little sleeping smile!
Yeah, I know. It's gas.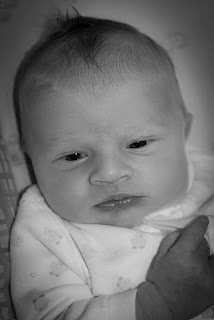 His eyes are open!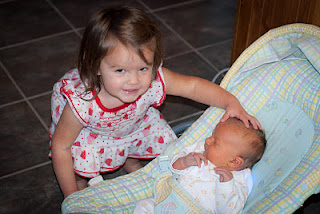 Elli and Lincoln
Oh, how she loves him.
Do you see the blue glow on Link's back?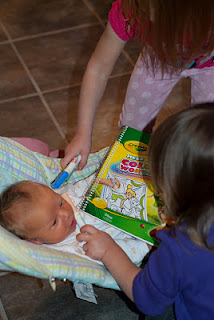 Remember what I said about princesses and pink?
They actually tried to make him hold the marker.
And the Tinkerbell book was supposed to be for him.
At least they're sharing, right?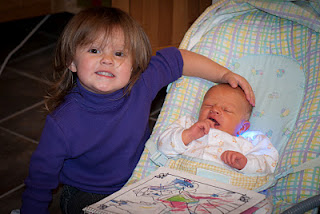 I have a lot of pictures of Elli and Link,
but it's because she's always trying to be with him.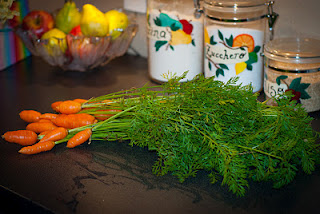 My carrot crop.
Sorry, Grandpa. I did neglect the rest of my garden.
I just got too tired.
But the carrots made it and they taste pretty good.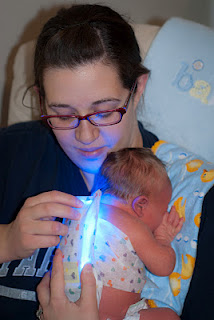 A better view of the Bionic Baby.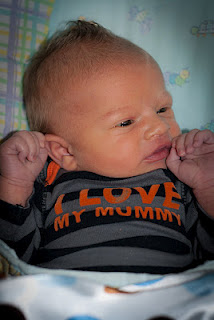 This is one of my favorite little outfits.
Love, love, love.