Ha! Don't be freaked out about my post. No, I haven't given birth. And no, as far as my doctor and I know, there is only one little person baking in my belly right now. The twin story shall be explained soon. Don't panic.
First off, I would like to say, that I have had THREE dates with my husband this week. (We're trying to make up for lost time in the future. Wow. That's an oxymoron. Did you even get that?) In layman's terms, we're trying to get as much "us time" together before Junior arrives so we don't feel incredibly deprived and alienated when another human being takes over our world. There. That makes sense. Anyway. On Tuesday, we actually went out, all dressed up, and ate dinner at Carrabba's. By the way, I ate there around six or seven years ago and was not impressed. (I think I still had my "I-just-came-from-Italy-snob-taste-buds" at the time.) However, a friend from choir told me I absolutely HAD to try it again. And she was right – it was amazing! Authentic Italian? Of course not. Feel-good, comfort food, American-Italian? Definitely. And we had a fabulous time! (Get the Zucchini Fritte and the Sogno di Cioccolata cake at the end. They're pretty much to die for.) Well, after this delicious date, we both looked at each other and said, "Now what?" We're so used to ushering little people around, being concerned with massive messes and hurrying home for bedtimes, that we just didn't know what to do with our freedom. We usually stay home and watch a movie or clean out our basement or talk or… something. So, what did we do? Halloween shopping at Target! Yay! And here were the fruits of our labors: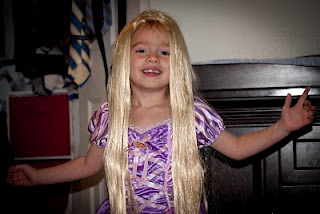 Rapunzel!
Anjali is so excited to be Rapunzel for Halloween. We had our doubts about the wig. Anjali's first Halloween was centered around Peter Pan, and she was Tinkerbell. And Tinkerbell that year refused to wear the hat/yellow felt hair contraption that Mommy had worked for hours on. However, she was ecstatic about Rapunzel's locks! She couldn't believe that she gets to have hair like Rapunzel.
Elli's costume was an intense mystery – and has been for several months while I've been conjuring this year's plan up. Little Lincoln is going to play the part of Pascal. (The movie Tangled, of course.) We found a green, fleecy sleeper with a hood that says "little monster" on it. However, I will tack some felt eyes on the top and call it good. Dovy will be Flynn Rider. (We still have to manage his costume somehow.) But boy, is he ever excited to carry around a frying pan all night. (Not kidding – he really is.) I will be Mother Gothel. I have had my doubts about this, however, because Anjali refers to her as the "Bad Mommy." I don't want her to get any ideas…
So, this leaves Elli. At first, we thought she could be Pascal and Lincoln could be dressed in black and pose as Daddy's frying pan. However, we thought when she got older she might hate us for that. I could just hear it, "Great. Sissy got to be a princess and I ended up as the little green reptile. Thanks." So, we found another cute little princess dress and called it good. She'll be Rapunzel's friend. Or one of the little girls that does her hair in the movie. Either way, she's excited to dress up.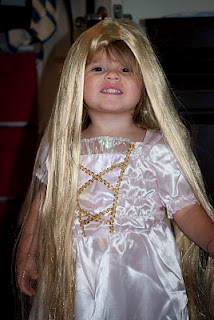 She wanted to try the wig on, too.
The second date consisted of a card game night (Bang!) with Dovy's business partner and his family. It was fun to get out and associate with other people! The last date was Saturday night. We have some friends in our ward that have 6 kids (single, triplets, and twins.) Dovy and the husband, Chris, hike the Y twice a week together. His wife and I have gone out for play dates, birthdays, etc. So, after Priesthood session, we went to Olive Garden! (Wow. Two restaurants in one week. Yeah. We're spoiling ourselves.) We had such a good time with them! Thank you to all of the babysitters who have helped us out. You guys are awesome! We super-de-duper appreciate it. One day, you guys will understand how much it has meant to us.
Before Priesthood session, though, we had one other excursion. Something that we like to do before having a baby is get maternity pictures done. Back when Anjali was still baking, we were strolling through the mall two days before she was born and a clever associate at Kiddie Kandids asked if we wanted to do a free maternity shoot. Dovy hadn't done his hair for the day (typical, it's a constant battle,) but he fixed it up in the bathroom and we took some very special pictures. We treasured that so much that we ended up scheduling an appointment before Elli's birth, as well. Thus, we had to continue the tradition and did our shoot for Lincoln between sessions yesterday. So, this brings me to the title of my post.
Dovy ran into the mall to get things all ready for us and I ended up coming in a few minutes after with the girls in my new stroller.
*I interrupt this post for an important announcement.*
***I sold my double stroller! Why? Because I found the one of my dreams! I have always wanted a 60/40 stroller by Peg Perego (our car seat brand) because you can click the car seat into place and still have the kids side by side. (I don't particularly care for strollers when the kids are in a row.) Anyway, I found the perfect 60/40 and was able to sell my 50/50 within a day. Yay! So… back to my mall story…***
The little sisters were sitting so beautifully in their matching dresses, hair styled, identical pink flower clips in place. I was almost to Kiddie Kandids when this sweet lady stopped me and said, "Oh, I just wanted to tell you that I feel for you. I totally understand. I have twin girls, too!" I tried so hard not to laugh out loud. I smiled politely and told her that my girls weren't twins, but two years apart! (I have had one other person ask if they were twins, but they were a cultural hall apart at the time.) She laughed and said, "Well, they sure are cute!" And they were. We were able to get some knock-out pictures. Anyone want some? We should have internet access to the pictures so you can choose sometime in the next week, unless Lincoln makes his appearance sooner than later… which I'm not counting on, of course. *Sad face with lower lip jutting out.*
And for the rest of the week:
Anjali frequently pulls out her little couch and piano,
and finds a song she knows in the Children's Hymnbook.
Here, it is "Popcorn Popping." She plunks out notes
on the piano and sings. It is so cute!
I think it's even cuter that she is still pretty tone-deaf.
It's amazing how children can bring a spirit with singing
even if they haven't been studying voice for ten years.
She melts my heart.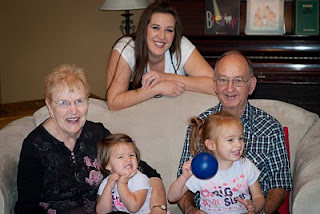 We had some friends come to visit.
Sister Vest was a hall advisor at Deseret Towers
when I was a Resident Assistant my sophomore
and junior years. She married Fearn when I was there
and they live together in Logan now.
Whenever she's in town, she always stops by.
Thanks for coming, Vests!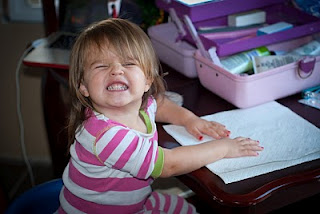 On Saturday, I painted the girls' fingernails and toenails
in preparation for pictures. Elli was actually pretty good
at letting me do it.
And "The Cheese," as usual.
On Saturday night, we went on that date to Olive Garden. The sitters that I found for that night were a pair of sisters that sang with me in Women's Chorus, Cebre (Say-bruh) and Terra. Ironically, they are the two oldest and have a little brother, just like our family will be. Also ironically, their hair colors are mysteriously a lot like my girls'.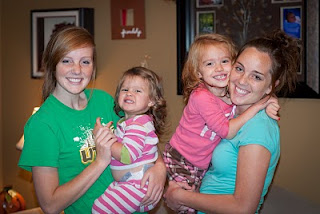 Terra and Elli, Anjali and Cebre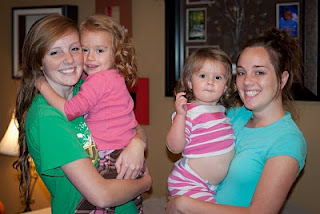 Usually, I hate putting more than one version of a shot up.
(I don't know why, I just hate it. It might be a monotony thing.)
Anyway, the sitters switched girls to be by their matching hair colors and
I thought everyone looked so cute I just couldn't decide.
You can see some of the curl left in the girls' hair from our photo
shoot that day.
Well, until next time. Let's hope I'm holding my baby instead of incubating him. However, I probably won't be. Yeah, I'm optimistic. :)