It's been a big week! The Pregnant Lady is exhausted (but what else is new, right?) I had something going on every night this week and with class sandwiched in between Preschool and dance class, we've been very busy.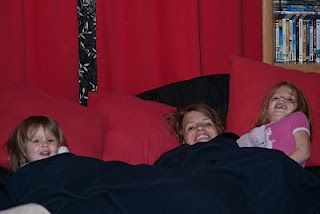 Lindsay with Anjali and Elli on the MonsterSak
On Monday, the girls started up again with dance. I was shocked, however, when Elli didn't want to be involved at all! She clung onto one of the barres almost the entire time. However, I have found that it all comes loose when she has some sort of prop to dance with. Last week, it was ribbons. This week, it was a feather boa. Anjali is also trying to get used to dance class, but I think they will both come out of their shells with time.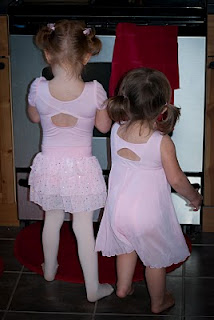 Pink little leotards!
(Yeah, they're wearing the same size…)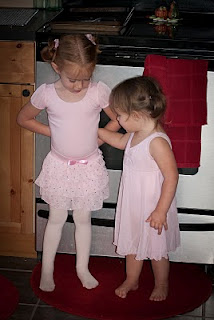 Anjali was again in one of her moods and
didn't want to hold her sissy's hand.
Elli was being a trooper, however.
Aren't they adorable?
On Tuesday night, my cousins threw me a baby shower! I had a pregnant moment with my closet that day when I pulled out the shirt I was planning to wear and found a stain on the belly. Yay. Shirt Option #2 had a hole in the front that apparently my washer had inflicted. There aren't a lot of cute options at this point in my pregnancy so Dovy told me I could go get something from the maternity store. This was the choice: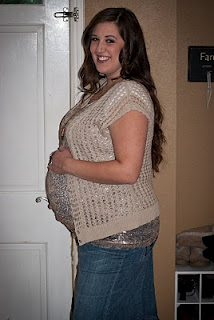 And I felt awesome!
Here I am, in all my shimmery glory,
at 37 weeks!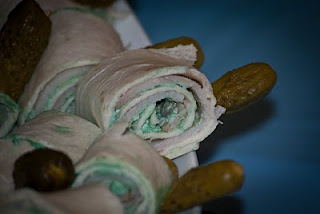 The theme for the party was "snakes, snails, and puppy dog tails,"
so here are the snail treats that Lindsay made!
The cream cheese mixture was dyed blue, too.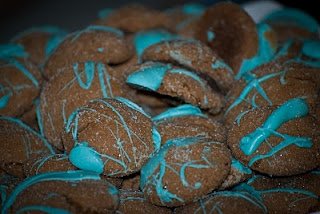 Thanks to an old friend, I have been able to
pass a divine molasses cookie recipe around.
Lindsay and Sam really like making them, and I love them,
so she made them for my shower with dyed blue chocolate drizzled on top.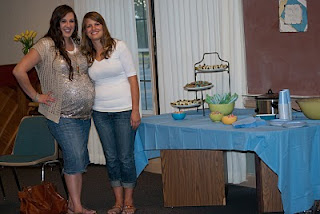 Me and Lindsay with the food table – yum!
Thank you so much, Lindsay and Laura!
You're the best!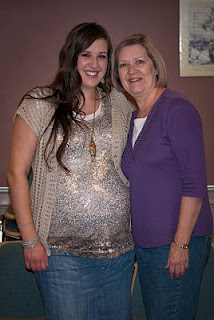 I have been serving with Anne in the Relief Society for more
than a year now. She is such a great support for me.
(See baby bedroom pictures below for some of the cute gifts she gave me.)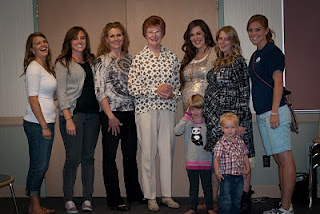 My Heiner/Wolthuis relatives!
Lindsay, Laura, Aunt Sandra, Grandma, Me, Deb, and Kathryn
(Ava and Simon in front)
Deb is pregnant with identical twin boys and is exactly 10 weeks behind me,
but will probably have them a month or so after I have my baby.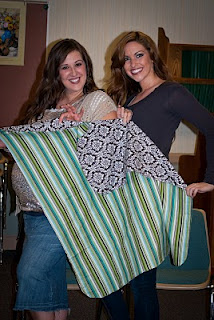 This is Amy.
This is the car seat cover that Amy made that I have
coveted for… a long time. I have always wanted one of these
and Amy made one for me! Ames was a bridesmaid at
my wedding and we met in Women's Chorus back in 2004.
Our daughters are in dance class together and our husbands are great
friends, too. We love the Colvins!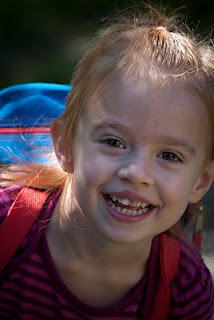 On Wednesday, I found Anjali with my make-up bag.
In said make-up bag was permanent Covergirl lipstick.
See it on her top lip?
This week, we made the final push to finish Lincoln's bedroom. As promised, here are the before and after pictures! Our old Master Bedroom is first, followed by the current baby's room shots.
BEFORE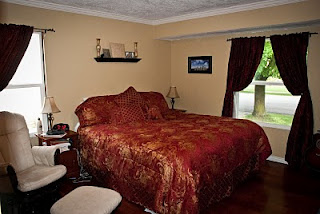 This room was always so warm and inviting.
I loved the gold on the walls that accented the gold
in our bedspread. (Although, that bedspread
has definitely seen better days, right, Anjali?)
AFTER
Current view of Junior's room when you walk in.
He will share it with anyone who ends up staying the night with us.
(That is the guest bed.)
BEFORE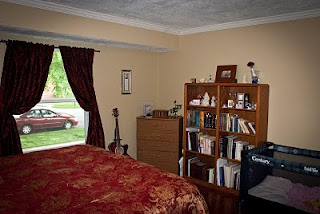 AFTER
Although, this is a slightly different shot.
But you can see that the chair and nightstand all
match. Of course.
BEFORE
AFTER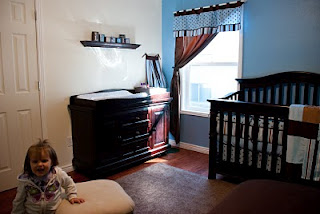 It's so cute and blue!
You can see a close-up of the name blocks
here.
I also love the brown carpet, and it works really
well as an accent to our hardwood floors.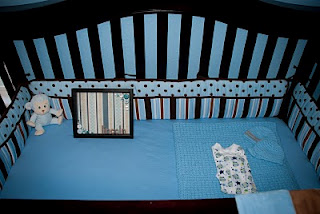 So, these are some of the most special things that
we have prepared for Lincoln.
The little monkey on the left is the stuffed animal that
we have specifically chosen for him. Each of our girls also
has one, Anjali a teddy, Elli a puppy. I even took out the jingling
bell and sewed up the back so it would be noise-appropriate. :)
The monkey will be at the hospital, along with all of the stuff on the right.
I crocheted the blanket for him during this pregnancy, and Anne (see above)
used the same yarn to make those little beanies for him!
The little owl outfit was one that I bought the week I found out I was expecting.
I always buy a little outfit (a tradition started by my friend, Denise) when I find
out I'm pregnant. It may sound childish, but believe me, it helps heal a
mother's soul when she is terribly sick and wondering why
she's going through everything.The ironic thing about this
little outfit is that it was most definitely on the boyish side of things.
Somehow, Dovy and I felt that this was the boy we
were waiting for, well before we found out.
(Gosh, if you're a girl, I'm gonna sound like an idiot.)
The rest of the week was full of choir. I had two concerts – one on Thursday, another on Friday. In between that, my friend Ashley came over so our girls could rest while we both sacked out on the couch. We're such good mommies. :)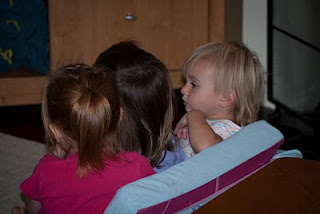 Anjali, Elli, and Jaynie
A true Neapolitan!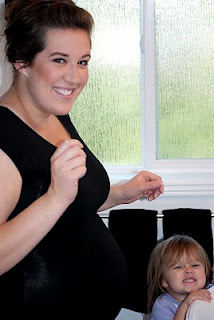 While I was getting ready on Thursday,
I was laboriously trying to get my mane into an acceptable
up-do (required now by the professors.)
This is a lot easier when your angelic two-year old
pulls up the stool and hands you each and every pin all on her own
(and there were probably more than 45 in all,)
with an adorable little soprano voice repeating, "Here you go, Mommy."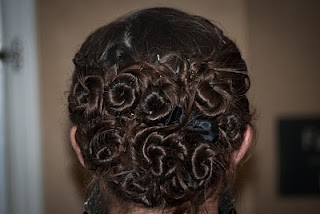 This was Friday's hair-do.
Tons of buns!
I've never done anything like this, but it seemed
to work well.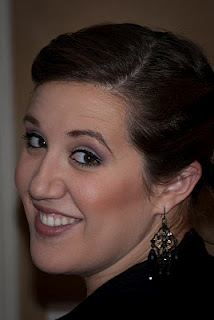 Stage make-up!
Yeah, I clean up well.
The concerts went very well. The only thing was that, for the first time in my life, I was on the front row. I needed to sit during this concert because my legs frequently fall asleep and I've been very light-headed lately. It was just the safer route. We tried to rig a stool up on the top row, but I'm sure I would have fallen on my face and had my water break during one of the concerts, so Sister Hall rearranged things and I ended up sitting on the front row, smack in the middle. Talk about feeling exposed. I like hiding in the back row! Next time, I guess.
I did a lot of resting on Sunday and my Aunt Nancy invited us to Pleasant Grove. Thanks for the meal! It sure was nice to get a rest from cooking!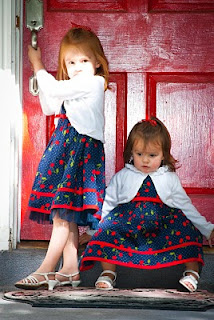 More dresses that my parents sent for the girls.
So cute!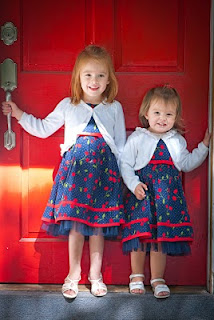 Aren't they cute?