We had a fun week! I guess I forgot a big thing in my blog post last week. I started singing at BYU again. This year, I am in Concert Choir, which is an SATB (that's mixed, with Soprano, Alto Tenor, and Bass) choir. I really love how succinct everyone is and how hard everyone tries in this choir. The sound that we make is very beautiful and I have to work extra hard not to be a weak link. I love that I'm doing something that will really stretch me. So, I go to choir every day on campus. Because of the trouble that I've had with my hips and nerves, my doctor made it possible for me to get a handicap placard. This beautiful little placard makes my car worthy to park in faculty lots. Thank goodness, too, or I probably wouldn't make it every day. It is a pleasure and I look forward to getting to know everyone.
On Tuesday, Anjali started Preschool! I still can't believe that my three-year old gets on a bus and goes to school. She absolutely loves it! She bounds outside and comes back with a massive grin on her face. It also works so that I can go to choir every day while Elli is napping. Not sure how it will be once the baby gets here, though…
First day of Preschool!
(Yeah, she needs new pants…
but they don't make pants for petite kids.
The 4T size falls right off of her.)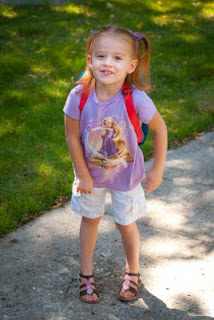 Second day of Preschool.
Her favorite shirt: Rapunzel.
She also needs new shoes but I'm waiting for the cold
to come so I don't have to get new sandals.
Yeah, I'm a cheap mom. hehe
Here, she is wearing 4T shorts, but believe you me,
they are cinched as tightly as they can go and are still too big.
Can I please have my daughter's body?
That would be awesome.
So, back to baby. We have finally decided on a name. Lincoln Dovydas. "Lincoln" is my father's middle name, and of course, "Dovydas" is Dovy's full name. Lincoln Dovydas Paukstys. I know. What a mix, right? Half Lithuanian/half American. And on the American side, it's in the extreme. haha! Anyway, I made the baby's shadow box last night. I went with my most recent design and put the embellishments on the outside of the glass. I absolutely love it and it will be perfect in his room! (Yes, I have held it up on the wall and it matches beautifully.) I always put my baby's first outfit in his or her shadow box and usually hang it over the crib. Yay!
The rest of the week was spent singing (both with Concert Choir and Meadowlark – which I am still doing) and preparing for – drum roll – Elli's birthday! My littlest girl turned two on Friday!
We did a "Puppy Paw-ty" theme and I think it was a huge hit. See for yourself.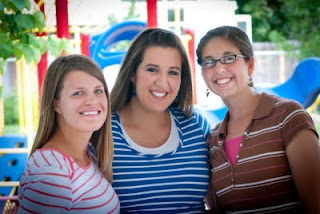 Stripes!
Lindsay, Me, Cassie Fernelius
(I end up getting a lot of these pictures because
I wear this shirt a ton right now. It fits, okay?)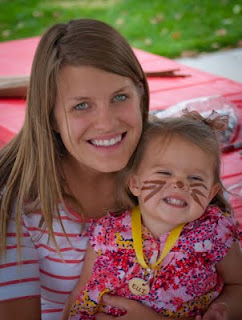 Lindsay and her puppy, Elli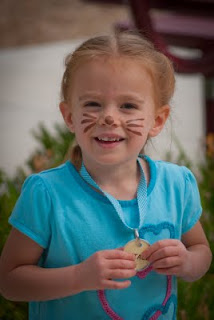 My blue puppy, Anjali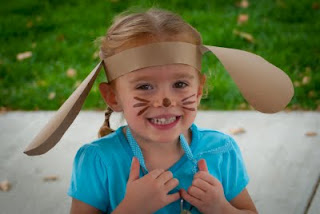 And the full ensemble!
Dog ears, nose and whiskers, and a collar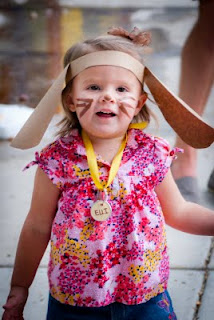 Our birthday puppy!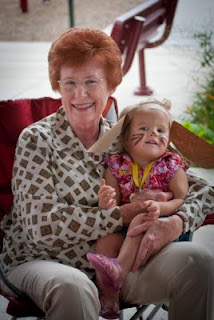 Grandma and the Birthday Girl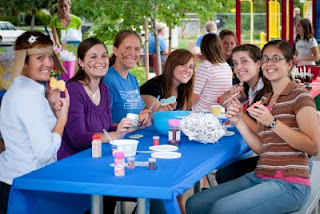 We had a dog bone sugar cookie table!
Good thing, too, because a yucky thunderstorm rolled over the park
about 25 minutes into the party. We all huddled under the pavilion and waited it out.
Thank goodness it cleared up after a little while; the party was still in full force.
We also had plenty of crafts to keep the kids occupied for a little while.
It all worked out, even though I prayed for a drought on Friday.
(On the far left is Julie. She also recently joined Meadowlark
and we sing in CC together, as well.)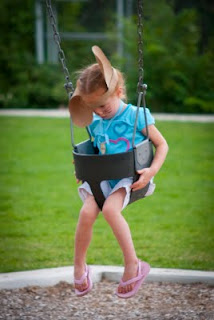 My sad little puppy.
Anjali gets into these moods.
She is very good at having a "mood."
Here she is, mood in full force,
because no one came to push her on the swing
at the exact moment she wanted them to.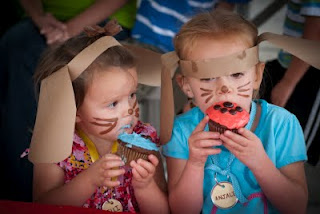 Eating pawprint cupcakes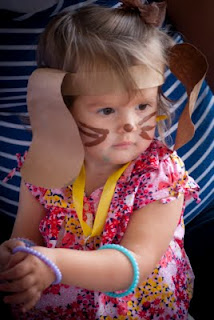 Elli opening up her presents.
Here she is with some new jewelry!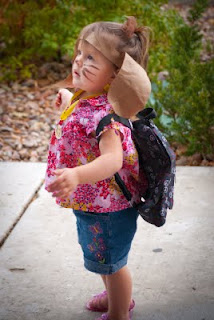 Every day after Preschool, Elli dons Anjali's
Cars backpack and tells me, "Go on the bus!"
It breaks my heart because I know that she wants to
be big like her sister, but she can't get on the bus.
Here she is, with a new peace sign backpack that Laura
picked out on behalf of the Colorado Crew.
I think she's worn this 90% of the time since she got it.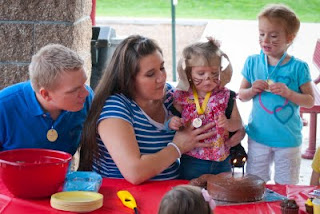 Dovy, me getting very fat… I mean, pregnant, Elli, and Anjali.
I made a "pawprint cake" for the occasion.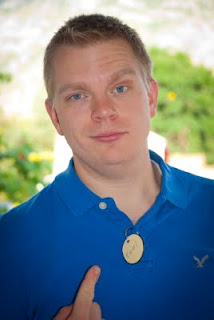 Dovy's dog tag read "Tool."
Thanks, hon.
(I think he said this because for the first time in our marriage,
I gave him a "Honey Do" list. Hey – he told me to! I needed help and
he thought we would get along a lot better if I gave him a detailed list. His fault.)
:) I love you, Honey.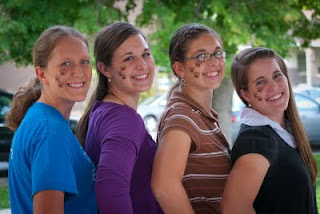 The Fernelius Sisters
Kait just married Mark, Janette, Cassie, Courtney
We had a great time! Thanks to everyone that came out! The Wolthuis family stuck around for a while afterwards and G & G ordered pizza for everyone (thank you!) We didn't leave the park until the lights came on and the sun had gone down. What an awesome day! Happy Birthday, Angel Baby. You sure are loved.
Just another picture of my sleeping girls.
My favorite part is that they're cuddled up with their "Mommy Blankets."
I crochet a blanket for my baby each time I am pregnant.
Purple for Anjali, pink for Elli, and I just finished Lincoln's blue one!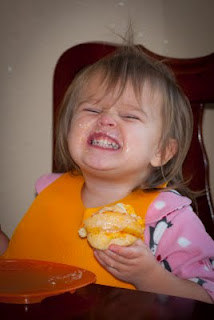 Elli eating an orange roll.
I was on the phone with my parents and was in the back room
for a few minutes. I came out to find that the girls had eaten
SIX of these things all on their own.
Stinkers.
Anjali trying to give her sister a piggy-back ride.
Sorry, Sis. You weigh almost as much as I do.
Yes, they ate them in one sitting.
I only had 6.
Go figure.