Hmm. This week. Let's see. I'm making it? I am definitely in the "I feel large, like a beached-whale kind of large. I want my baby out, but I'm not ready for it" stage. And for those of you who have never had the muscle mass of a man (yes, I've been told that,) reached 5'9 1/4″ in height, been big boned, been 35 weeks pregnant for the third time, and **7 pounds, you just don't know how large that feels. Believe you me. It feels large. I am definitely in the painful stage. Junior is sitting just right so as to pinch four different nerves in my legs – both the sciatic nerves in my tush, the femoral nerve in my left leg, which makes my thigh go completely numb from time to time, and another nerve in my right leg that I can't even pronounce that feels like the sciatic and makes it impossible to walk sometimes.
I don't know how many of you know this, but my hips have always been a trouble of mine. Hip dysplasia and a click-hip have been a fun thing that I have dealt with, but it's never REALLY a problem until I run too much, or get very pregnant. Ta-da! Attack of the burning hips. I wake up with my hips burning in severe pain all night long, because everyone knows that you can't sleep on top of a bowling ball (which is how I would sleep if there wasn't one there) and sleep on your side you must when you are great with child.
All of that being said, I know with every corner of my heart that he's worth it. I can't wait to hold him, to see him, to love him. (He agrees. He's kicking the edge of the computer as I type.) Everything that I have to go through in the world is worth it for him. I know it sure has been for my girls. They are such lights in my life, and I can only imagine my world becoming sunnier as I welcome this little guy into my home.
Dovy and I went to the Temple last night (a place of worship for us Mormons,) and I felt a very peaceful spirit there about all of this. I know I keep saying how nervous I am for three kids, and while that is still extremely true, I can't tell you how excited I am to raise a boy, to see what he's like, to see how his big sisters whip him into shape, to see the dynamic that will change in our family as he is ushered into it. I love him, I love him, I love him. It's amazing how much you can love someone that you haven't even met.
The best part is, my daughters love him, too. Elli constantly tries to lift up my shirt and feel the baby. She puts her little fingers on my ever-growing bump and says, "Baby, baby," ever so tenderly. (And then she says, "All done" rather resolutely and pulls my layers back into place.) Both girls have tenderly placed their hands on my belly. The last time Anjali did it, she said, "Aww. The baby. I love him." And I know they do. I can feel it. They're waiting for him, as well. This was so right for our family, no matter how much of a pleasant surprise it was. We can't wait to have him here.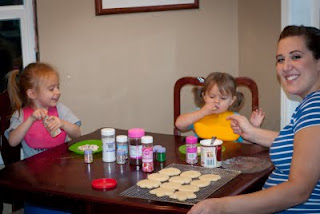 We made sugar cookies for FHE last week. Here are the girls sprinkling away.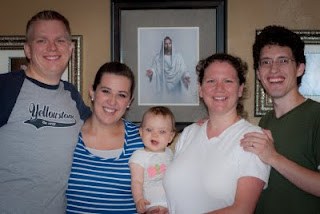 Our dear friends, the Seegmillers, have finally left Provo.
(Luckies.)
They just moved to California this week. We already miss you!

Dovy knew both Hannah and Brandon before they knew each other.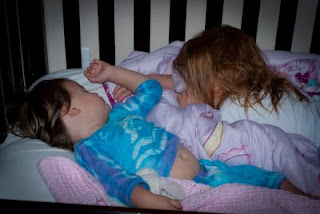 Another beautiful moment of my sleeping daughters.

Elli's belly is another joy of my life.
How can it not be?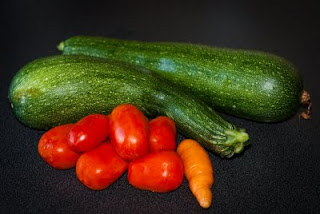 Produce from my garden!
I am told the tomatoes are very good.
(But I will NOT eat them fresh. Blech. Into a sauce they go!)
The zucchini is yet to be determined. I figure if it's just as bad as the
last one, then I can just ripen them a little longer and make
zucchini bread. The carrot was divine! (I just HAD to see
what one of them looked like at this point and pulled it out prematurely.)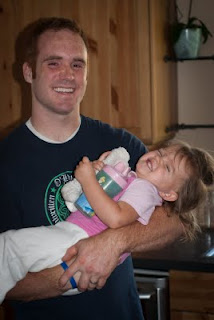 My cousins, Sam and Lindsay,

came over for dinner.
Elli asked Sam to hold her just like this.

He did for quite a while and when we pulled out the camera,
out came "The Cheese."