7 weeks. Yup. That's all I've got left. Agghhhh! I'm so excited to meet this little man. I can't wait to see what he looks like and what his personality is (and I'm hoping it's mellow – but I'm telling myself it won't be. You don't get two of those in a row.) I can't wait to hold him and to show him to the girls. However, I'm terrified. I have two arms. I will have THREE kids. This should be a blast!
This week, we had some visitors again! The Perkins were a couple missionary in Italy when I lived there back in 2002. They came to my graduation and were very dear friends. We love that they take the time to stop by and see how we're doing whenever they're on one of their excursions.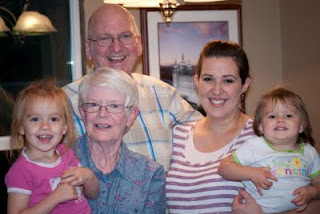 The Perkins
We had a better picture of the adults, but both kids had

their faces covered.

Oh, well.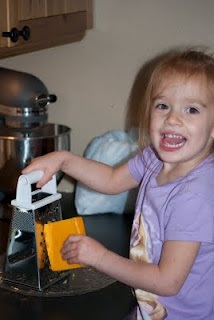 Anjali helping to shred cheese for fajitas!

She's such a good helper…
when she wants to be. :)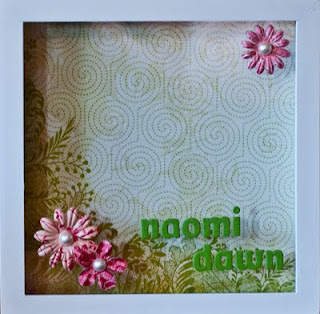 As always, I have to attribute this idea to my Aunt Nancy.

She gave a shadow box to me when Anjali was born.

It is now hanging over her bed with her first hospital clothes in them.

Elli has one, as well.
I'm getting ready to make one for Baby #3.

This one is a rendition I made for a friend who is leaving Provo.
(We'll miss you, Seegmillers!)

I ended up putting the embellishments on the glass and I absolutely
loved it! It makes for more room in the back with the clothes inside.
Love.
Part 2: Engagement.

My cousin, Kathryn, came and spent some time with us on Sunday. The singles' wards are not really in session right now so she came to church with us. It also happened to be her birthday! AND the day that her significant other proposed to her! It was a great day for Kathryn and we were so excited to share in on it. They came over post-proposal (having arranged it with her fiance, Todd) to eat "birthday cake." I'll let you see what that means in a second…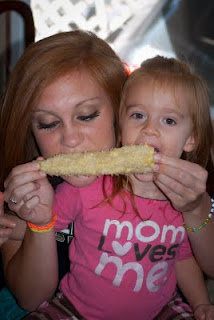 Kathryn and Anjali tag-teaming
on an ear of corn from Grandpa's and Grandma's
garden. So delicious!

Thank you, G & G!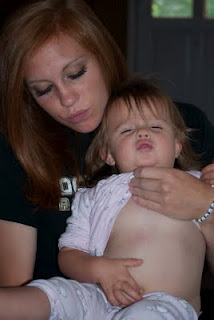 Elli was playing with an old glasses case

and shut the thing on her stomach.

She now has a little hickey on her tummy, as you can see.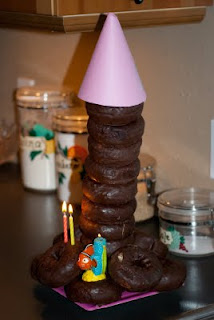 Okay.

So this is Kathryn's birthday cake.

She said she always wanted a donut cake for her birthday.

So, we obliged. This is the Rapunzel Tower, in case you couldn't tell.

With a Nemo candle, because that's one of her favorite movies.

(And also because I couldn't find any other candles – sorry, Katarina.)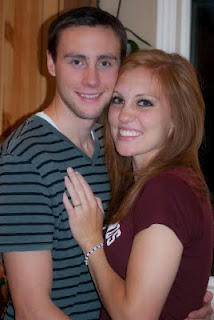 Todd and Kathryn
Wedding bells at Thanksgiving this year!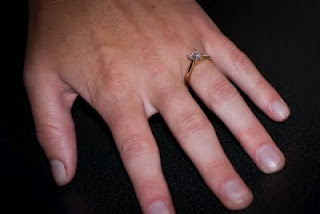 And the bling!

He liked it. He put a ring on it.

Todd has walked through the "man-door."

Congrats, you two!