Two weeks ago, we had a friend enter the MTC. Anjali wanted to know where she went. I told her, "She's going on a mission to teach about Jesus. We won't see her for a while." And ever since then, she has told me, "I'm going on a mission. I will go see Jesus Christ and Joseph Smith. I won't see you for a long time. Elli will go, too." Break my heart. She even prays about it.
Last Monday, a good friend from college came to visit: Jaehee! She and a handful of others were all on the same freshmen floor at Deseret Towers and we've been dear friends ever since. She was also a bridesmaid at the
wedding I went to back in March
(for one of the handful: Kindra.) It was so fun to see Jaehee! She is going to school out at Tufts right now; her husband just graduated from a school in Egypt and because of the riots, is still waiting to officially get his degree. Craziness. Thanks for coming, Jaehee!!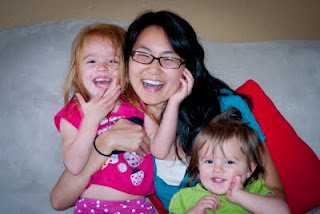 Jaehee and the Girls
On Friday, I put together a Bollywood Night. It had been forever and I was craving the Indian food, so I put out my last hoorah before the baby came and spent the week preparing food and getting it all ready. Indian food is awesome, but it takes FOREVER to make. Those amazing Indian ladies must spend half their lives cooking. Was it worth it? Yes!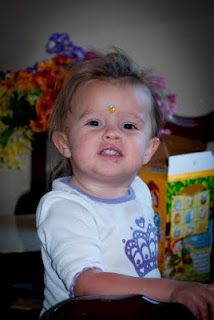 Elli with a bindi.
She LOVED that thing!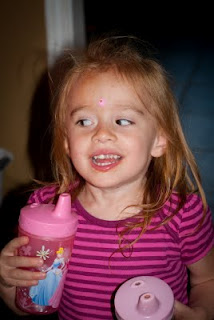 Anjali's bindi had to be pink.

Of course.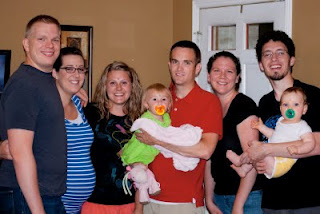 My cousin, Laura, came as well, but had to leave early.

This is the rest of the gang. The Seegmillers are on the right.

They're leaving Utah at the end of the month. We'll miss you guys!

In the middle are the Mounteers, good friends that live a few houses away.
On the left, you can see my growing baby bump.
He's gettin' big!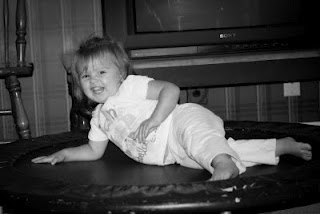 Elli being a little poser at G & G's.
My cousin, Mark Fernelius, was married on Saturday in Bountiful. We were able to attend the sealing and then I ran up to North Ogden to attend another cousin's bridal shower with my grandma. After that, we all went back to Bountiful for Mark's reception. Here is Anjali dancing with Mark's twin sisters, Janette and Courtney. Both sisters are planning on putting in papers for missions soon! Janette will be at BYU in the fall and Anjali can't wait for her to come back!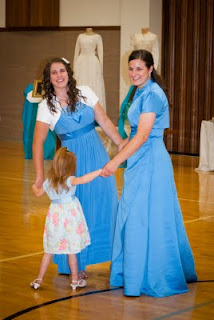 Argh. Why can't I have little stick-legs
like my daughter?