This post refers to the signature grin that my youngest has inevitably inflicted on everyone at the Cabin this week. Known to melt hearts and persuade you to do whatever the wearer wants, "The Cheese" is a dangerously cute antic.
We thoroughly enjoyed the rest of our week at the Cabin and were sad to leave on Wednesday morning. It was good to come back and rest, though. I really needed it. Of course, I caught a cold. (This is the seventh cold of the year – one each month since I found out I was pregnant.) I keep telling everyone that I'm going to get my tonsils and allergies checked after I'm finished incubating the Little Man. I'm tired of getting sick! Despite that, we loved being at the Cabin and had such a wonderful time. We hope to keep taking our children for years to come. I hope they learn to love it as much as I do. (And I think they will – Anjali woke up from her nap today and said, "Go to the Cabin? Please?")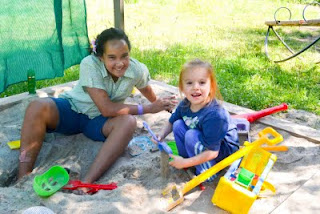 Sami and my oldest in the sandbox.
We had a lot of sand to clean out when we returned
with all of our laundry.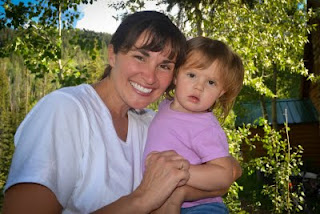 Aunt Mo and a sleepy Elli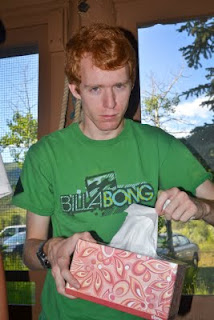 The allergies were intense at the Cabin
this year. My poor cousin, Trevor,
went through this entire box of Kleenex –
and he left on Monday!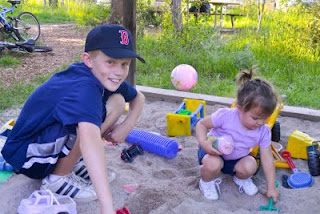 Henry and Elli in the sandbox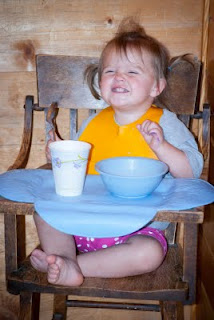 "The Cheese"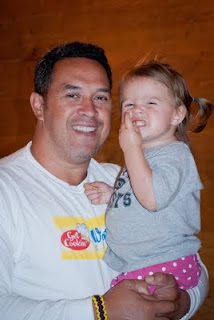 Uncle Pete and The Cheeser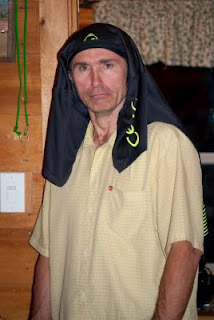 Uncle Curt – recently sold into Egypt
Henry and Elli again
I LOVED seeing the young boys with my girls.
They were all big brothers to them and it melted my heart.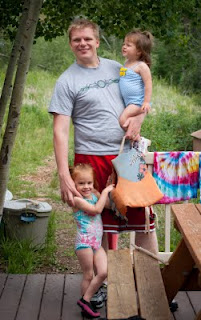 Daddy and his girls getting ready to
brave the freezing river
(I had my doubts about the stick-child
in the front, but despite the chattering and blue lips,
she still wanted to go again and again and again…)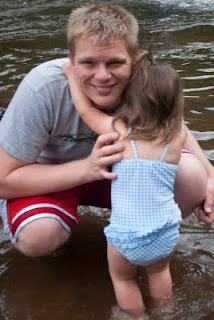 I adore this picture of Dovy and Elli.
She loves him so much.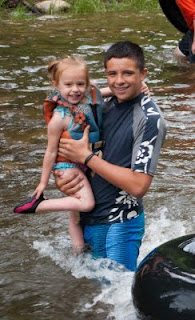 Hank and my little dancer.
Doesn't that pointed foot just scream "dance?"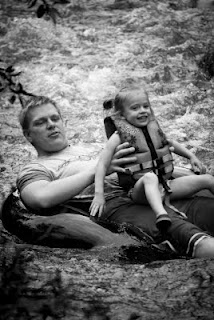 Down the river!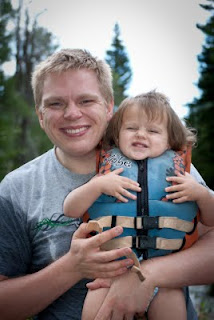 Getting ready to go down with Elli.
I was really anticipating her reaction;
she laughed the whole way down!
Woo-hoo!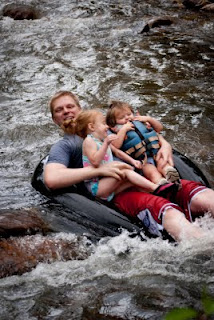 Daddy with both of his baby girls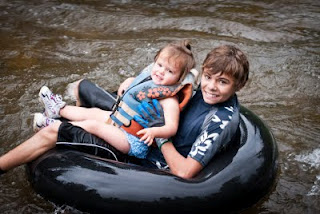 My cousin, Jake, and Elli
Caleb: the Mastermind behind the dam-building
so everyone could tube down the river.
Yay, Elli!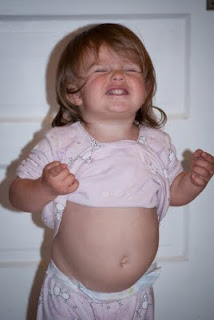 "Elli, where's your belly?"
And, wait for it, The Cheese.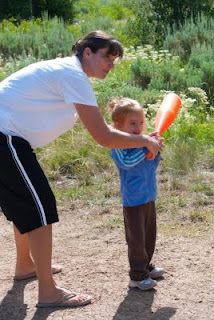 Aunt Mo teaching Anjali to bat
left-handed. I think Anjali is ambidextrous.
She writes mostly with her right (although
she started with her left) and uses her left for almost everything else.
She's better at throwing with her left than she is with her right, so
Aunt Mo tried to help her out – and she was good!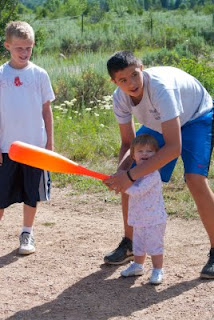 Elli learning how to bat with cousin Hank
On a side note, I sang with Meadowlark at a memorial service yesterday. I really enjoy singing with the women in the group and it's so satisfying to do something I love so much. We're getting ready for yet another big performance this coming weekend. Yay for music! (And getting over colds… right?)