Wow. It's taken me way too long to get this post up! Sorry about that. I'm sure it had something to do with the fact that we were up at my family's cabin this last week and didn't get back until Wednesday. A few of the techies (Dovy, of course, was included) needed internet at the Cabin, and finagled it by using their phones. However, it was nowhere near fast enough to upload all the photos I had. My computer would have sat there for an entire day.
So, here it is! We left last Friday to go up to the Cabin to meet up with my grandparents, Uncle Curt and his family, Aunt Mo and her family, and Uncle Mark and his boys. (My Uncle Frank and Aunt Becky were helping with their stake's trek this year so they didn't make it – we sure missed you!) I was really worried about making it through the week with all the heat, but it actually turned out to be fairly pleasant. The middle of the days were hot, but the evenings and mornings were cool – actually cold. The girls were doted upon and I really felt that I was getting a little break. I didn't have to work as hard to be a mom while we were up there. Thanks to my amazing relatives and cousins who watched over my babies! Card and board games were the regular nighttime activities and we had several amazing meals – including G & G's famous Williamsburg Chicken. I also made cheesecake for my cousin, Jack. He won March Madness this year (the winner of which always gets a dessert of their choice) and it was his birthday on Saturday night. He requested pizza from his dad's new pizza restaurant. So, Uncle Mark brought all the ingredients to make 12 pizzas and the family pitched in to get it all ready.
We had a fabulous time watching moose out the front door of the Cabin, riding Curt and Nancy's horse, Gracie, riding down the river, and just being a family. I love my family so much and they are always so welcoming and loving – especially to our little girls. Grandpa said that Anjali really does her own thing now (which is VERY true,) but Elli, the little "Magnet," had the entire Cabin revolving around her. And he was right! She stole a lot of the limelight this last week. I'm amazed at her blossoming personality. She's always kind of had a hint of it, but now that she's older, she comes out of her shell in front of people a lot more – and in a big way.
The beginning of the week consisted of more Meadowlark practice, preparing activities for church, and packing up for the Cabin week. The girls always stay busy. Go figure, right?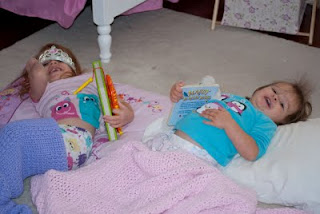 The girls snuggling in their bedding
on the floor in their room.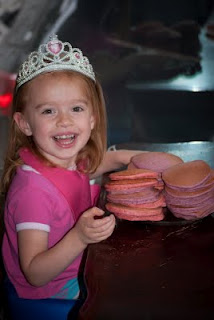 There were two full days when Anjali wore this
crown and refused to take it off.
"I am a princess!" Of course you are, honey.
So, I made purple and pink Princess Pancakes.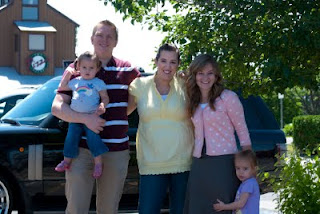 My friend, Collette, is now a sister in the MTC!
We saw her off at Zupas last week.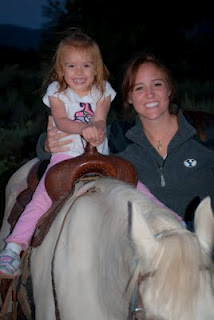 Anjali and my "sister-cousin," Laura, with Gracie.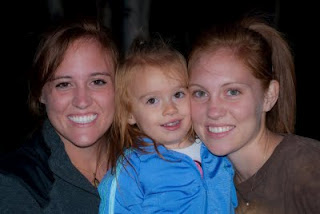 Laura, Anjali, and Kathryn
(Anjali is Kathryn's "mini-me.")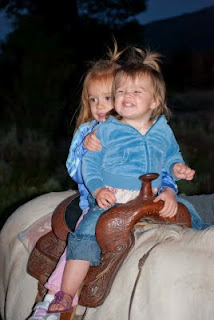 We bribed Elli with a Jolly-Rancher.
She was terrified of the horse until then.
Priceless!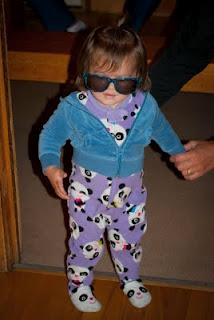 Elli with Laura's glasses on.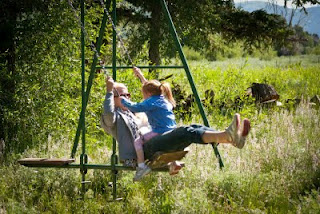 Aunt Nancy and Anjali on the swing outside of the Cabin.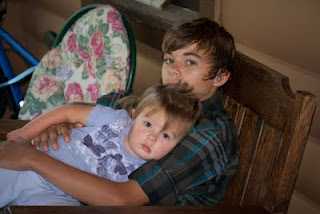 My kids always wake up very groggy.
Elli especially needs cuddling when she wakes up.
My cousin, Jake, has always taken the role of "big brother"
with my daughters.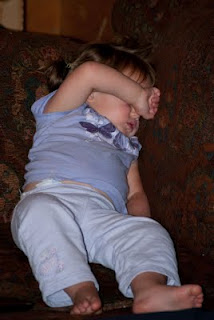 "Sleep! Sleep!" Elli begged.
So, I laid her on the couch.
And this is how she stayed.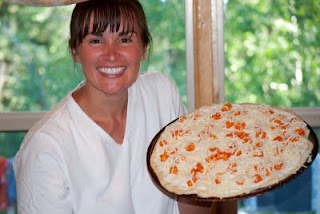 Aunt Mo helping to make pizza for Saturday's dinner.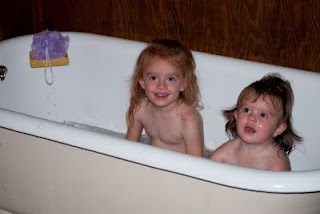 Anjali and Elli in the tub I used to take baths in
when I was a kid.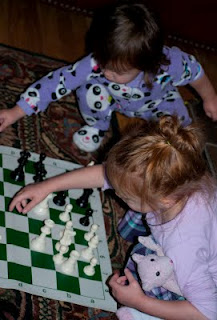 The girls setting up a chess game for their
big cousins.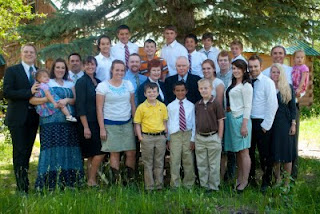 The whole gang at the Cabin this year –
right after Church.
Man… I'm looking big…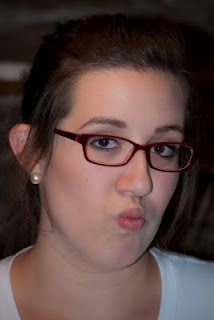 Something I forgot to post last week:
I got new glasses! Yay for being able to see
and not have them hang off my face.
Yeah, they're red.
Are you surprised?