Excuse my rather blunt title, but I think it was fitting this week. I had the poop of all poop stories on Thursday. I took the girls to the water park. Anjali had to use the bathroom for the second time in 45 minutes. (Really, kid? You went before we came, you went when we got here, and you have to go again?? You've only had breakfast today!) And of course, water park bathrooms are grotesque (as reaffirmed when I walked in and there was literally a swipe of poo on the cement floor.) Talk about gross. And even then, your kid is sopping wet so it's nearly impossible to get her undressed and on the toilet while trying to wrangle another sopping wet child. However, Super Mom did so. And was sick to her stomach the entire time due to the smell (assuming it was due to the poop on the bathroom floor.) We washed up and I trudged out, Sopping Child #2 on my hip, and Sopping Child #1 running along next to me, and another Sopping Child #3 in my belly – obviously. He's surrounded by fluid, right? (Oh, weird mental picture – sorry about that.) I kept walking, thinking, "Wow, I've done great. We got through it. Let's go swimming again." However, much to my dismay, I realized the poo smell was still emanating around me and I began to worry that my pregnant nose was on overdrive. I then looked down at Sopping Child #2 and realized that she had poo all the way up her back. Fabulous. And of course, poo-swiped bathroom didn't have a changing station, so we had to walk across the park to the other bathroom that did. Good thing I grabbed the wipes on the way out the door (which I've forgotten before) because I used half of the container on the mess that was in Elli's bathing suit. Good thing there was soap and that bathing suits come relatively clean with a little bit of elbow grease. Okay. A lot of elbow grease. Fifteen minutes later, I had wiped down all the counters, sinks, and changing station. We had made it. Yes. Let's go eat lunch, then we'll come back and swim for a few more minutes before Mom takes the two Sopping Children home. I really am Super Mom. I have done it! I have conquered the poopy escapade and we can continue on our excursion. So, I sit down with the girls to eat. Poo. Smell. All. Over. Ugh. When holding Sopping Child #2, the poo had gotten on my swimsuit. Uh-huh. Great. So… we ate lunch really fast and came home. And changed. Immediately. Yay for baths! And naptimes. "Mommy Nirvana," as a good friend calls them.
So, that was the highlight of the week. The rest of the week was fairly busy. I sang with Meadowlark again. We were short one of our sopranos and had to fill in parts (we missed you!) but we made it through. It's so rewarding to sing with such a talented group of women. I haven't sung in a group this good before. It's a lot of fun – minus the commuting. :) But I have a much healthier respect for people who do commute. Gas money, anyone?
Harry Potter, Harry Potter, Harry Potter!!! For the first time, Dovy and I went to see a Harry Potter movie on the night it came out. 12:01AM, to be exact. (Yes, I really had to gear myself up for that late night.) And not just any Harry Potter movie, but the last one! Two things: I have never a)been in such a noiseless theater and b)heard so many people sob at one time. I couldn't believe it! It was truly a cool experience, though. Anyone who has read HP, at anytime in their lives, can't escape the true wonder of "The End." It was amazingly cool, and for those of you who haven't seen it yet, I will not ruin it.
This week was especially cool because I had TWO dates in one week with the man of my dreams. (Dovy, duh.) Harry Potter on Thursday night, and a dinner date on Friday. (A shout-out to Kait, my cousin-to-be, that watched my babies!) For those of you in the area that like Indian and don't mind spending a little bit, go to
Kohinoor
! Yummy, yummy, yummy. We absolutely loved the place and were pretty impressed. We always rate restaurants by the quality of their meat. Somehow, people who just throw fatty filler meat into their food make the whole experience go down the drain for us. This was wonderful! We were so stuffed that night. Thanks,
Kohinoor
!
Just a last side note. My pregnancy is going very well. By the time you read this, I will be 28 weeks along. (Only 12 weeks left?!! Aaaaaaaagggghhh!) I had a glucose test this week that was normal. Yay! (That means no gestational diabetes.) I am measuring big right now, which is kinda funny, because everyone can't believe that I'm this far along. I don't look big. I'm carrying this little boy very differently than I did the girls. I also lost a lot of weight between my second and third pregnancies, so my hips are just now starting to have troubles. I haven't had to pull out the super-duper pregnancy pillow yet, so I'm considering myself very lucky. I heard the baby's heartbeat this week – he sounds great!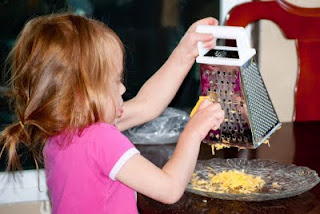 Anjali shredding cheese for our quesadillas.
She loves to help!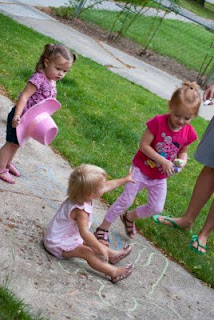 The girls playing with our neighbor, Jaynie.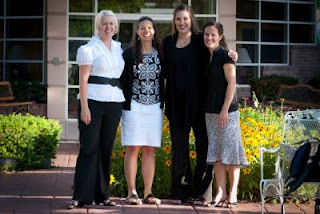 Part of Meadowlark:
Cherie, Candy, me, Becky (who coincidentally
also sang in Women's Chorus the same time I did
back in 2004.)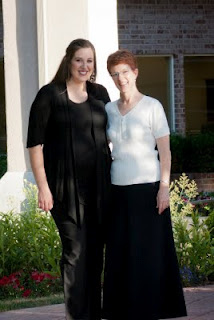 Jean, the "spoke," as we call her.
For those of you who remember, she was my choir conductor
both as an undergrad and as a post-baccalaureate student.
She has helped me find so many opportunities and I love it!
(We still have three other members of Meadowlark not in these pics.)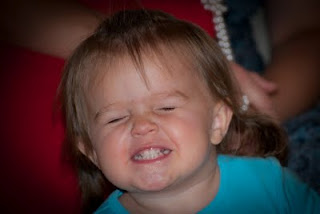 My cheesy grinner.
I love this face!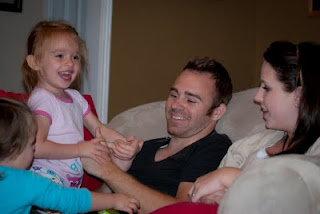 My cousin, Jared, and his wife, Kaitlin, came over for dinner.
They love our kids. The feeling is definitely mutual.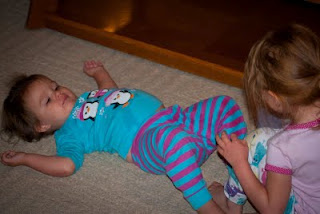 Anjali led Elli into the other room, told her to lay down,
and tried to pull her pajamas off. "Elli needs a change!"
(Hey – it wasn't that bad. She was just being responsible, okay?)
And Elli just laid there… victim to her big sister. :)