What a week! (And it's taken forever for me to post – sorry about that!) I just had too many pictures to edit and too little time. So… let me rewind. Where did we leave off? Ah, yes. The arrival of my "little" brother. He drove in Sunday night and was able to see his little nieces before they headed off to bed. Oh, how they loved him! There is one thing I do have to say about my children. Both of them have very big hearts. They love people so deeply and you can really tell by how much they let people into their little lives when they see them. It had been a long time since they had seen Michael, and based on Anjali's exclamation ("Mike Wazowski coming?") neither of them remembered him very well. And you can't blame them. Uncle Michael was deployed for the last six months. But they welcomed him with open arms. It was so sweet to see them lead him around and love him.
On the morning of the Fourth of July, Dovy, the girls, Michael and I went to the Provo Parade for a little while – at least to get the experience. Parades haven't always been my thing, the heat didn't help, and the soldier probably didn't appreciate the cannons much, either. But we did have the experience and then headed home. Anjali LOVED the "princesses" (AKA Beauty Contest Winners.) My dear sweet Yiayia left that afternoon after packing up and kissing her great grandchildren. We loved having you! We love you so much!
Michael spent the rest of the afternoon helping me with food for the barbecue and resting up. We both passed out in the living room (I almost always try to rest in the afternoon – I really need it these days.) In the evening, the Utah Division of the Wolthuis Clan came over for some good American grillin'. Dovy fired up our grill and was the chef for the evening as the rest of us filled up on all the yumminess (Banana Cream Pie and Coconut Cream Pie included. Because, hey, you have to have an excuse for pie, right?) Even G & G came down! (Grandma brought homemade salsa and hamburger buns – yum!) Grandpa said, "I hate that I had to share Elli with everyone else." haha! "Magnet" is his little buddy right now. :)
Here are pics from the day: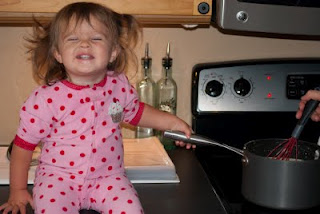 Elli holding the pot for me while I make Banana Cream Pie.
I LOVE this little cheesy grin that she's been making lately.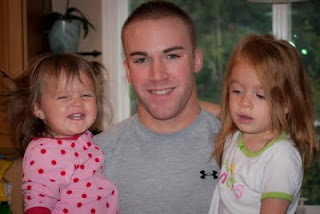 The girls with Uncle Michael.
Anjali is getting less photogenic these days.
I guess it's a phase.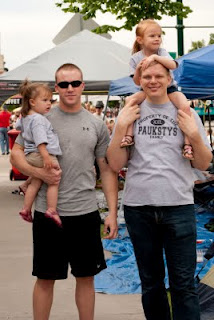 The boys with the girls at the parade.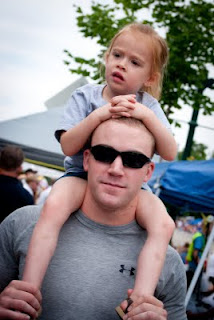 See what I mean about the lack of photogenic-ness?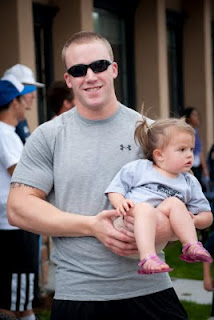 We were all pretty hot.
The girls were zoning.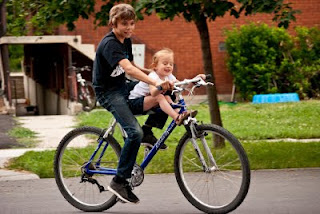 My cousin, Jake, riding around with Anjali.
You think I'd be worried about this.
However, Curt's kids are probably some of the most athletic I've met.
I wasn't worried at all – but Dovy was a pansy about it.
(No lie.)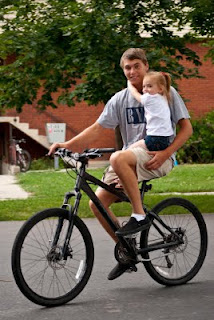 Anjali and Caleb
Another Curtis Offspring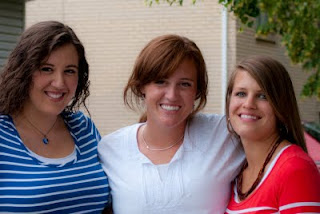 Me and my growing self. (Yeah, you can tell. Admit it.)
Laura, my "sister-cousin," since we look so much alike.
Lindsay.
I love these women soooo much!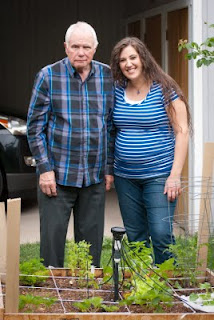 My grandpa and my garden!
For those of you who don't know…
G & G bought the lot north of them and have planted a massive
garden for the past (???) years. (Sorry – I can't remember!)
Grandpa says I am finally an upstanding citizen and
I call them often with my garden news.
They're really proud of me – true story. :)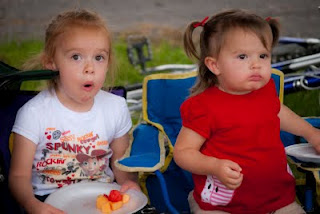 My girls.
I think they ONLY ate fruit that night.
Lots of vitamin C, right?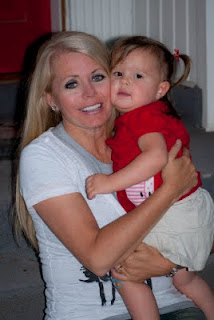 I love this pic of Aunt Nancy and Elli!
Sparklers!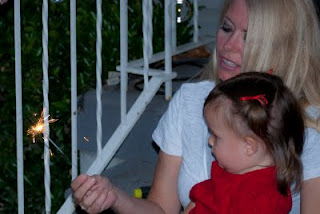 Elli would hold the firework for about 2 seconds and then drop it.
She couldn't quite get the guts to hold it longer than that.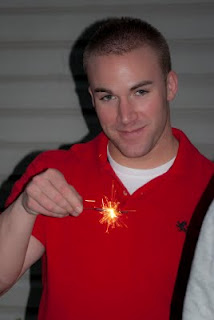 Aw. Isn't he cute?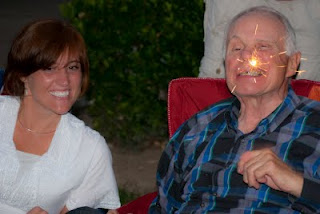 Laura and Grandpa. I guess he's pretending to
be a Flamenco dancer – with flames!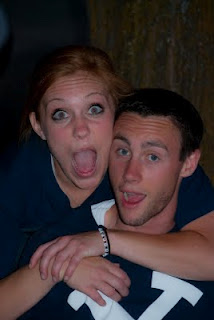 Kathryn and Toddy-Woddy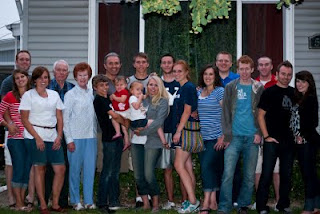 The whole family!
We are one good-lookin' group.
I'm slouching…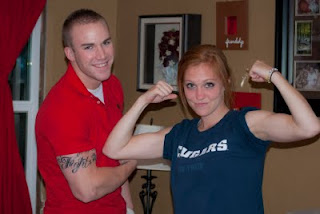 Michael and Kathryn, showing off their guns.
Michael came back from Iraq much bigger than he was
when he left.
Apparently, there isn't a whole lot to do out there…
Michael and Me.
My "little" brother."
I can't believe how big he is.
So… after the festivities, we all crashed. Our family and Michael drove out to south Salt Lake to meet up with my Aunt Viki and her family for breakfast. (Viki is my mom's sister – Yiayia's other daughter.) We had the opportunity to catch up with them and play around at the mall. It had been well over a year and a half since I saw them. It was so good to see them and to catch up! It's been way too long. Thank you, Aunt Viki and Uncle Scott for spoiling our little family! The girls loved it!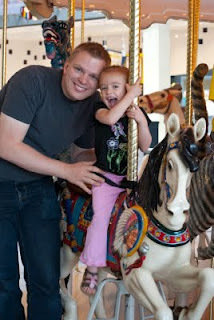 Daddy and Anjali on the carousel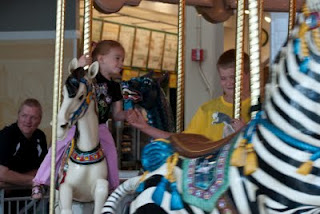 For some reason, youngest sons attach to my kids very quickly.
I think it's that they get the chance to watch over someone – something they didn't
have the chance to do when they were growing up. Anjali bonds with males
very easily, too. (Yeah – I know I'm in trouble.) She absolutely LOVED Connor!
They held hands the entire time on the carousel. This was the best
picture I could get of it.
Anjali and Aunt Viki
(Anjali used Elli's second token because Elli absolutely HATED the
carousel and cried the entire time.)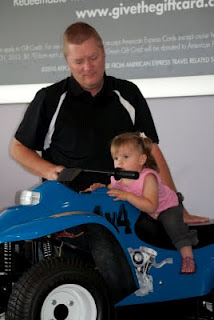 Uncle Scott and Elli
These machines were still, so Elli was fine with it.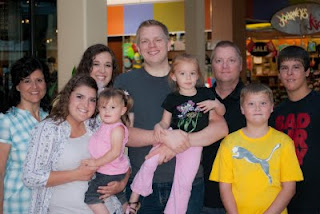 Everyone all together!
I just couldn't resist.
I'm pretty positive this only happens in Utah.
Later that night, as we were winding down back at home, I received a call from Jean (Women's Chorus conductor; I have been working with her the past two years on publicity/marketing for the choir. I also sang with her for a few years as an undergrad. She's also the one that got me into marketing for ACDA Utah.) For the past few months, Jean has talked to me about auditioning for her a cappella group, Meadowlark. The group consists of 8 women and they were looking for an alto. Enter me. I was so excited to try out! It's been a while since I sang in a small group and I've been looking forward to the challenge. However, my nerves are absolutely terrible, and while I was anticipating the try-out, I was also absolutely dreading it. It's a good thing I work well under pressure and without much notice, because Jean asked if I could come out that evening to try out. They needed a few more voices in preparation for a concert in August and were wondering if I could come out. I conceded and dragged my "sister-cousin," Laura, with me so I wouldn't have to make the trip alone (two times to SLC in one day is a LOT for me.) Well, it's over. And I made it! Yay! This was last Tuesday evening (the 5th) and I have since performed with Meadowlark twice now. It sure is busy-making but I absolutely love the challenge and enjoy singing with such a talented group of people. It really gives me something to work towards, as well. I have absolutely loved Women's Chorus for the many years I have sung in it, and to be directed by Jean has been a thrill. However, I felt like I needed something more challenging, and now I get to sing WITH Jean and glean from a lot of talent in the group. (One of the Meadowlark members coincidentally also sang in WC the same time I did back in 2004.) We recognized each other at practice.
So, the rest of the week consisted of rehearsal and performances, a quarterly Relief Society activity that I helped plan, and recovering. :)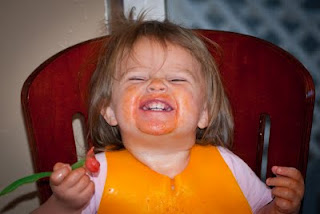 My little ham.
I can't even resist her!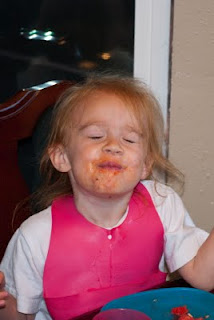 And Anjali doing the same face!
(Hey, at least she's trying this time, right?
She usually does try to evade the camera…)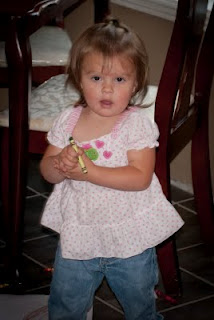 My Angel Baby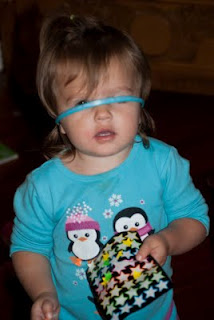 Geordi!
I LOVE it when kids do this.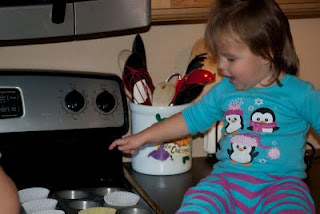 Elli has become quite the helper as of late.
She put all 24 muffin cups in the tin by herself.
She LOVES to help!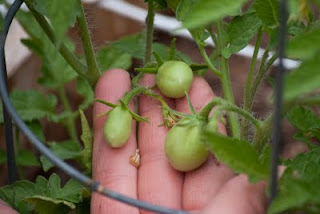 Three Roma tomatoes! I'm so excited!
(I also have a baby zucchini growing, but I didn't get a shot of it.)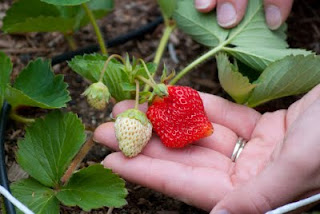 My first strawberry (unpicked by evil birds because I have
now protected my garden with a big net.)
And it was tasty!