This week we had a couple of very special visitors! We spent the week going to Seven Peaks, hanging out with cousins, and finishing the baby's and girls' rooms. It was a lot of fun to see it all gel together. I absolutely love what we've done with the place. :) (Pics of the boy's room to come when it's actually complete, wall hangings and all.)
Here is Anjali, seeing her "Rapunzel" shrine put together for the first time: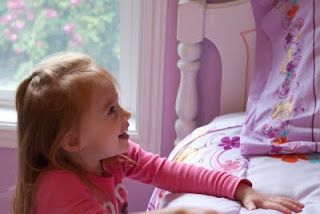 Can't you see the wonder in her eyes?
Ta-da! Purple Princess Bedroom Pictures. The coolest part about this is the furniture. My parents gave my childhood bedroom furniture to a family in our ward when they moved from Ohio to Hawai'i. I couldn't use it at college and was nowhere near marriage at the time, so that was that. I reconciled myself to the fact that I wouldn't need it or see it again. Well. About two years ago, the sweet sister contacted me and said that her family had moved out west and that her daughter was grown out of the furniture. She wanted to know if I was interested in having it back again. Was I ever! I had a little girl (two, in fact) that could use it. And now here it is! My little girl is using it now and I couldn't be happier. A lot of nostalgia has washed over me in the past few days.
Anjali's side of the room, BEFORE: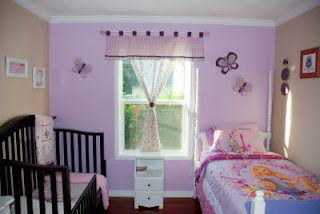 Don't have a "BEFORE" picture of the next two, but it's cute, nonetheless.
And here the girls are, the first night of trying to sleep in their new room.

They turned on the light and moved a bunch of furniture so that Elli could get
on the bed with Anjali. This was around 11PM at night. We could NOT get them to sleep…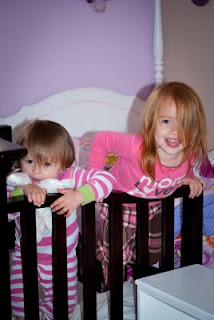 As for our visitors, my Aunt Viki and her family, my Yiayia (maternal grandmother) and my brother, freshly home from Iraq, all came in this weekend! I haven't seen any of them for a while (the first two for over a year and a half.) Yiayia stayed the weekend with us and it's been so wonderful to spend time with her. She is almost 82, and still acts as vivacious as she did when I was very young. She has loved spending time with my babies and I have loved every minute of seeing them all together. Yesterday, Yiayia took the girls and me to Toys R Us to get a few gifts. The girls made out like bandits! They are so spoiled, but Yiayia says that's the way it's supposed to be.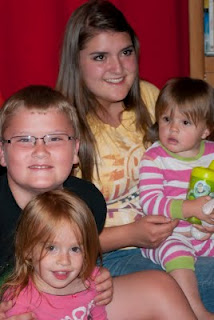 My daughters with my cousins, Connor and Alexandra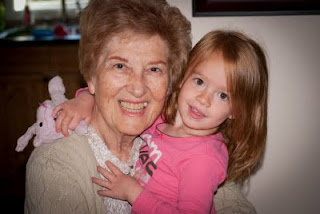 Yiayia and my sweet daughter.
Doesn't she look so grown up here?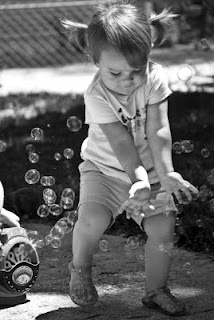 Yiayia bought a bubble machine!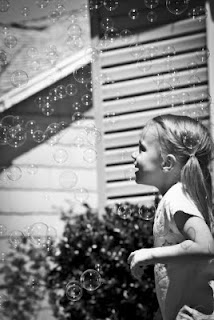 I LOVE b/w photos.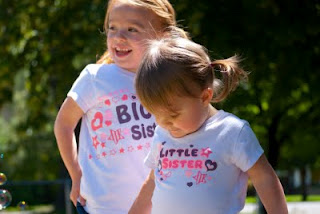 LOVE these shirts… if you haven't noticed yet.

What am I going to do when they grow out of these?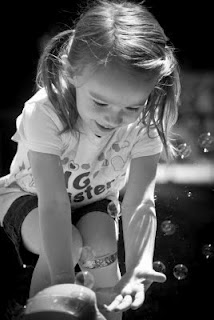 Bubbles!!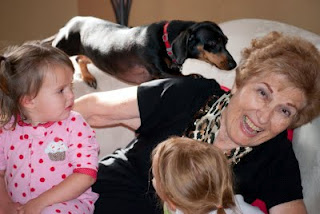 Daisy wanted attention and tried to cuddle up with Yiayia, too.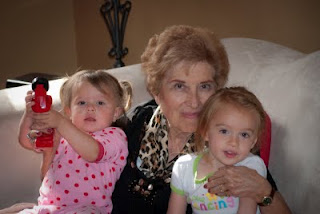 The Three Lovely Ladies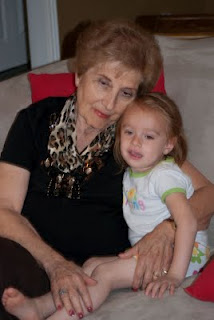 We watched "Singin' in the Rain" after dinner tonight.

Anjali cuddled up with Yiayia almost the entire time.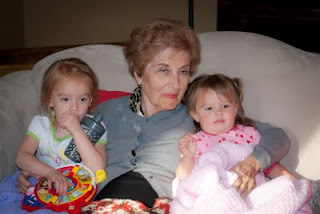 The girls even got their blankets out and gathered around.
Talk about melting your mom's heart.