So, this week we wrapped up swimming lessons (thank goodness.) The girls have been pretty tired and the pregnant woman has had enough. But! They had fun. Mission accomplished. We've also taken to going on walks in the evenings. It's been a good week. It's starting to get hotter, too… probably feels really cool to everyone else compared to the rest of the summers we've had, but the hot flashes are coming.
So, this week, I've had a couple of exciting things happen. 1 – I am signing a contract with a client I am working with. I am helping them with their marketing as they are trying to break into the LDS music industry. I've been doing design for them and it's been a great experience for me. 2 – My choir director, Jean, invited me to come and try out for her six-person female a cappella group in two weeks. They are in need of an alto and she thought of me. I'm soooo incredibly nervous. We shall see if my nerves help me get through it… 3 – Jean also asked if I would be the Marketing Chair for ACDA Utah (American Choral Directors Assocation, Utah Division.) She is the representative for Utah and needs a marketing guru on the board. So, here I am! I'm so grateful for all of the opportunities that I've had. "Full-Time Mom" doesn't usually go great on a resume, unfortunately, although it should with all that we have to put up with. But, I do have a lot to do now and all of this will really go great on a resume one day. At least, it's nice to have it on there if I need it.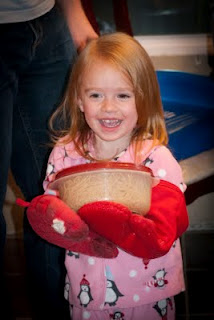 Anjali helping to put dinner on the table.
It was too hot, though, so I helped her with the oven mitts.
Every time I cook now, she insists on putting them on.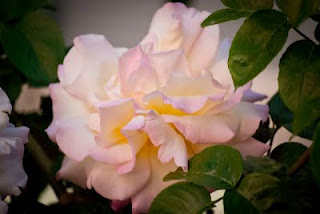 A rose from my yard.
They JUST bloomed because we barely
got the warm weather we needed for them.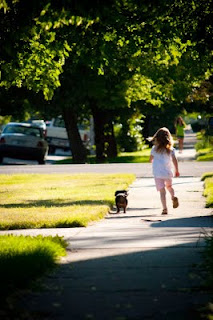 On one of our walks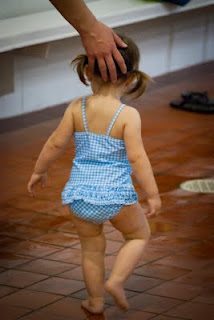 My Elli Baby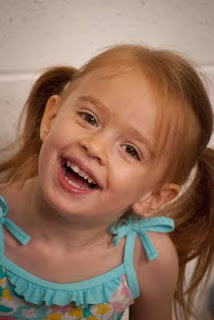 My Little Redhead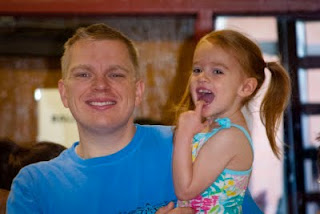 Daddy taking Anjali to her swimming class.
Elli getting into the pool with Daddy.
(Denise, if you read this – thanks for all those clothes.
We are still using them – especially since the girls wear the same sizes now!)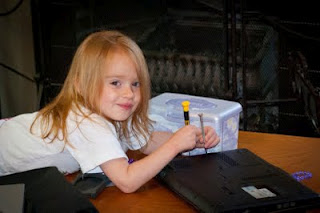 Dovy helped to fix a friend's computer this week (I know, big surprise.)
The next morning, I came into the living room to see Anjali doing this.
"I'm fixing the computer and the batteries."
Wow. Smart.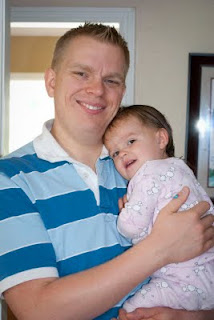 Daddy and Elli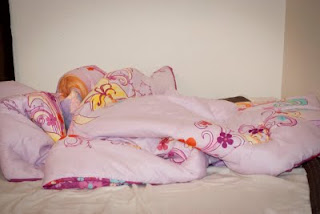 When Elli wakes up from her naps, she always runs right upstairs and says, "Where's Sissy?" On this particular day, she ran into the room and tried to wake up her sister. A few minutes later, I found Elli playing on her own in the living room. I went back to the girls' room, only to find the light off, the door locked, and Anjali stuffed under her covers. She refused to come out. I tried to pull the covers off, but she just buried herself further down into the blankets. And this is how it is with my three-year old.
Daddy and his girls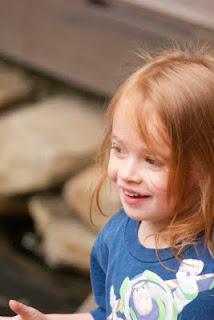 At the Duck Pond with Daddy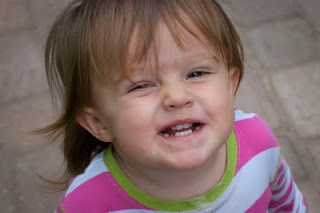 Elia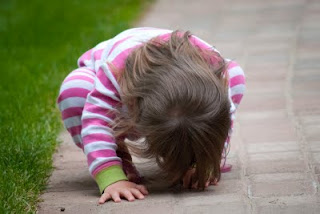 Elli having a little tantrum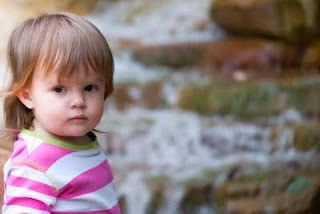 Elli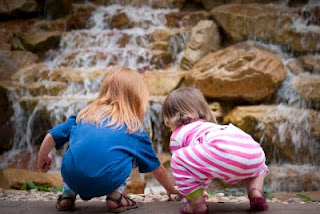 My redhead and my brownie.
How I love them.
Can't wait to see what color my son comes up with…