So, this week Dovy was taking off for California for another convention, so he made it up to me. He finished getting the baby's room finished! (Before and after pictures to come when we've finished the decorating.) Dovy cut and framed the windows, put the trim on, caulked the entire room, and repainted the whole thing, too. It's getting ready for Junior! We only have to do the windows and trim and an accent wall in the girls' room and then everything can go back into place. (The girls are currently in the baby's room while we rip theirs apart for a few days.) We're super excited to add some more testosterone to this highly concentrated family of estrogen. :)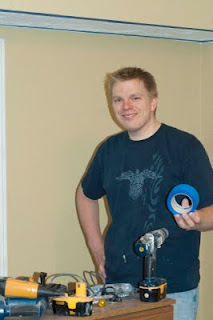 Dovy taping and getting the room prepped.
So, after Daddy finished that, he was off to California EARLY on Thursday morning. Which meant that Mommy was in for it… It was actually a pretty good week. The girls started swimming lessons on Monday. Elli is in the parent/tot class and Anjali is in the Pre-1 class, without Mom! She's doing a really good job so far and so is Elli. Both girls love the water and take to it really easily. (Besides, it takes out a good chunk in the morning so that we come back, have lunch, and then take NAPS! Woohoo!)
We finished several projects around the house, including The Great Toy Purge. You can only guess what that was about, I'm sure. The girls were actually pretty good to me, until the end of Saturday night, when things were winding down and I was exhausted. Yup. Diarrhea in the tub. Yay. Where was my husband when I needed him? Oh, right. On an airplane. We made it through that disaster and then had a Skype conversation with my dad, who's 51st birthday was yesterday. Happy Bday again, Daddy-o!
Here are some funnies from the week.
Mom: "We're going to go see our friends, Jake and Amy."
Elli: "Amy."
Anjali: "Go see Jake, Amy and Olivia?"

Mom: "Yup. Elli, can you say 'Jake?' Jaaaakkke."
Anjali: "Elli, say Jake. Lalalala – Jake."
Elli: "Jate."
Very good, Anjali. I can see that you have finally picked up on how often we try to help you with your L's.
My favorite funny of the week. I have a dear friend that taught both her husband and mine that sometimes wives just need sympathy and not a fixer-upper type of conversation. Her solution and now mine to this is, "Oh, honey," in a sympathetic voice. And I ask Dovy for it often. "Dovy, this is an 'oh honey' moment and that's all I want to hear right now. Fix it all later, okay?" Well, I was tucking Anjali into bed the other day and stubbed my pinky toe on the bed leg. Which really hurt, because it WAS my pinky toe, and for some reason, we all know that toe hurts just a teensy bit more than any of the others. Anjali looked at me with her eyebrows drawn and sad little eyes, "Mommy, you're hurt?" Through gasps of pain, I affirmed this. She immediately got up, put her little arms around me and said, "Oh, honey. Oh, honey," several times. Melt. My. Heart. What a little sweetie! Thanks, honey, for making me feel better.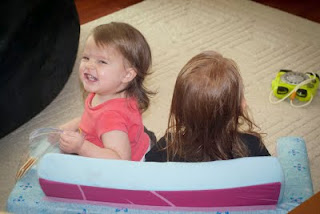 The girls watching a movie so that I could take a shower
after swimming lessons. Elli caught me!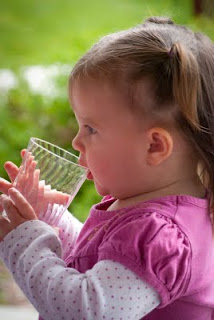 We went to two birthday parties for friends on Saturday.

Here's Elli!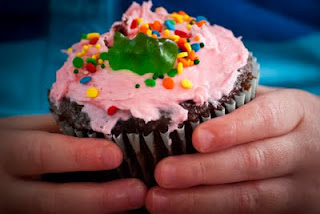 The first birthday girl with her cupcake.
I loved this shot.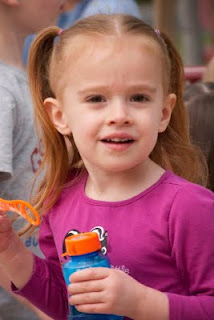 Anjali blowing bubbles at Party #1.
Both girls were soaked with water after the party guests
decided to play with the park's only water fountain.
I had to take Elli home in just her diaper.
One of the guests also brought a pet goat. Random.
It head-butted Anjali. Three times.

Crazy, huh?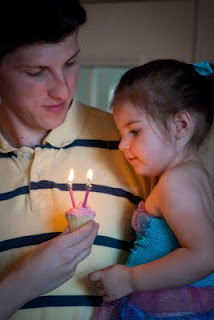 Jake and Amy (or Amy's hand, rather) with
their daughter, Livi, at her birthday party.