This week we celebrated Dovy's 29th birthday! One more year to 30, honey. Woah. 30. Weren't we just teenagers? (All of you who have already passed up your mid-life crisis are probably laughing at me.) No, but seriously. I always thought 30 was so far away. And it still is for me! Bwa-ha-ha, Dovy! I still have four years left. Anyway, as mentioned previously, we bought a grill for Dovy. We both love grilled food and now we use it a lot! It was a good thing we do, too, because the night before the barbecue, the grill wouldn't work. It took Dovy about two hours and a trip to Home Depot to get it repaired. But he did it! Thank goodness, too, because it would have stunk to try and fire up the grill on the night of the event and have it die.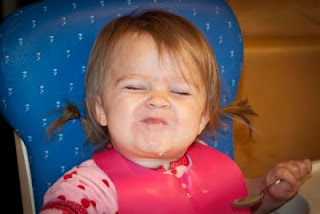 Elli smiling for the camera.

She has started to be such a ham.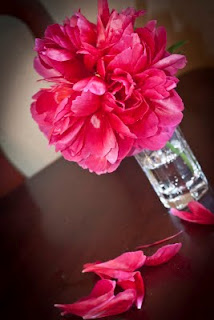 The first flower of the season!
Dovy brought it in for me and placed
it at my breakfast setting one morning.

What a sweetheart.
Don't you just feel all gushy inside?
So, it was a big week for the Paukstys household. Well, for Elli, anyhow. On Wednesday night, we did the snip-snip. Yup. Binkie is entirely unusable now. See for yourself: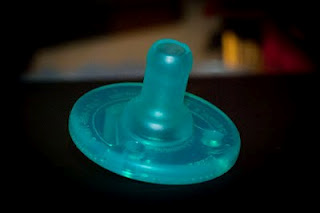 I felt bad doing it because I know this binkie has become such a security blanket for Elli. And I didn't ever take it away because Elli is just so sweet, it hurts. Alas, we did it. Around 10:30PM on the first night (the girls had been in bed for more than two and a half hours) I went to check on my babies. Elli was wide awake. She picked up the binkie, showed it to me and babbled a long sentence, ending in something that sounded a lot like, "Fits it!" (Fix it.) "Oh, Elli," I said, "I'm sorry." She proceeded to repeat the sentence, again ending in, "Fits it!" I tried to explain that it just couldn't be done, that we were finished using binkies. She exclaimed, very clearly, I might add, "Don't wike it!" And threw it on the ground. So, that was the end of that. She went to sleep soon after. Naps are still a bit of a struggle. She's really used to having it, but after some mild complaining (at least compared to her big-lunged sister) she goes down. So far, so good.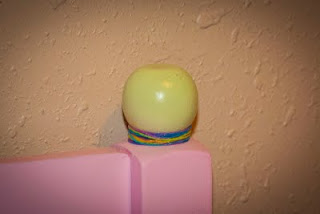 Anjali got into the hair ties. I couldn't find them for a while.
Here they were.
Wrapped so tightly around the knob on the toy chest
that they had to be carefully cut off.
Stinker.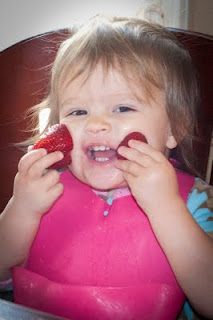 Strawberry Face!
This week, we were preparing to get the baby's room ready. In order to do this, Anjali is going to need to give up her toddler bed so we can convert it back to a crib for Junior. Thus, she will be getting the twin bed that I had when I was growing up. We psyched her up for it and she helped me shop online for a few days before we went and picked out the perfect bedspread: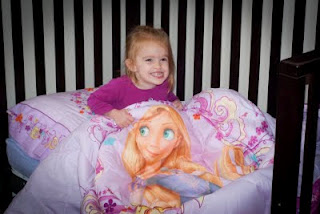 Tangled!
She LOVES it!
I was a little worried, though, on our way to pick it up
when she said, "I don't want Rapunzel. I want Flynn Ryder."
Um… they don't make Flynn Ryder bedspreads, sweetheart.
She got over it when she saw the comforter, though.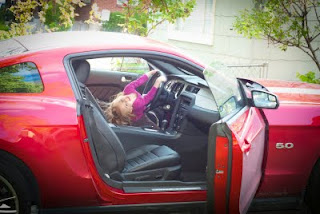 Dovy's business partner came by one day.

Here is our crazy little Anjali in his Mustang.

Yowza!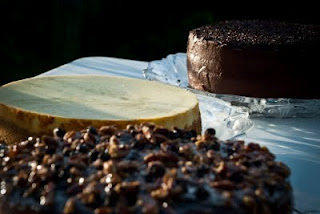 For Dovy's birthday, I made all of his favorite desserts:
Four-Layer Chocolate Cake
El Diablo (aka Turtle Cheesecake of Death)
New York Cheesecake
The latter was my first stab. It was perfect!!!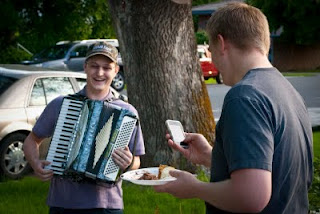 One of our party guests showed up with an accordion
and serenaded us with his own rendition of "Happy Birthday."

Our girls couldn't get enough of it. They went crazy.

He had to play it and several other songs a couple of times to appease them.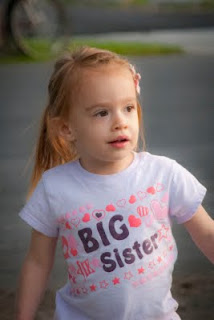 The Big Sister.
I'm so glad she's the big sister.
She is such a great help.
I'm super blessed to have her.