As per my previous surprise post, you should know the big news by now. If you don't, here's the
link.
Now that you've gone back and read it (if you did,) let's get on with this week. Most of the week was spent mulling over baby names, having a "Reveal Party," moving furniture, and attempting to plant a garden. (Ha! Thanks for the cruddy weather, Utah.)
Yesterday, Dovy and I buckled down and began moving our house around. By that I mean the contents of the house. The Master Bedroom is now in the basement with the playroom and offices combined into one (can't wait till that changes…) But I'm so grateful we have the space because now our guest bed and the new baby boy's room will be where our Master Room was. The bed is already in place. Let us know if you need a place to crash! (Some of you already know who you are.)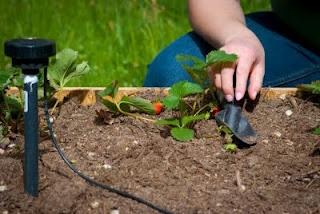 Me planting my first strawberry plants.
Never thought I would say that I hate birds, but now I do.
They ate all those juicy growing strawberries!
Twirps. Now I have to figure out a way
to ward them off.
After our ultrasound on Tuesday, we had what I like to call a "Reveal Party" at our house. We prepared blue food, hid it all away, and invited our guests. When the party was ready to begin, we gave two blue-frosting-injected cupcakes to two people (those who had won the previous "Reveal Party" games with Elli.) On a cue, they were to open up the cupcakes and bite into them to reveal what we were having. Sam, my cousin, was the first to eat half the cupcake in one bite. He showed the room the blue frosting inside and I was shocked by the reaction. Everyone in the room screamed at once and more than half pumped their fists in the air! It was sooooo cool! Can't believe I'm having a boy. I'm actually still trying to believe it!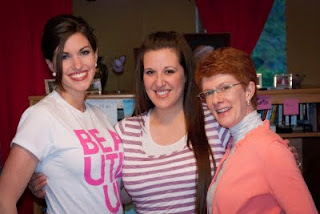 My dear friends, Amy Colvin and Jean Applonie.
Jean is the conductor of Women's Chorus and Amy and I
say she is the one who "brought us together" because
she had us both in her choir when we met. :)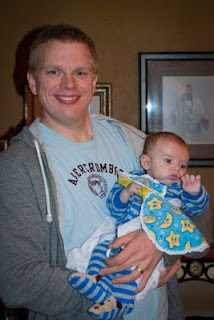 Dovy holding Amy's little boy, Braeden, who is
coincidentally wearing an outfit that I gave her.
Dovy literally said before I snapped the pic,
"We're gonna have one of these!"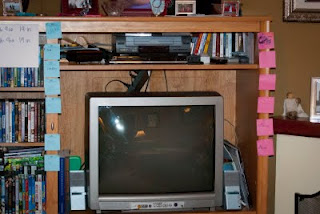 Everyone's guesses.
Blue on the left for boy and
pink on the right. Sorry, Pink,
you lost this time around.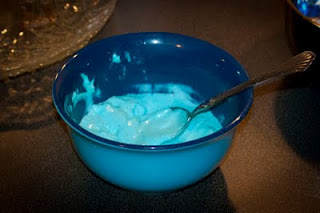 I put food coloring in potato chip dip.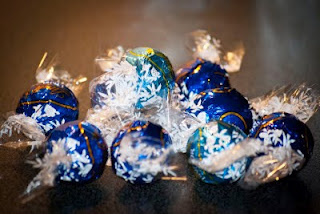 Lindt Chocolates
Let me tell you, the light blue ones were amazing.
Straciatella. Buonissimo.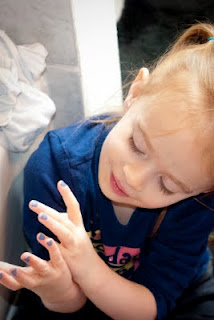 Anjali is a little freakazoid when it comes to
cutting her fingernails. For some reason, the
wailing and gnashing of teeth is never so strong than
when we do this. We have bribed her a dozen ways before.
Movies, ice cream, a fruit snack for each nail cut…
Nothing has worked. For some reason, the girl in her
came out and I cracked a deal: look through Mommy's
Nail Box while I cut and if you're happy the whole time,
Mommy will paint your nails.
Woo-hoo!!!
Finally worked!
For the FIRST time.
Couldn't believe it.
Here's she's showing off her blue nails.
Even with a serious top coat they were all chipped by the next morning.
Go figure.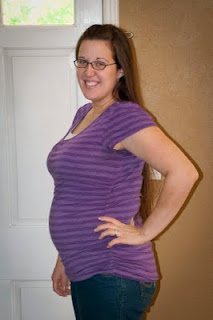 I just started showing! If I'm wearing the right clothes,
people still don't know I'm pregnant. This baby is all inside of me.
Up higher, too. This has never happened before.
I feel awesome!
Oh, and by the way, this is just for the record. Don't
spread this or your name is "Mud."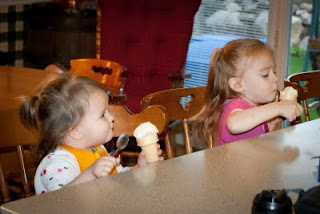 We came up to G & G's to help Grandma with her
computer. Of course, a visit to their house is not complete
without ice cream. Dig in!