I interrupt this regularly scheduled program for a special announcement.
We are so extremely excited! The baby looks very healthy and seems to be quite active. (Which I could have told you – I feel him all the time.) I had a gut feeling that this was going to be a little man, but I really didn't want to get my hopes up. We would have been fine with another girl – we know how to do that! This is new territory and we couldn't be more thrilled! Naming will be very difficult…
And here is the newest member of our family:
Cute little face.

His ultrasound is a mix between Anjali's and Elli's.

Anjali was very round and Elli was very slanty and alien-like.

Anjali has huge eyes and Elli's are more squinty. A mix, perhaps?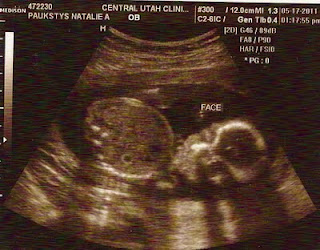 Hi, Mom and Dad! See my cute belly?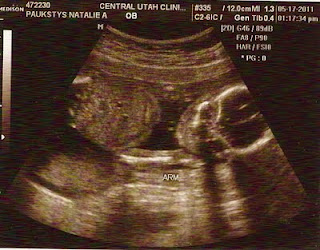 He has his arm by his face.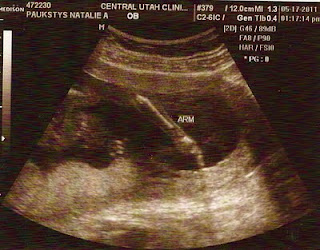 Other arm – and you can see a finger or two.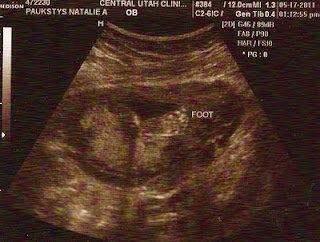 A foot, as if it's pressed on glass.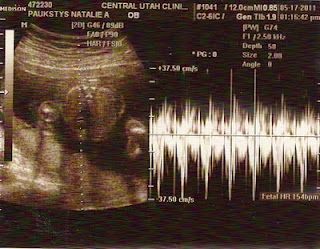 Got to hear his little heart! 154bpm.
AND… for the official proof! Here he is, in all his little manhood.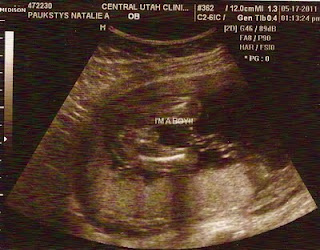 The ultrasound tech pointed out, "Here's one leg, here's another leg,

and… there's his third leg." haha! We knew it.
I absolutely couldn't believe it. I actually made the tech go back at the end and double-check.

Yup. Definitely a boy. He's going to be a Mama's Boy. Just sayin'.
As soon as we came home, I ordered the bedding for the little guy that I had chosen months ago when I got pregnant. Here is a picture of the whole set, which we may order in stages.
We're going to start rearranging our rooms soon. The girls will stay where they are but get my old furniture from when I was little. The Little Man will get our room and the guest room furniture (as in, the nursery and the guest room will be squished into one.) We're moving downstairs. We REALLY want to finish another room down there so we can move the offices/toy room. We shall see what kind of funds Dovy can rake up this summer to do it. We're so crazy with excitement! (Have I mentioned this yet?)