Sorry it took so long to get last week's pictures up. It's been a long week… Halfway through the week, Elli came down with something nasty. I took her to the doctor on Thursday and they had to administer a little steroid to open up her throat. She was wheezing and coughing all the night before. She slept on my chest the first half of the night, and Dovy's the second half. She's had a fever for almost five days now. She's seemed pretty miserable, poor little thing.
Yesterday morning, she slept in with Dovy. Silly me. Left my glasses on the nightstand. Yup. Broken. Argh. Dovy tried to fix them as best as he could but now I need to buy new glasses. :( Elli was pretty listless the whole afternoon and laid on my lap for several hours while Anjali took a nap. Dovy spent several hours building a square-foot garden for me and when he was slicing some tubing for the sprinkler system, the Exacto blade he was using slipped and slashed his leg. Not good. It definitely needed stitches, but my cousin, Laura, came over and glued him up. Literally, glued. Yay for super glue! It looks good now. Hopefully everything will go alright.
This morning, Dovy woke up early and made crepes for me with a new
crepe pan
! I love it! You dip the pan in the batter and you get these smooth, thin, perfect crepes. They were delicious. During breakfast, however, Anjali passed out for a quick second. I caught her and all of her food went flying. It was really crazy. She was pretty shaken up but she seemed okay, so we let her rest during the remainder of the morning, filled her with fluids, and I ended up taking her to Church while Dovy and Elli rested. Dovy started showing symptoms this morning. :(
Anjali and I tried to take the Nissan to Church today. Hah. Dead as a doornail. When it rains, it pours, right? I really had my heart warmed, though, when Anjali "sang" with the Primary during Sacrament meeting. She also gave a little talk during opening exercises at Primary. It was her first talk and I was super proud! I did what my dad used to do for me. I drew little pictures on a paper and helped her talk about the restoration of the Church. She was so cute. Quiet, but cute. I did end up taking her home right after that, though, because she started feeling clammy. She now has a fever and a little cough. I'm sure it will all come out soon…
Anyway, it's been a crazy week. I think it will be just as crazy this week, too.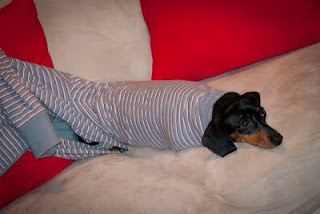 We came home from something or other and found
Daisy stuck in Dovy's sweater sleeve. She was literally
jam-packed in there. We had to dump her out!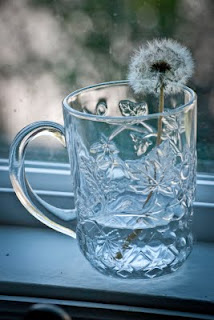 Anjali was getting ready to catch the bus one morning.
There were a ton of dandelions all over the place.
She plucked one and handed it to me.
"For you, Mommy."
Awww!
First "flower" she's ever given me.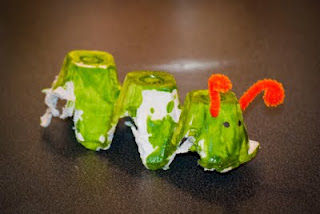 Anjali made a caterpillar at preschool this week!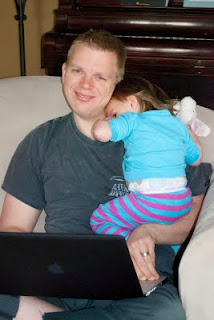 Daddy holding a very sick Elli.
She's been like this almost the entire
half of the week.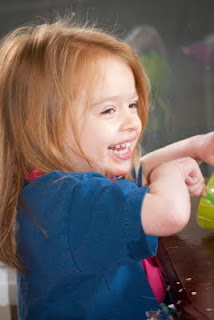 My cute little redhead.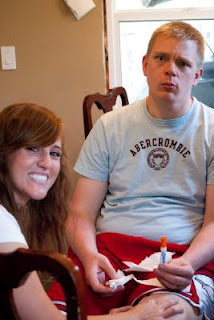 Laura gluing Dovy back together.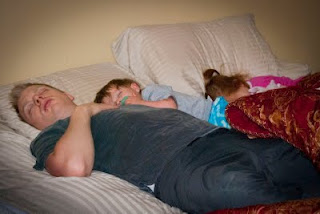 I brought Anjali home from Church and she
crawled into bed with Dovy and Elli while I was gone.
When I returned, I found all three of them cuddled up on our bed.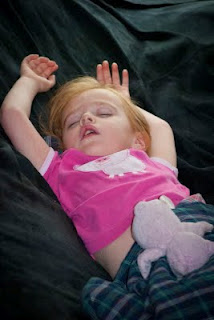 Anjali fell asleep on the MonsterSak in the living room later.
You know she's out of it when she takes two naps in a day and
falls asleep somewhere other than her bed.