I'm going to toot my own horn right now! I have made dinner almost every night this week! (Something I haven't been able to do for almost two months.) I've also reduced my Zofran dose by half. I'm really feeling better. (Please don't be hatin' if your situation is a ton worse – I am so sorry if it is! I feel like I've given a lot to that realm and am finally being given some respite.)

It's been a great week, and I'm pretty sure it's because I'm just feeling so much better. I hope things get even better. I've been able to get out with my kids and get some things done. I've also had a little bit of fun. I had a Relief Society dinner and meeting and also had a "Girls' Night" – all in the last week! Thank you to those who took me out and helped me have some fun. You know who you are. :)
My Uncle Curtis and Aunt Nancy stopped by

for a little visit. Uncle Curtis had four boys and no girls,
so I like to think they have him wrapped around their little fingers. :)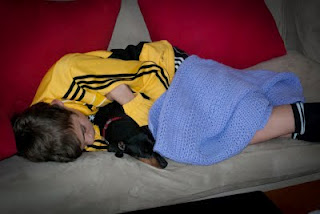 Curt and Nancy's youngest son, Jake, loves our dog, Daisy.

Here they are, cuddled up.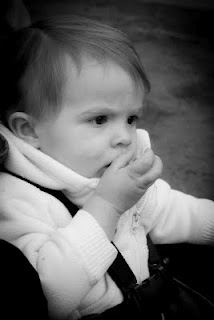 I took the girls to the Duck Pond just south of campus.

Elli ate the bread instead of feeding it to the ducks.

Typical.
I did hear her say "quack, quack" several times!
See the pink dot in the middle of the picture?
Anjali ran around that pond over and over again.

So much energy! She loved chasing the ducks.
Okay, I could not resist this picture!

Anjali loves Cars, Finding Nemo, and Toy Story.

They only make boys' underwear with these motifs.

Therefore, boys' undies for my little girl (hey – she chose them!)

She also decided she likes to see the big pictures on the back so she INSISTS

on wearing them backwards. "No, Mommy! Bat-wards!"

Hey, as long as she keeps them dry, right?
And here is Anjali's first school picture.

I don't know if I've ever seen a school picture this cute.

Ever.
(Don't even try to convince me otherwise;

I can't be convinced.) :)