So, apparently my pictures have quit working. I have no idea why. I have tried to fix it numerous times. I think I may have found a way around what apparently was a Google problem. It is still not fixed but I found another way to upload my pictures. So, go ahead and look at
last week
, if you haven't already.
This week was probably the biggest of the year for me. We had our Women's Chorus 50th Anniversary Celebration Concert. It was such a hit! We sold out more than a week in advance and we were so well received. Everything flowed perfectly. (Except for the fact that [they] forgot to print our survey; had to do some quick thinking to fix that one…) I am so incredibly proud of this choir. I can't believe how wonderful this felt! I also can't believe how much we accomplished. From radio and TV ads to printed material, from candy bar production to concert layout, it was all finished in time and sounded amazing! I couldn't be happier about how everything turned out.
That's basically how my entire week panned out. I lived, ate, and breathed Women's Chorus this last week. What an amazing event to be a part of!
For some reason, Elli had a rough week…
I couldn't even get her to smile!
This is the junior high that came as our Command

Performance Winner

(chosen from the Women's Choir Festival the month before.)

They opened our show and from what I heard,

did a magnificent job!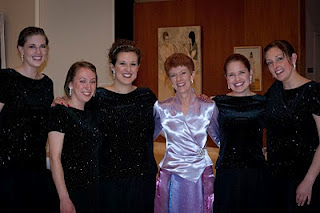 Sister Applonie (our conductor) and my

amazing Publicity Commitee!

(One member had to leave early.)

They were so dependable and we couldn't have done

it all without each of them.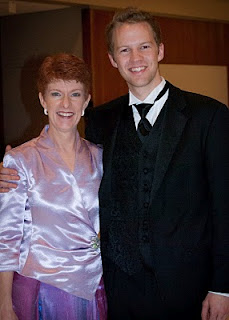 Our amazing conductors,

Jean Applonie and Matt Nielsen
Me with Sis A.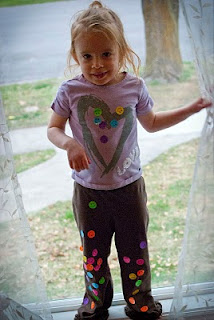 Anjali covered in smiley-faces!

Both girls love stickers. So cute.
Anjali wanted to wear Daddy's belt.

Isn't her smile infectious?