What a week! On Wednesday, we found out that we had sold out our Women's Chorus concert. Then, we discovered there were 23 tickets on hold. Half of them went on sale and we sold out again on Thursday, only to release that last 13 on Friday morning and sell out again a few hours later. So, we basically sold out on Wednesday, but it wasn't official until Friday. Even then, we sold out an ENTIRE week in advance! I am so proud of the choir and the progress it has made in just a year. We even had to cancel several publicity events because we just didn't need them. It's wonderful to see your hard work pay off. And here we are, ready to have the concert. It's going to be a fun, busy week!
Of course, I have been under the weather. I also contracted a cold that I am still harboring. This is the third cold that I've had since New Year's. With the stomach flu mixed in there, too, I have to wonder what is wrong with me. I clean my house like a maniac, wash my hands 25 times a day and am a germaphobe. How the heck do I get sick all the time? Argh. Mixed with morning sickness, I have been a bit of a bear. Dovy has been nothing but helpful and loving through all of it. What would I do without him?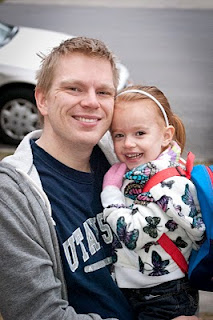 Dovy got the kids up and let me sleep in.
He even did Anjali's hair (!) and got her on the bus.
I snapped a picture when I got up to say goodbye.
They just melt my heart.
This week, I had my very first Parent-Teacher Conference! I mean, as the parent, and not as the student. It is so strange to be involved in all these role-reversals. You just glide into it, thinking, "Wait? Didn't I just do this for myself not too long ago?" Anjali had GLOWING reviews. They said she is just a pleasant little person, that she has "so much personality in such a tiny little body." When Anjali missed Preschool on Wednesday because I was worried about spreading our germs, the bus driver said, "Oh, I'm going to miss her. She always talks to me while I'm driving." We had a chance to talk to Anjali's speech therapist at the conferences. She said that Anjali and her have a very special connection. She probably talked about Anjali for 10 minutes. She said she could have gone on for much longer. She absolutely loves Anjali and her sweet little personality. She said she is so grown up and that if we ever need anyone to help out, she would be right there. Even my doctor the other day said he had a chance to talk to Anjali (at a multi-family get-together; he is the brother of my aunt.) He said that Anjali talks like a little teenager. She is such a mature little spirit with a very big understanding of the world, even though she is so teeny. How I love that little one. Her newest declaration is that mommy is a having a "baby boy, with dark hair and blue eyes." (She started wavering on the hair color recently, but she is still very sure about the "boy" part…) She never ceases to amaze me. I love you, little Princess!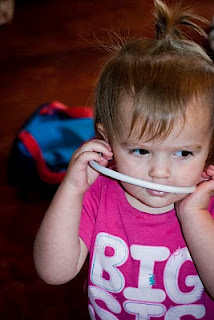 Elli is wearing Anjali's old shirt, "Big Sis."
I realized the other day that she is going to be a big sister,
and it blew me away. I can't believe Elli won't be my "baby" anymore.
So, this week I got up the gumption to actually make food. These events are few and far between because I hate having to smell everything for so long and then trying to eat it. The only reason I think I was able to make it was because my nose has been plugged up all week. Thanks to all the cousins who helped with our Indian feast! Such a success!
Yesterday, Kathryn and her man, Todd, Janette Fernelius (daughter of my dad's cousin,) and Dovy and I went to the Krishna Temple in Salem. We participated in Holi, or the Festival of Colors. It is a celebration that sends out the dreariness of winter and welcomes in the spring. We had so much fun! After we came home and cleaned up, Sam and Lindsay joined us and we ate ourselves silly and watched "
Main Hoon Naa
," one of my new Bollywood favorites with Shah Rukh Khan. THE Bollywood Man.
When the initial throwing occurred.

It literally blots out the sun for a minute or so.
Dovy and I
Together Forever
Kathryn and Toddy-Woddy
Todd, Kathryn, Janette, Mwah, Dovinator (his tshirt literally says that)
Janette
Aww.

Doesn't the cuteness just enthrall you?
The bucket of tomatoes I used for our Butter Chicken.

Yes, that is a bucket for ice cream. We used THAT many tomatoes.

(And to all of you who know how much I hate them, don't worry.

They were cooked, pureed, and sifted through a strainer.

Don't look at me – that's what the recipe calls for.)
Elli and Daisy today
I just want to end this post by saying how much I love my family. I feel so incredibly blessed to have this little "heaven on earth" on 400 North. We've accomplished so much and get to do so many neat things. I can't believe how much I have been given.