So, maybe you saw from our (Dovy's) last post that we have a new member of the family! Well, two, actually, I guess. First off, since Dovy spilled all the beans, I might as well post it here. I am expecting again. I am almost 8 weeks along at this point, due October 12th. Yes, it was a surprise, but I think it was one that Heavenly Father had planned very carefully for us. We weren't expecting to have another one until next springtime or so. However, we are not the ones that plan everything in our lives, He is. So, there you go. Another bun in the even, a little Paukstys coming soon. And, oh, how I love it already. Isn't it strange how you can have so much love for someone you don't even know? How have I been feeling? Awful, actually. Let the blog post tell the rest of the story…
For the second "member" of our family – tada!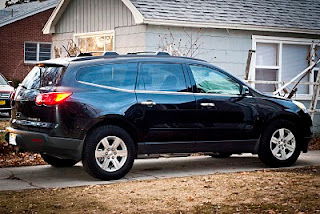 Here it is! A beautiful 2010 Chevy Traverse. We weren't expecting to get a bigger car so soon, but we feel very blessed and it's just another way of helping us know that having another baby is right for us. A door was opened for us to have it. The Traverse has seven seats, 12000 miles, side-curtain airbags, and Bose speakers (who knew?) It drives so well and has a lot of power – something we aren't used to! It has so much leg room we hardly know what to do with ourselves. And the best part? It's NOT a minivan!!! Yay!!! That was what I was most worried about… hehe. Love it.
So, the beginning of the week was awesome. The rest of the week… we barely lived through. On Thursday, I finally called a nurse to get a prescription for Zofran to help with the intense nausea. I've kept my food down, but only by very careful monitoring and tricks I've learned from my last two pregnancies. The nausea is somewhere between what it was with my first and second pregnancies. Finally decided I didn't want to feel that way all the time. Anyway, Dovy dropped me off at choir and went to go pick up the prescription. I only made it through about 3 minutes of choir and had to go out to the foyer, back and forth to the bathroom, thinking I was going to lose it. I was barely hanging in there when Dovy arrived with the Zofran. I took it immediately and we headed home. Half an hour later, I lost everything in my stomach. Knowing how to deal with morning sickness, I knew it was important to put something back in my stomach. I started eating light, bland foods, toast, and the like. Within 30 minutes of putting something small in my stomach, I lost it again. I was so frustrated because each time I tried to fight the nausea, it came back with a vengeance. My cousin, Sam, came over and helped put our girls to bed and he and Dovy gave me a blessing. I ended up missing the first concert of the semester. :( It made me so sad. We've worked so hard for the concert. I thought about the music as a strength as I was trying to live.
After 8 times of this, around 10:30PM, I thought I was going to die. It literally crossed my mind. It felt like someone was sticking several knives in and out of my stomach. The pain was absolutely unbearable. My three-year old woke up at this time to go to the bathroom and promptly spewed all over the bathroom carpet. Dovy shouted from the other room, "Natalie, it's not morning sickness. It's the stomach flu!" Indeed, it was. Anjali woke up two other times to repeat the process, and then it was Dovy's turn. We were both writhing in bed until 2:30AM until we collapsed, me with my arms wrapped around a bucket and my feet where my pillows should have been. 10 times total and lots of dry-heaving. Argh.
Morning came. We were beat and barely able to eat anything. Still feeling awful. I still can't tell whether my stomach hurts from the flu or from the pregnancy. I am on a full dose of Zofran, but I still feel awful. Ah, well. A couple more weeks, right? Maybe more? Probably not less. Probably more. Trying to keep my chin up…
We kept on trying to live through Saturday and were doing better, but Sunday morning came around and Anjali started throwing up again. We didn't go to Church and instead slept/tried to live. We all feel like we're in a relapse. Feeling yucky, praying for the best. Anjali spent 7 hours on the couch, watched The Sound of Music and slept the rest of the time. If any of you know her, you know that's really strange. Poor little thing. She threw up again this evening, but now both babies are in bed, and we're hoping all will be better tomorrow.
Please don't get this flu. My cousin, Sam, ended up getting it. So did our babysitter, and then her husband. I feel awful. :( Apparently it is intensely virulent and very catching…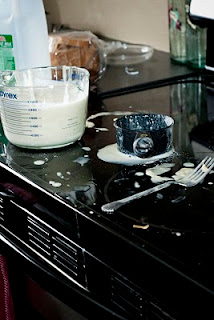 Dovy made crepes this morning, in hopes of us being able

to eat. It went okay… the process was fun because the directions

were written incorrectly.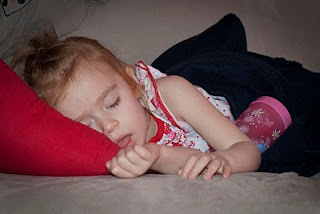 My little three-year old.
This is not like her at all.
All she wanted was to snuggle all day.
Poor thing.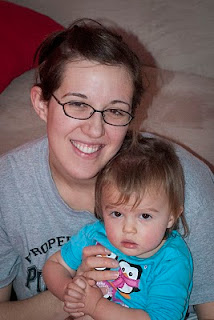 Elli trying to be happy.
She wasn't in the best of spirits today.
Here's to tomorrow?
I forgot to mention that we put Elli in a toddler bed last weekend. We converted Anjali's toddler bed to a day bed. Now the girls are both grown up. It's official. Woah. (Maybe I did mention this somewhere. I'll blame it on the pregnancy brain.)