I'll let the pictures tell the story, because there are a lot of them!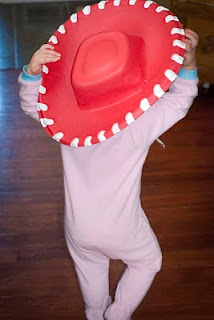 Little Mexican Elli
(It's really a Jessie Hat but she still looks Latin with
that little baby tan of hers.)
And this was the Anjali highlight of the week…
Tuesday night, I was making dinner. The three-year old had been quiet for far too long. I walked to the back of the hallway and found the bathroom door locked, lights on, fan on. I took a deep breath and literally prayed, "Heavenly Father, please help me handle whatever is behind this door, because I know it's not going to be good." I unlocked the door and found this:
On Friday afternoon, my cousin, Lindsay, my girls, and I drove to Colorado. My dear cousin, Laura (aka Wawa) came home from her mission in El Salvador! We've spent the weekend here with family and were able to listen to Laura's report during Sacrament meeting today. (Of course, Anjali had the worst tantrum she had ever had during that time and I only caught snippets – argh.) But I do know that Laura is awesome and therefore couldn't have delivered a talk anything short of awesome.