The following picture was a test of mommy's sanity this week: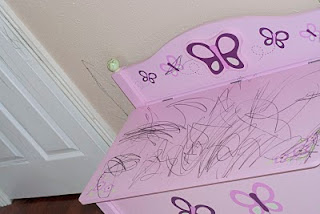 Because, see, the crayons used in this picture were not the washable Crayola kind. How do kids sniff these things out? Did it have to be THAT black crayon? Of course it did. So, the three-year old helped clean it all up…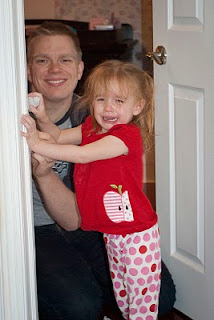 Needless to say (and happy to report, I might add,) we have had no more impromptu frescoes on the wall during the remainder of the week. Thank goodness. She was pretty scarred for life, I think. Having to clean up your own mess? Oh, the horror!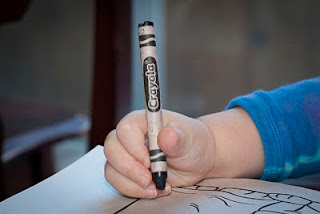 Elli is seen demonstrating a perfect hand-hold on a (washable) Crayola crayon.

I am shocked that she already knows how to do this! She's not even 17 months old for another week. (I might add that she's also holding it exactly the way I hold a pencil – on my fourth finger, not my third.)
So, this week was Pie Palooza! We stuffed a ridiculous amount of people in our living space and ate an enormous amount of pie. We still have some in our fridge if you have a sweet tooth… Here was the line-up for this year:
All Things Chocolate

Chocolate Layer

Cream Cheese Pie (2)

Oreo

Pistachio

Key Lime

Peanut Butter (2)

Grashopper (2)

Coconut Cream (2)

Banana Cream

Lemon Meringue

Shoo-Fly

Rhubarb Sour Cream

Pumpkin

Cream Cheese Pumpkin

Cherry

Apple

Peach-a-Berry

Four-Berry

Pecan

Chocolate Pecan
The most popular was Oreo this year. I made it in a 9×13″ pan, so it was twice as big as most of the pies, and it was the first to go! (It was really delectable – I loved it!) We had a total of 25 pies, 21 different kinds. We had doubles of a few of them.