On Friday morning, I woke up to find out that the Provo Tabernacle was burning down and the roof had just collapsed. My very first (and selfish) thought was, "Where is the Women's Chorus going to have their concert in March???" I am the Publicity Chair for the choir, and have helped plan this event. This was the best time and venue we could find to celebrate our 50th Anniversary. My second, third, fourth, and subsequent thoughts consisted of all the memories that I have had in that Tabernacle. Conferences, firesides, rehearsals, and most of all, concerts. Dovy and I just sang there together last Spring. My heart hurt as I watched the beautiful building burn. I am a very sentimental person, and if you don't know that, you know me not. The Provo Tabernacle has been an icon for the community since 1867, when it was completed and dedicated. It is still uncertain whether it can be rebuilt. The only thing left of it is four towers at the ends and the brick wall around the edges. So sad.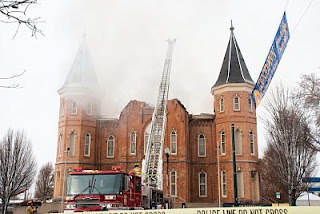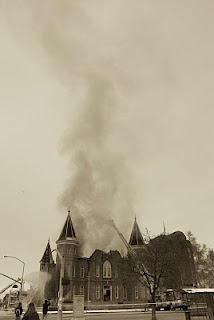 I didn't take the following picture, but a friend had it. This is one of the pictures

pulled from the Tabernacle wreckage. I just think it's really symbolic and touching.
The first thing I did as soon as I traipsed through this slew of thoughts was call my director. We are supposed to print all of our paraphernalia and merchandise in two weeks. I am only glad that we haven't done all of that work and spent money printing everything when our venue and concert date has completely changed. There will be a lot of pieces to pick up.
The rest of the week was full of Christmas preparations. Here are pictures for your viewing pleasure: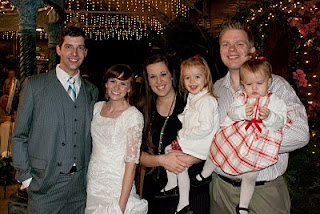 My cousins, Addison, and his new wife, Breanne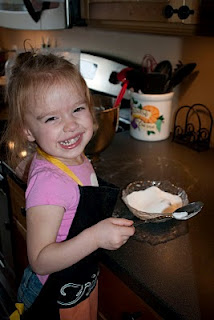 Anjali helped me with our White Chocolate Dipped Gingersnaps.

I did the dipping after the gingersnaps were finished, but Anjali

helped make the cookies from start to finish. She put all of the

ingredients in and rolled almost every single one. (Really, it was dumping

the sugar on with a spoon, but it accomplished the same thing and we had a

really fun time. You can tell by the amazing smile on her face.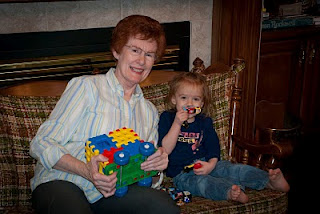 The girls and I went up for a day to visit Grandpa and Grandma
before they left for the Christmas holiday. Anjali and Elli love them so much!
Elli just started helping with the dishes. She toddled over

(because she just started walking this week) and started handed

Dovy silverware. She did the ENTIRE basket. Which is no small feat,

as it was overloaded. What great little helpers I have!