So… we got home late on Sunday night and crashed when we arrived. This week has been nothing but crazy. I had three concerts and a dress rehearsal and Dovy had a 90-hour group project (95 pages total with a half hour presentation) due within five days. Planning for a huge church function topped off with losing my voice on Tuesday makes for a rather interesting, stressful, long week. But, it's over! (Although my voice is still only 70%.) And now it's smooth sailing for Natalie. My Relief Society activity is on Tuesday, as well as the last day of choir for the semester. After that, it will be Christmas shopping, candy making, and holiday preparations! Woo-hoo!
Thus, the lack of a blog post last week. And, seeing as I've been so busy and so under the weather that I didn't take a single picture this week, it's just as well that I am catching up now. Dovy has a big week and a half in front of him. Finals start the following Monday and finish that Friday. Then, it's just me, the girls, Dovy and work. No school for two weeks. Yay!
While I was away at Thanksgiving, Dovy undertook the project of completing the stairwell, hallway, and living room in our basement downstairs. Everything is drywalled and mudded and cleaned out. (He even had the bathroom gutted. The only thing remaining is the toilet, which we will eventually need to move.) We need to tidy up the dust, texture, paint, and lay carpet. (I know, sounds like a lot.) We will be able to run both of our businesses out of the basement now, as well as have a little guest room and an extension for the girls to play in while we do some work. He did all of this without me knowing. Isn't he amazing?! I know, I know. He is. So, we'll also be finishing that all up down there. Yay for us! So, that's a wrap. Here are the pics. :)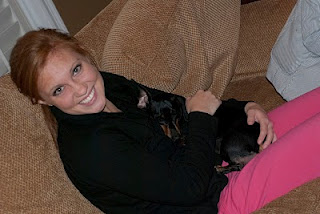 Daisy had some sort of anxiety in Colorado.

She wouldn't eat and always wanted to snuggle next to someone

she already knew. Thus, Kathryn.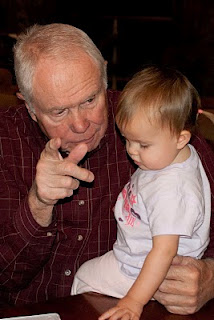 "Hey, Magnet. Look at your Mom."
(Grandpa's new nickname for Elli – because
she just draws people in.)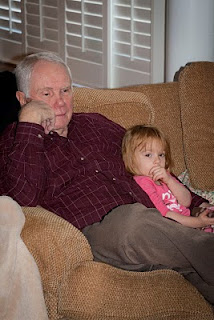 Yeah, my kids were lovin' on their grandpa.

(Grandma – you were cooking so much I didn't

get pics of you with them!)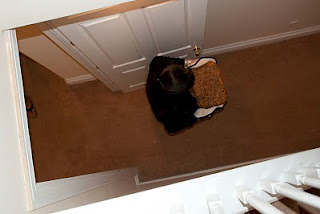 Mo bringing in the good stuff!

Sweet Potato Casserole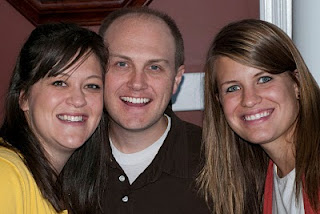 Jenny and Travis Winder (Becky's younger sister)
and Lindsay, Sam's wife – also one of my dearest friends.