The sign of a grown-up mom. Oldest child begins school. Picked up by the bus. So weird. Watery eyes unprecedented. Woah. Where did that come from? Anjali is LOVING preschool, potty-trained and all. She is getting help with her speech there and gets to go have fun three days a week. It's amazing how much I get done while she's gone. But, it's also amazing how much I miss her. One day, she'll be off playing house for real and it will just be me and Dovy again. So strange.
I spent the entire week preparing orders for the Women's Chorus. I am in charge of all the merchandise for the entire choir. I also had to plan two events for Relief Society and pack for a week-long trip to Colorado for Thanksgiving. That's where I am right now. My cousin, Kathryn, and I drove her car to CO on Saturday morning – early. Anjali and Elli did fairly well on the trip – after Elli projectile-vomited onto my laptop screen an hour into the trip. The laptop is still working well, but Lady and the Tramp was on at the time and then would not stop playing in French. C'est la vie. Cleaned up the screen and Elli and went on our way, only to stop six more times during the trip so that we could empty Anjali's bladder, fill the car with gas, take Daisy to the bathroom, and change a REALLY poopy diaper. My sweetheart is still in snowy Provo, planning to take a plane here to Denver on Wednesday morning. (I really hope the snow takes a break so he can make it…) How I miss him. Honey, I miss you dearly. I am surrounded by loved ones and yet, I still feel like I am missing half of me. You are not here and I can't wait until you are.
We have had a great weekend. It's been fun to see the whole family. The girls are constantly entertained by their cousins and we are eating good food and having a good time. I have been checking in my weight loss with my Aunt Mo for the past few months and this morning, we both weighed in. I lost 9.9% of my body weight, and she lost 10%! We rock! I have now lost 20 pounds since August, and weigh exactly what I did when I was married. However, some evilness out there stole the belly I used to have and gave me flab, instead. My legs fit into all of my old clothes, but my belly is still retarded. Going to keep working on it so I can get there. I think another 10 lbs will do the trick! I feel pretty motivated to keep going… except Thanksgiving. That's the killer.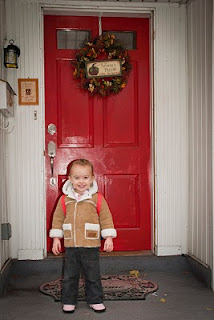 Anjali at our front door before taking the bus to school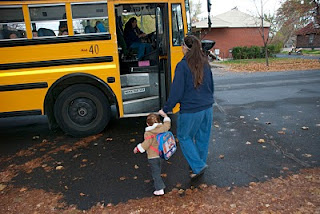 Here comes the bus!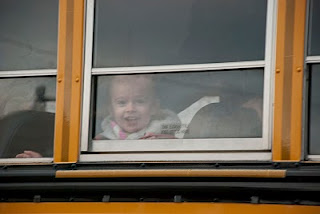 She was so excited!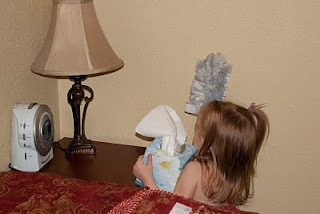 Anjali helping me dust.

She actually moved the things off the nightstand and

dusted under them.

Does this mean my life is getting easier?