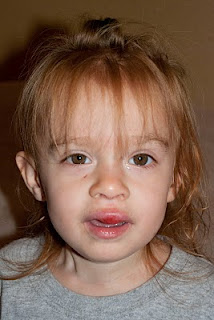 So, before you think I beat up my children, let me explain. (haha – not really funny, of course.) On Monday, the girls and I went on our regular morning walk. On the way home, I ran into my cousin, Sam, who decided to join us. As we were heading out, Sam's sister and my cousin, Kathryn, ran up to us. What a joyous meeting to be had! Lucky they were with us, because we had not one, but two, adventures on the way home. On the way out of campus, we saw a little cat, freezing cold and dripping wet, cowering in the bushes. (It had been raining.) Kathryn scooped up the kitten, wrapped it in a sweater, and we commenced our trek home. About a block from Sam's house, I picked up a little speed while crossing the street. Unbeknownst to me, there was an evil dip in the road, hidden by water. The double stroller caught on the lip, and the whole thing flipped forward. I would have landed on top of it but caught myself and fell to the left. Kathryn and Sam rushed up to me and my screaming, bleeding children. (Well, Elli came out with minor scratches and a bruise on her cheek.) Anjali left blood on the pavement. I felt HORRIBLE! She was screaming nonstop, as was Elli. Cat deposited on the ground, Elli was scooped up by Kathryn, and I bundled up Anjali so that I could try to find something to mop up her face at a nearby condo. In the meantime, Sam raced home and grabbed a roll of paper towels. It took me forever to find someone to help, and even then, it was someone who didn't speak much English and said to me, "Trust no one." Great. My child is bleeding and screaming bloody murder and you can't give me a tissue? Argh. Sam did come to the rescue, right as the non-trusting individual finally decided to cough up a piece of paper towel. Oh, well. We made it to Sam's house, gave Anjali some M&M;'s, turned on Madagascar 2, and I began cleaning her wounds. She had a massive fat lip (as pictured) and bruised gums. It also seemed that the connective tissue between her lip and gums was a little severed, which is something I did as a kid and recovered just fine. I prayed about it and felt that she was fine, so I did not take her into the hospital. She did just lounge around all that day and get held a lot. I felt really bad. But, believe it or not, she recovered 100% within two days. Talk about bouncing back.
On Tuesday, Anjali started Preschool! She is getting help with her speech as it is quite behind for her age. However, I am confident she will blossom. I also feel that the social aspect will be really helpful for her. She goes three days a week, and this week, she'll actually start riding the bus to and from school. Weird. I was not prepared for this for at least another year…
While we're on the subject of Anjali, I can proudly say that she is fully daytime potty-trained! She is doing so well and I am super proud of her. She still has an accident at night every other day or so, but she's getting better. I do put her in undies at nighttime, but it's not as bad now that I don't have to change all of her diapers. Believe me, our "kid budget" has gone WAY down. Hallelujah.
Here is a little bit of our week: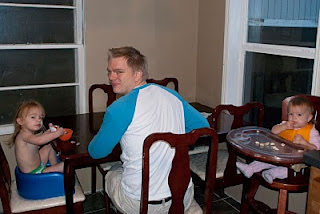 Daddy and the girls eating early before

school starts for Daddy and Anjali.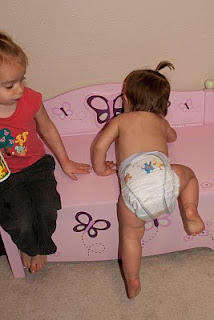 Elli is a climber! She can get on the toybox and loves to

kick it with her cute little legs.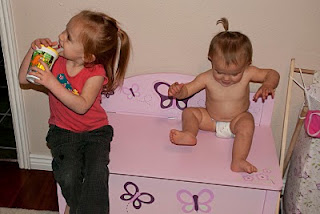 And there she is, kicking.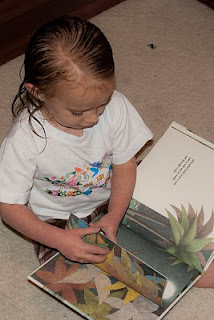 Anjali reading "Where the Wild Things Are."

It was a gift from Sam, Lindsay, and Kathryn for Elli's birthday.

Anjali calls it "Max," because that's the main character's name.

(It actually sounds more like "Mats.")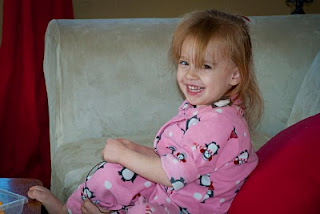 I made jewelry this week.

Anjali wanted to, as well.

Here she is, playing with "beads."
There was a Women's Chorus raking activity at the

cemetery this weekend. Anjali helped, too.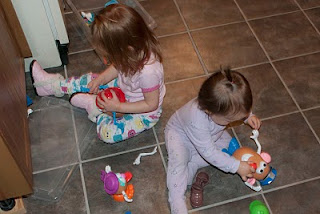 The girls love their Mr. Potatoheads.

Elli actually put the facial pieces on all by herself.

I was shocked at her coordination.

My babies are growing up way too fast. :(
My third baby cake!

(Only two left at the at-cost price, just so ya know.)

A four-tier and two centerpieces to match!