It has been a very fun week! On Tuesday, we bundled up and headed to Santaquin, where we took a wagonride with some friends of ours at the South Ridge Farms. They pull you through the orchards and fields to a huge pumpkin patch. We went through a little maze, chose our pumpkins, and ate delicious food and cider back at the big red barn. It was so much fun and so full of the fall. I made crockpot soup that day, along with
Pumpkin Chocolate Chip Cookies
. So festive and delightful!
We are super excited for Halloween this week. Right after that, it's Anjali's birthday. I'm going to be spending a TON of time baking and planning and trying to shop right to get everything finished. Throw in Women's Chorus publicity duty and two more concerts. Oh, and a cold. My kids and husband stayed home from church today because they were so sick. I am just waiting to get it. Don't know if it's possible to live in a house sleeping next to a sick person and taking care of two little germ factories and not get it. Should be interesting.
My little pixie-girl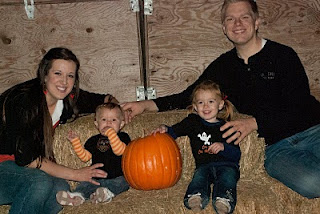 The Paukstys Family
Our friends, the Seegmillers.
They had their baby girl just three weeks ago!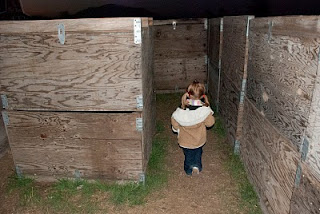 Anjali took us through the maze all by herself.
She only made one wrong turn and immediately figured
out that she needed to turn around and go another way.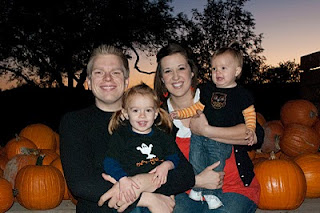 Our family again. :)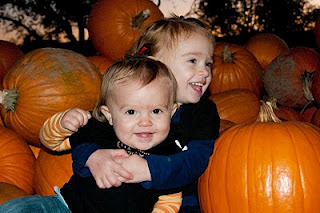 The Dynamic Duo
How I love them.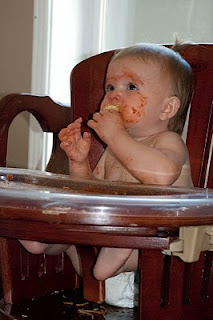 I don't know what it is with my babies.
They can't get food under their legs, but
they absolutely smear themselves when they eat.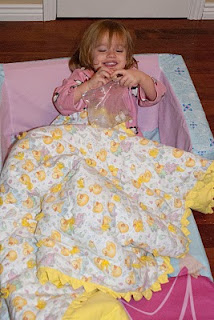 Anjali eating Mini Wheats on her princess couch.