Dear Two-Year Old:
Hi. I know that while I rant, you will just sit there and play and have a rolicking good time. I know that you will think I am being funny. I am sure you won't remember any of this, but here goes.
I was a little peeved when I came into the kitchen, only to find you on one of the dining room chairs, with a dry-erase marker in hand. The board was covered (fixable), the corkboard was decorated (non-fixable), and the wall had black streaks on it (surprisingly fixable.) I had a little talk with you and then told you I loved you.
I smiled a little bit when I found your sister's legs and stomach covered in black marker. Thank you for choosing a marker that is easily removed with wipes. I sighed. I'm sure Elli had fun, too.
I was a little sad when I found the curtain rod (once again) pulled out of the already-damaged wall. I know you like to look out the window. Could you be a tad bit more gentle? Thanks. I love you.
I kept cool when I came upstairs from doing laundry and found that you had locked the door (only opened with a house key) between the upstairs and the downstairs. You were on the downstairs side with me. At least you were. Who knows what you would have found while I tried to get a hold of Daddy for the next hour while your baby sister was sleeping inside. Thank you for sleeping so well that day, Baby Angel.
You are wearing underwear for the first night in months. I am praying that you love my sanity enough to make it through. Could you? It would make my life ever so much more pleasant.
Little Two-Year Old, I am going to miss you. You turn three in less than a month. You are growing so big and tall. You have a beautiful, working body and a charming, strong personality. You love your sister, you love life, you love Jesus, and you know when I need you to love me the most. The prayer that you said all by yourself tonight was beautiful. I am sure the angels could understand it perfectly.
Stay strong, Little One. Always stay happy. I will always be there for you, on this earth and in the next.
Love always and forever,
Mommy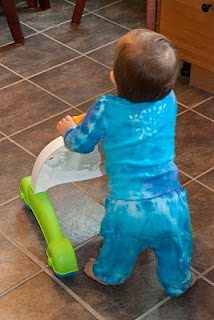 Elli's new walker (birthday present from Yiayia and Papou.)
She is really learning how to zoom!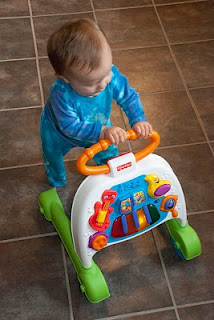 13 months old this week!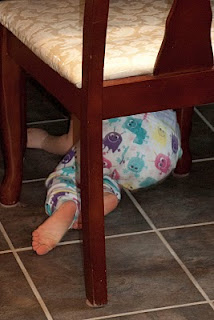 Anjali hiding from the camera. Again.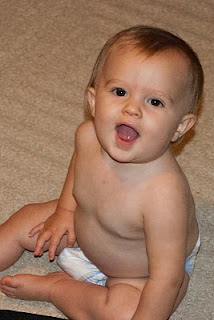 So beautiful and happy.