This week started out a little glum. I don't know if everything I'm doing started to overwhelm me or what, but after a little while, I picked myself up again and off we went, headfirst into the rest of the week. We've been busy, busy, busy. I feel like a single mom right now (yes, I know I don't really know what that's like, but it felt like it.) I miss Dovy so much. I wish he was there to change the diapers and potty-train my toddler. I wish he was there to pick up the dishes and watch the kids while I'm making dinner. I wish he was there to help bathe them and tuck them in. I wish he was there to hold me and love me and make it all better when I feel I can't keep going. I am so grateful when he does have a minute to do those things. Those moments are golden. They will be few and far between for a long time now. Am I selfish? Probably. But, I don't really care with this aspect. I miss him.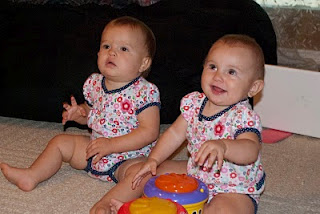 My friend's baby, Jane, and Elli, in the same outfits.
Don't you love Elli's little leg rolls?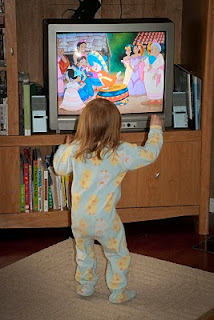 Anjali is OBSESSED with The Chipmunk Adventure.
You know, Alvin and the Chipmunks? Whenever she earns a movie,
this is what she wants to watch. Here, she's wiggling and giggling and
singing, "Ai-yi-yi-yi-yi!"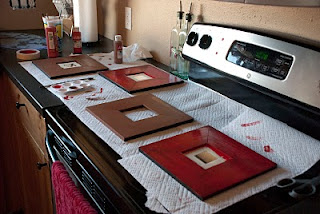 My latest art project. IKEA mirror frames.
Painted to match my living room. The words "harmony,
friendship, love," and "peace" painted on the edges.
Repainted by my daughter (twice) and then repainted again by Mommy
to fix it all. :)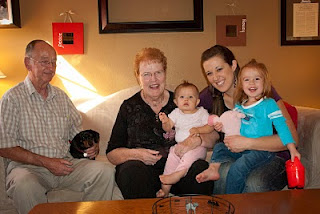 My good friends, the Vests, came to visit.
Sister Vest was a Hall Advisor when I was a Resident Assistant back in 03-04.
(You can see some of the frames in the background that I finished.)
We came to Grandpa's and Grandma's in Ogden for the weekend. My younger and only sibling, Michael, came up from Las Vegas to visit. He is being deployed to Iraq in November and this is the last time I'll see him before he heads out. My Uncle Frank and Aunt Becky came through to switch out a car for their offspring, so they're visiting from Denver, as well. Uncle Curtis and Aunt Nancy came up from Pleasant Grove, too, so we have a good portion of the Wolthuii here. (No, that's not misspelled. The plural of Wolthuis is Wolthuii, kinda like octopus, octopi.) hehe So, here's an array of this wonderful event.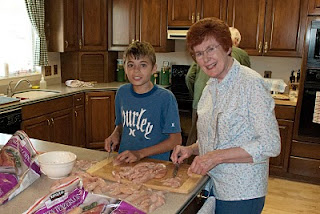 Grandma and my cousin, Jake, preparing Williamsburg Chicken
with Grandpa, the Master Chicken Chef.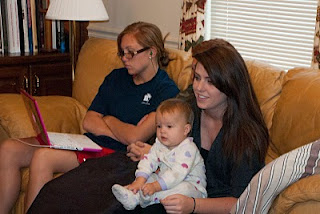 My cousins, Kathryn on the computer, and Kaitlin holding Elli.
(Kaitlin is the girlfriend of my cousin, Jared.)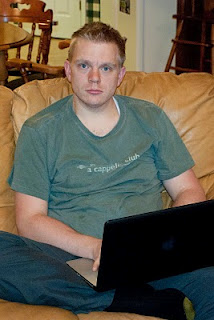 Dovy worked every moment he could fit it in.
This is his glazed look.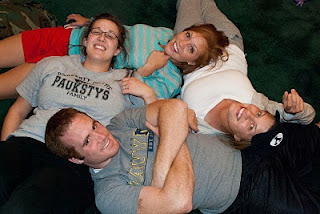 Sam, his wife, Lindsay, and sister, Kathryn.
I won't claim who that crazy on the left is.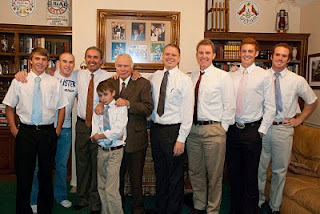 The men after Priesthood Session.
Don't they look sharp?
(Dovy would have worn a suit, but it ripped this week.
Anyone want to buy a new one for him? Because we have
no idea how we're going to afford a new one…) haha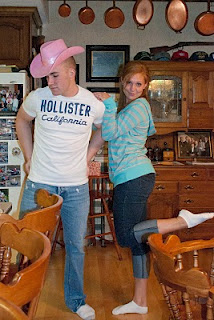 Kathryn and my brother, Michael.
Not so little anymore…