It's been a fun week! I had my first two concerts on Thursday and Friday and my dear husband donned his Women's Chorus Fan Shirt to come support me on Friday. How I miss singing with him this year. :( It's really fun to sing, though, and I love that he still supports me wholeheartedly. What a good guy.
"Man Enough to Wear a Flower"
And this is what happens when someone shorter than you takes
the picture. We look fat. Ah, well.
I sold my first Baby Cake! Yay! It was a large two-tier cake and I drove to Salt Lake to deliver it. Apparently, my customer really liked it because she called on Saturday after the shower with raving reviews. I'm really glad! I hope I get a few more hook-ups. Continue to spread the word! I work completely within a budget. I only have four more cakes going for the at-cost price. Give me a call: 801.436.7403 or shoot me an email: natalie@thepfamily.com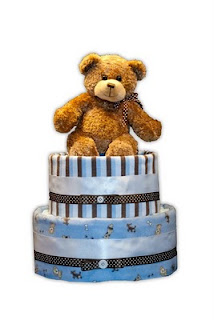 I finished this cake off by pinning six rolled washcloths
around the bottom tier. A bib was stuffed down the middle.
Wrapped in tulle with a custom tag attached. So much fun!
So, for the rest of the week, we stayed busy running errands, going to choir, walking to the Library, and rearranging the furniture in the house. Dad, if you're reading this, it's all your fault. I get a bug about three or four times a year and have to rearrange my furniture. I can't stand it being the same! So, my bedroom and living room have completely changed. It's fun to be creative and get a fresh new feel every once in a while. Same = yucky. Different = exciting. Until I want to change it again. :) I'm positive it was because of my constant moving with the military. My body is just engrained with transitioning now. Just wait until I want to paint again, Dovy. (Not for a long while, though. I'm almost convulsing thinking about it.) Along with the redistribution of my furniture came the decorating for fall. Pumpkins and orange and spiders and candles are all out and ready for the holidays! I LOVE FALL!
Tonight, we had Chicken Alfredo for dinner. My cousin, Kathryn, came over to spend some quality time with us. I have never seen my kids eat so much before! I knew they loved pasta, but I had no idea that they liked Alfredo! But, they do. Elli was in love. Anjali wouldn't stop eating! Yay!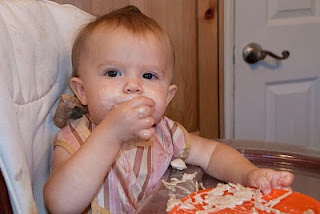 I. love. Alfredo!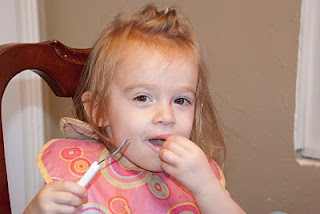 I'm a model, if you know what I mean.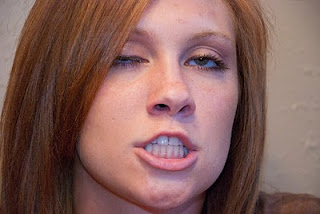 My cousin, Kathryn.
Dear Men: You know you want this face.