We did it! I have been working for the past several months as the Publicity Chair for the BYU Women's Chorus. Week after week I have met with my committee and week after week we've been making things happen. To reward our and the choir's success, we officially sold the last seat to our show on Thursday afternoon – two days before the concert! This is the first time in 20 years that Women's Chorus has sold out a show. It's the first time we sold out under the direction of Jean Applonie (our first-time faculty-member director.) We are so incredibly excited (!) and I feel very accomplished at the moment. Dovy and I had a vision and we were able to put it into reality through the help of my director, a fabulous committee, and an amazing choir to publicize. WOW. It was truly an experience to sing to a full audience last night, to look out and know that my efforts helped get that audience there, that I was able to sing with an amazing group of women – something that I will always cherish. My years in Women's Chorus were so good to me. In a way, they needed me, but in a much bigger, more important way, I needed them. This was so healing for me. So beautiful. So perfect.
My kids are still the highlight of my life at 575 E (also known as the Paukstys Pemberley). Elli tried solids for the first time on her six-month birthday! Not a huge fan, but she's doing alright. She had her six-month appointment on Wednesday. She is now 16 lbs 7 oz and the 75th percentile for weight, and the 75th for height, as well at 26 1/4 inches. I also had the chance to weigh Anjali there: a whoppin' 24 lbs! She's gained two pounds since her two-year appointment in November. Yay, Anjali!
Elli is starting to sit a lot better. I propped her up in front of our little piano this week only to find Anjali grab her booster seat for her sister and help her into it. The booster helps Elli sit up really well. She loves to play on the piano while her sister sits next to her and sings and laughs. They are truly the dynamic duo.
I love my kids. I love my husband. I love my life.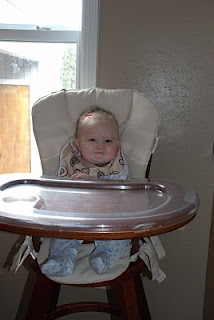 Getting ready for the classic rice cereal taste-testing.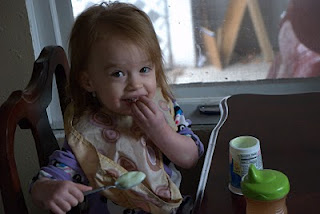 Eating yogurt – her new favorite thing!