So, teaching Anjali to use the restroom instead of her diaper has been like any other thing: leave her alone. I finally just gave up on all the tricks and tips that I had learned and left her be. I would ask her if she wanted to go like a big girl and every time I received an emphatic "no." I left the option open but always answered with something like, "Okay, just let me know if you want to." Well, on Wednesday, I was preparing food in the kitchen and heard a little voice yell, "Nonny! Nonny! [No matter how hard I try, it's never Mommy – although she can say Mama and Mom.] Yay!!! Nonny! Yay!!!" Hand-clapping came after every exclamation point. I followed the sound of the little impish cries and found Anjali in the powder room, completely stripped of clothing, diaper askew, and a pool of yellow liquid in the Comfy Cushy (that's actually what it's called.) I did the regular song and dance, clap, jump-up-in-the-air routine and then cleaned her up, fully expecting her to ditch the endeavor promptly. About 30 minutes later, she repeated the episode again…and again…and again. I was stunned. I was even more surprised that somehow, she had figured out how to take off and put on her clothes all by herself (including her pull-up.) She's on auto-pilot now. In a matter of four days, she has learned how to dress and undress, go all by herself (and applaud thereafter), and peel off and place a sticker on her "Big Girl Bathroom Chart." The only thing I have to help her with is washing her hands. No stool could help that little fairy-child reach the sink.
Elli is showing her personality more and more each day. She brightens our hearts and our lives. Anjali is truly her best friend. I like to think that they were friends before they were mortal and couldn't wait to be together again. They are truly "kindred spirits." (I'm on an Anne of Green Gables kick right now seeing as I am reading the books.) They love to laugh at each other and Anjali is so incredibly tender with Elli. Anjali refuses to go to bed or even down for a nap without giving the "day-dee" a "tiss." I am so blessed to have children that love each other so much.
Dovy and I had a concert together on Thursday night. I realized with an amount of sadness that that was probably the last time we will sing in the BYU choirs together. Dovy will not have time for Men's Chorus while juggling work, a family, and full-time school in the fall. I am not applying to be a student at BYU again because I am renewing my teaching license this spring and therefore have no need to take more classes anytime soon. What a sweet experience this has been for both of us. I love that we have been able to do together what we love most: sing. It's how we met. And we will never forget it. Thanks for the experience. It's been wonderful.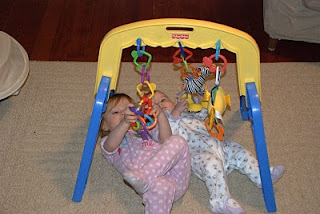 Anjali loves to get on the floor with Elli and play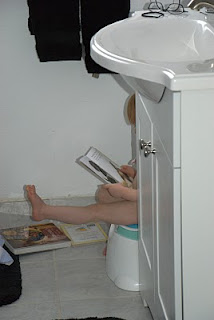 I caught a picture of Anjali.
She loves to read (who'd she learn that from?)
And she's swinging her legs. hehe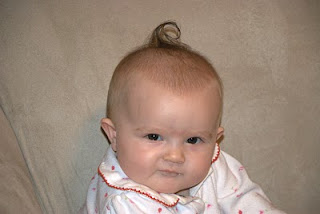 A little smirk…